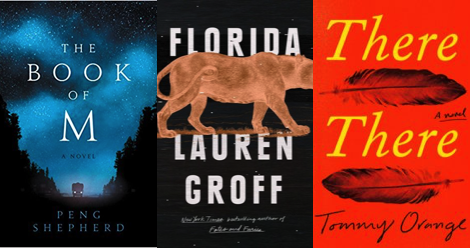 Libraries
10 June New Releases To Put On Hold at the Library Right Now
This content contains affiliate links. When you buy through these links, we may earn an affiliate commission.
Wishlist upcoming releases you're dying to read. Get exclusive podcasts and newsletters. Enter to win swag. Do it all when you join Insiders. Subscribe to Book Riot Insiders!

---
The eternal quandary of readers everywhere: How to decide what upcoming books to request at the library before the list is eleventy-million people long. I've got the cure for the common hold: Here are ten big books of note coming out in June to help you choose what to reserve now. Get to these babies before everyone else at your local library! (And as always, you can find me raving about a bunch more on social media. Only picking ten books is HARD.)
Fans of Station Eleven, listen up! In a dystopian near-future world, people have begun to lose their shadows. And not in a cutesy Peter Pan way—when someone loses their shadow in this book, it means they are destined to also lose their memory shortly after. Fear has caused mass chaos and struggles for power, and the world is a bleak place, and it is up to the remaining survivors to find a cure before they lose their own shadows. This one is g-r-e-a-t.
Florida by Lauren Groff (June 5)
Groff, author of Fates and Furies (one of Obama's favorite books, NBD) is back with an electric collection of stories revolving around Florida and the trials and tribulations of living there, whether the issues are caused by nature or by humans. This is a fantastic showcase of Groff's amazing ability to capture human emotions and behaviors and describe them for our benefit.
Sick: A Memoir by Porochista Khakpour (June 5)
Khakpur has two wonderful novels under her belt. Now she takes readers on a personal journey through her life and her struggles with late-stage Lyme's disease, and what it's like to live with a chronic illness. She explores her illness by way of the different places she has lived, and explains how she manages the impact her illness has on her mental and physical health, and the toll it has taken. Perfect for fans of Brain on Fire.
There There by Tommy Orange (June 5)
A powerful, contemporary, multi-generational portrait of Native Americans in the United States, revolving around several people coming together at a powwow. There are people hoping to repair rifts, defeat addiction, participate in culture, and also cause grief. It's a devastating and sad novel, but also filled to the brim with beauty and hope. This one will stay with you for a long time. Expect it to win awards.
Social Creature by Tara Isabella Burton (June 5)
A debut thriller about an obsessive friendship. Lavinia is a gorgeous socialite who takes Louise under her wing and makes it her mission to bring her out of her cocoon. But as they party their way through endless nights of glitz and glamour, can their friendship last? What happens when you try to put a butterfly back in its cocoon?
It's almost here!!!!!! This is the third book in the fantastic Ember quartet. I'm not going to tell you what it's about, in case you haven't read the first two books. If you've read them, you are already excited for this, and if you haven't read them, OMG do that right now. I'll wait here.
A moving novel of friendship and loss set in Chicago during the height of the AIDS crisis in the 1980s and then in Paris 30 years later, about a gallery owner saying goodbye to his friends and a woman searching for her daughter. Rebecca Makkai is an unsung gem. Maybe this novel is the one to catapult her to new heights!
Not only is this Flaherty's triumphant account of overcoming her fears after trauma and learning to follow her dreams and trust in herself, but it's also a beautiful look at the history of tango itself. This is sure to be a big book club pick.
Fifteen wonderful stories reimagining the folklore and mythology of East and South Asia, written by such amazing authors as Renée Ahdieh, Sona Charaipotra, Preeti Chhibber, Melissa de la Cruz, Julie Kagawa, Cindy Pon, and Alyssa Wong. This beauty was compiled by the team behind We Need Diverse Books.
Bolin examines America's national obsession with stories surrounding dead girls. Her essays include examinations of Twin Peaks, Serial, and works by Joan Didion and James Baldwin, as well as a discussion of the information and narratives surrounding dead girls that we absorb every day. This is wise, fascinating stuff.