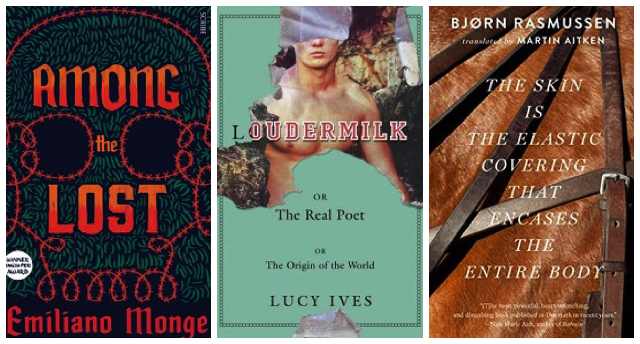 Lists
Indie Press Round-Up: June 2019 New Releases and More
This content contains affiliate links. When you buy through these links, we may earn an affiliate commission.
This month's round-up of small and independent press books is here! I have done a lot of great reading over the last month, including novels, memoirs, and essay collections. I have books from Korea, Denmark, Mexico, Japan, Canada, and the U.S. on my list, including four books in translation, two books by Native writers, and one satirical novel about MFA programs. I hope this helps you find some new books you love!
Loudermilk is a campus novel — a genre I love — about a prestigious MFA program in Iowa (clearly based on the Iowa Writers' Workshop although it's not named exactly). Troy Loudermilk has been accepted into the poetry program and is ready to begin. The problem is that he has never written a poem in his life. As it turns out, Loudermilk's close friend Harry wrote the poems in his application and will accompany him to Iowa to write poems for him there. The novel is sharply satirical and laugh-out-loud funny. Loudermilk is a ridiculous character, in the best way: the famous Iowa workshop is not at all prepared for him. This is a fast-paced, entertaining read, but also one that has a lot to say about poetry, the university, and the endeavor of teaching creative writing.
The Ten Loves of Nishino by Hiromi Kawakami, Translated by Allison Markin Powell (Europa Editions, June 4)
This is sort of a novel, sort of a collection of closely-linked stories, held together by the mysterious figure of Nishino who appears in each chapter. It tells the stories of ten women who have fallen in love with Nishino, or at least were involved romantically or sexually with him at some point in their lives. We get brief but telling glimpses into their lives and into the life of Nishino, glimpses that slowly build into a complex portrait of one man and the women he knew. It's the kind of book that reads easily and quickly but then surprises you with its depth of insight and emotion. It's the perfect book for anyone who wants to ponder relationships, love, sex, and the way stories shape our lives.
Among the Lost by Emiliano Monge, Translated by Frank Wynne (Scribe US, June 4)
This is one of the darkest books I have ever read, and one of the most powerful. It takes place in an unnamed country that we know is Mexico and tells the story of two human traffickers. They are terrible people who do terrible things, but we also see how they have been victimized by other terrible people, and while it's impossible to sympathize with them, it's possible to understand why they are the way they are. The story covers one day as the protagonists try to move their victims across a harsh but gorgeously-evoked landscape. The writing in this novel is exquisite. Monge explicitly invokes Dante and includes quotations and paraphrases from the Divine Comedy. He also includes the words of real-life Central American migrants. This novel is an emotionally-wrenching experience and also essential reading for those who want to think deeply about migration and human rights.
Mamaskatch is a memoir about Darrel McLeod's boyhood and young adulthood in Alberta, Canada. He is a member of the Cree tribe and feels a strong sense of connection to his culture and family. But his childhood is a difficult one, as he loses his father at a young age and his mother struggles with poverty and alcoholism. His siblings are in and out of foster care, and he often finds himself responsible for them even though he is still a child himself. He suffers sexual abuse at the hands of his brother-in-law. We learn about mistreatment his mother and aunts experienced from members of the Catholic church. It's a difficult story, but McLeod tells it movingly and beautifully. It's a dark book, but a hopeful one too, as McLeod finds ways of understanding and coming to terms with his complicated life.
This book is complicated, disturbing, transgressive, extremely sexually explicit, and clearly not for everyone, but it is also fresh, daring, and gorgeous. The narrator is Bjørn, a teenager in Denmark caught up in a sexual relationship with his older riding instructor. He writes about obsession and sex and also his fraught relationship with his mother, his brothers, and the animals on their farm. Mostly it's an exploration of Bjørn's internal world — what he thinks and feels and what it's like to be in his skin. It's told in a fragmented, stream-of-consciousness style, so we really get into the narrator's mind and live there. It's a short book at barely over 100 pages, but it packs so much life into every part. It's darkly beautiful and fearless.
I love essay collections, and those that in some way address the essay form itself are my favorite. This collection of essays by contemporary Native writers begins with a discussion of traditions of Native writing and then sets forth its own purpose: to collect pieces that stretch the boundaries of what an essay can do and explore Native experiences in innovative and and formally-daring ways. There is tremendous variety on offer here, both in terms of subject and tone. The collection is organized using basket weaving as its central concept: the sections each connect a basket weaving technique — coiling, plaiting, and twining — to a method of structuring an essay. Contributors include Stephen Graham Jones, Deborah Miranda, Terese Marie Mailhot, and more.
Blood Sisters by Kim Yideum, Translated by Jiyoon Lee (Deep Vellum, June 25)
Blood Sisters is a novel about Jeong Yeoul, a young woman trying to get by as she mostly fails at college, is estranged from her parents, and rootlessly moves from place to place. The novel takes place in 1980s Korea, where there is a constant undercurrent of political unrest. Friends encourage Yeoul to find a political purpose for her life, but she resists. She seeks escape in the world of art, but even there she finds disappointment. She and her friends are faced with sexual violence, as they try to make their way through a conservative, patriarchal environment. It's a powerful novel, one that stays close to Yeoul's thoughts and feelings and takes the reader to some dark places. She is a memorable narrator: honest and intense in her search for self-understanding and a way to exist in the world.
Finally, here are some June 2019 new releases that are going on my TBR:
Mostly Dead Things by Kristen Arnett (Tin House Books, June 4): a woman takes over the family taxidermy business while dealing with grief and loss after her father's death.
Time is the Thing a Body Moves Through by T Fleischmann (Coffee House Press, June 4): an autobiographical narrative about art, loss, sexuality, and the body.
This Wicked Tongue by Elise Levine (Biblioasis, June 25): a short story collection in the vein of Joy Williams and Karen Russell that explores the depths of its characters' psyches.
100 Times: A Memoir of Sexism by Chavisa Woods (Seven Stories Press, June 25): an autobiographical account of 100 encounters with sexual discrimination and violence.
If you're looking for more great small and independent press books, check out my round-ups from April and May.