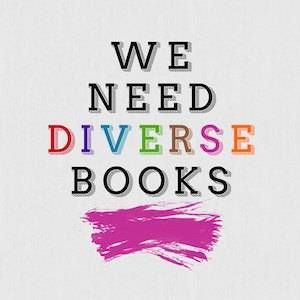 News
Jump into the #WeNeedDiverseBooks Campaign, Help Change the World
The Internet, at its best, can be a grand megaphone for pinpointing social injustice. We patiently explain it; angrily vent about it; analyze and dissect it through blogs, Tumblr posts, and in 140 characters. Shouting into the online void may sound like a small thing, but when done right, it can be surprisingly constructive, or cathartic, or motivating. And at its very, very best, after all the talking, the Internet can actually become a venue of legit change.
Any regular reader of this site knows that we've all had our hackles up over the recent BookCon debacle, for many reasons which have been so eloquently explained by so many people that I don't need to repeat them. The severity of its exclusion was ripe for an outcry, but BookCon is really just another event in a long history of literary exclusion, an exclusion that mirrors the overall erasure of people of color, of LGBT people, of disabled people, of fat people, of non-binary and non-conforming people in our media and our governments and our world. And enough just gets to be e-freaking-nough. Enough passing on blog posts about the lack of diversity in the book world to friends that already feel similarly exasperated and disheartened. Time to actually do some shit.
Enter the #WeNeedDiverseBooks campaign.
The #WeNeedDiverseBooks campaign, organized by the fantastic Ellen Oh and others, is fully explained on their Tumblr, but essentially, the plan is this: a three-day campaign spread over various social media to promote both personal reasons from the masses about why diverse books are so important, and then, of course, the diverse books themselves.
Day One, May 1st, will start the visual/hashtag campaign. A la the I, Too, Am Harvard campaign (among many, many others), the #WeNeedDiverseBooks organizers are asking folks to make signs explaining why they need diverse books, and to then submit photos of them. You can be in the picture with the sign if you feel comfortable doing so, or you can photograph a big group of people, or just the sign alone–whatevs you want! Just submit one! Email your photos to weneeddiversebooks@yahoo.com.
Starting on May 1st, they'll start posting the photos on their Tumblr, and it's our job to reblog, Tweet, Facebook, Instagram, whatever them, overwhelming the Internets with the hashtag of awesomeness, #WeNeedDiverseBooks.
Day Two, May 2nd, will include a Twitter conversation starting at 2PM EST around issues of diversity in books and why they matter.
Day Three, May 3rd, will begin the ongoing Diversify Your Shelves call to action. There'll be another online chat, once again using the #WeNeedDiverseBooks hashtag, to share out recommendations, raves, and reviews of our favorite diverse books. And then? Why, of course, we should go out there and get them, documenting and sharing out our newly diversified shelves in photographs.
The campaign is quick to acknowledge that not everyone can afford to diversify our shelves right now, so they recommend seeing if diverse authors and titles are available at your local library, and if not, suggesting them to your local librarians. I would love to see local book sharing initiatives jumping off from the hashtag/campaign, as well. It's important to show publishers that we're serious about this thing with our cold hard cash, but really, the most important thing is to get the books in the hands of the people. I'm also planning on voting this weekend on some diverse books for my local school district's Battle of the Books book list for next year in line with this campaign, as the book list this year was, unsurprisingly, overwhelmingly white. Do whatever you can to contribute to diversified bookshelves!
Oh, and there's giveaways, too. Who doesn't like giveaways?
While it's starting with a concentrated focus and zest on these three days, the hope is that the #WeNeedDiverseBooks hashtag, and the photos and conversations surrounding it, continues into the foreseeable future. I'll be playing along on my personal Twitter and Tumblr during the May 1-3 campaign, and will publish a follow-up post here on Book Riot next week with some of my favorite moments.
Systematic change starts bit by bit. Sure, it's just an Internet campaign, but if you watch the news these days, Internet campaigns can carry quite a bit of clout. Hell, Internet campaigns ARE the news these days. And reading better and wider? Turning the conversation to books and authors you should be reading now, and working on getting those books into people's hands? It's a heck of a good start.