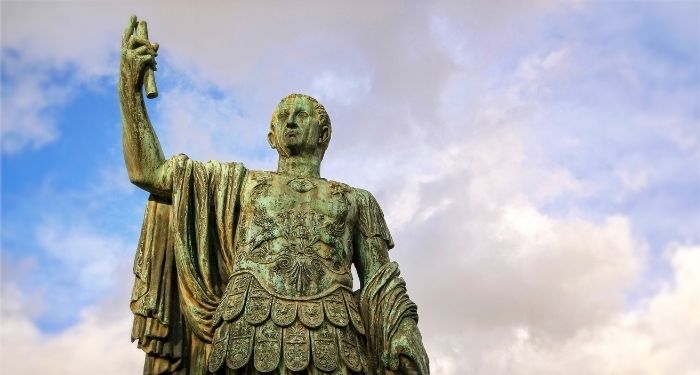 Lists
Julius Caesar in Modern and Contemporary Literature
This content contains affiliate links. When you buy through these links, we may earn an affiliate commission.
Quick! Name a historical figure from 2,000 years ago whose likeness also appears on a pizza box. Julius Caesar. The answer is Julius Caesar. March 15, or the Ides of March, is Julius Caesar's stabbing anniversary. RIP, buddy. Dictatorship, apparently, isn't all it's cracked up to be.
Caesar has made regular appearances in literature and media. From Dante's Inferno to Gretchen's harried essay in Mean Girls, Julius Caesar has become somewhat of a folk character.
When Shakespeare's The Tragedy of Julius Caesar is performed, small revisions are often made by the director to stir up comparison between the text and contemporary politics. A prime example is Orson Welles's 1937 adaptation, Caesar. Welles used a bare stage, modern military dress, and sharp lighting cues, all of which evoked comparison to fascist Italy and Nazi Germany. It is nearly impossible to read contemporary fiction about Ancient Rome and Julius Caesar without drawing comparison to current political climate.
What we know of the real Julius Caesar is minimal. We know about his conquests, his successes, and failures. We know about his death. We have his writings. The rest — his personality, his childhood, and private thoughts — are open to interpretation. The historical fiction and political thriller authors in the building rejoiced!
Before we look at some of the modern/contemporary fictional representations of Julius Caesar, it's important to note that almost all of these books were written by white men. I strive to read diversely, especially about historical eras and famous figures, but sometimes the books just haven't been written yet.
Lace up your gladiator sandals from 2012 and step back in time; we're reading up on Julius Caesar!
---
Not done in Ancient Rome? Check out these six books about Rome while you slurp up some spaghetti. 100 Must Read Books About Ancient History provides more insight to the ancient world. Happy reading, and always listen to the soothsayers!