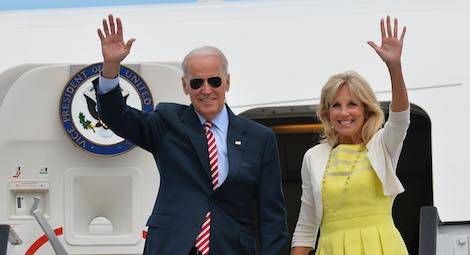 News
Joint Book Deals for Joe and Jill Biden
This content contains affiliate links. When you buy through these links, we may earn an affiliate commission.
The words of the beloved Uncle Joe and the brilliant Dr. Aunt Jill will soon be coming to a bookstore near you!
Flatiron Books (a Macmillan imprint) just announced that they have inked a deal to include two books from former Vice President Joe Biden and one from Dr. Jill Biden. It is clear that a major focus of the first book by the once Vice President will be the loss of his son, Beau, due to a brain tumor in May 2015. Joe Biden will also speak to his much regretted decision not to run for President of the United States in the 2016 election. Personally, I'm going to hope that each chapter begins with an Obama/Biden bromance meme.
No financial details are yet known, but sources state that they're somewhere in the neighborhood of seven figures- one figure less than the deal that was made in February 2017 with former President Barack Obama and former First Lady Michelle Obama with Crown Books (an imprint of Penguin Random House).
Neither Mr. nor Dr. Biden are strangers to the publishing world. Random House released Promises to Keep: On Life and Politics by Joe in 2007 and Jill had a picture book titled Don't Forget, God Bless Our Troops published by Simon & Schuster in 2012.
We need more of Joe Biden's charm and Dr. Jill Biden's wit nowadays. I eagerly look forward to the release of these books. Now just to convince Jill and Michelle to team up to write a life manual for bad ass feminists who just wont quit!