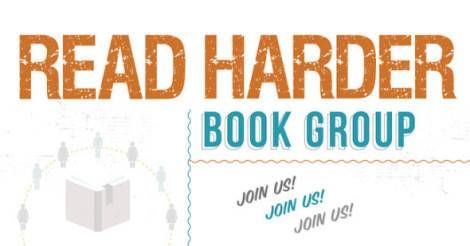 Events
Join Us for Read Harder Book Groups in June!
This month's Read Harder Book Groups are sponsored by Last Call at the Nightshade Lounge by Paul Krueger.
---
Are you all about those books ('bout those books, no treble)? Got all the right books in all the right places? (Sorry not sorry.) Come hang out with your fellow book nerds! We've got monthly Read Harder book groups in 11 cities around the country, and any book you've read counts. Whether you're reading your way through the 2016 Read Harder Challenge, just working through your TBR stack, or looking for your next favorite book, you're welcome to join us.
Check out the list of cities below or click here for more details. If there isn't one near you, you can congregate with us online at our Goodreads Read Harder Challenge group.
Boston, MA – 6/12
Vancouver, BC – 6/16
Chicago, IL – 6/16
NYC, NY – 6/18
Los Angeles, CA – 6/18
Glasgow, GB – 6/18
Toronto, ON – 6/18
Portland, OR – 6/19
Philadelphia, PA – 6/19
Washington, DC – 6/19
Houston, TX – 6/19