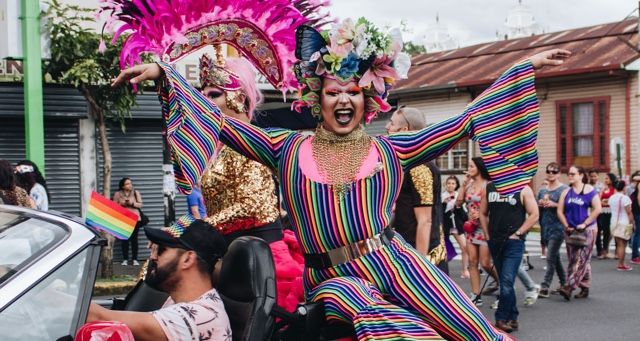 Critical Linking
Join Drag Queens' Massive Protest Against Book Banning Legislation: Critical Linking, January 28, 2020
Critical Linking, a daily roundup of the most interesting bookish links from around the web is sponsored by Book Riot's new literary fiction podcast Novel Gazing.
---
"'Queens, Kings & everything in between!' a Facebook event page reads. 'It's time we stand together at the Missouri State Capitol! Even if you don't do drag, but support drag queen storytime – come support and rally with us!'
'We will be heading to Jefferson City, MO in full drag to show senators & legislators that we aren't the monsters here. That all we are doing is providing a space for learning and getting kids excited about reading. Knowledge is power! So join us at noon on the stairs of the state capitol, and make a sign if you wish. And please share this event, let's make this huge!'
While Baker denies that his legislation would ban the books since they would be moved to a 'restricted' area of the library, he doesn't deny that his motivation is the recent 'drag queen story hour' trend that has performers reading age-appropriate books to children."
Super hope this beautiful protest against a terrifying bill is huge.
---
"James, author of 'Black Leopard, Red Wolf' (a finalist for a National Book Award), 'A Brief History of Seven Killings' (winner of the Man Booker Prize) and other novels, has begun a two-month-long podcast with his editor at Riverhead Books, Jake Morrissey. "Marlon and Jake Read Dead People" will begin Monday, Jan. 27, and it's not quite as creepy as it sounds. The podcast is their literary conversations about authors who are no longer with us. As the Riverhead press release puts it, 'Authors they like. Authors they hate. … In every episode they'll tell you what they think—uncensored and with no holds bared. (That's why the authors have to be dead.)'"
Yeeeeees. This sounds amazing—and hilarious.
---
"Racism and gatekeeping in the publishing industry are big, systemic problems; at least American Dirt has started a much-needed conversation on the subject. What can readers do? One small step is to commit to read more books by Latinx authors. In service of that goal—and inspired by the recommendations writers are already trading on Twitter—we've put together a by-no-means-exhaustive list of 17 outstanding books on the border and immigration. Perhaps unsurprisingly, our list skews toward Texans—but we've also included authors from elsewhere, as well as genres ranging from fiction to memoir and poetry. There's no shortage of talented Latinx writers with all kinds of stories to tell. Let's make space for them."
Take a step beyond talking, listening—ranting (me!)—and support Latinx authors.