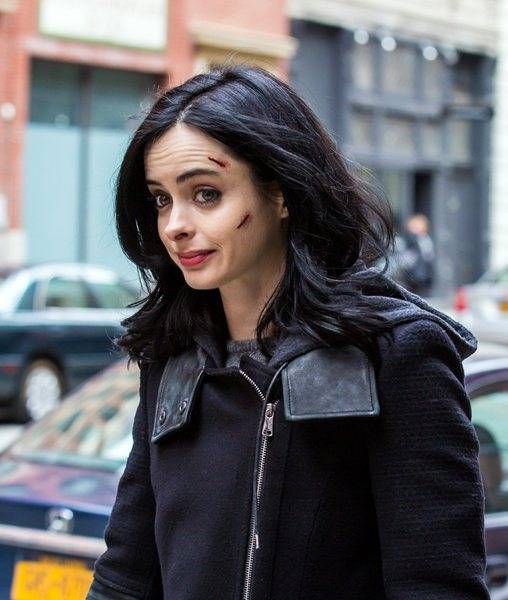 Preeti and Swapna are covering Netflix's Jessica Jones for Panels.net
Jessica Jones, Netflix's adaptation of Brian Michael Bendis and Mike Gaydos' graphic novel series Alias, drops on Friday. A few of us at Panels have seen the first seven episodes. But if you're looking for spoilers, you won't find them here.
This is about anxiety and perception. We've seen a lot of people worried about how Jessica's story would come to screen. (Ourselves included.) The comic handles a lot of dark storylines and themes, and while it's not perfect, it mostly handles them in a decent way. Sadly, we don't have a lot of comic adaptations that can say the same.
In the lead up to the show dropping, there has been chatter about how the show is going to deal with certain issues, with certain characters, and with certain relationships. Here is our attempt to speak to those fears without giving any actual plot points away that haven't already been released by Netflix.
Will Jessica Jones be too dark? Will it not be dark enough?
It is very dark. The tone is in line with its source material. DARK. It deals with serious issues and trauma. The show doesn't shy away from the serious subject matter. If you're worried about this show triggering something, well, it definitely could. And while it is heavy, it's not all doom and gloom. We get some moments of levity. But the best is that it's not artificially grimdark, it's appropriately dark for what Jessica's been through. The choices made by the writing team feel necessary.
Will Jessica's story be defined by Jessica, or by the men in her life?
This is Jessica's story, but more than that, it's a story of women. The Purple Man looms over the series, for sure, but he's not even close to the main character. None of the women in Jessica Jones are defined by men. The show is by no means perfect, but it is certainly refreshing to have a story that is, first and foremost, ABOUT THE WOMEN.
Will the Purple Man be more sexy than scary? Will he be David Tennant woobified?
The Purple Man is appropriately terrifying. If you seen the most recent clip, you know that David Tennant is not our Doctor in this series. He is a sick, scary man and he is portrayed as such.
Will Jessica be a Victim-with-a-capital-V?
Jessica is a victim. She's also a hero. And a fuck-up. And a goodhearted person. And an angry person. She's not defined by her victim-hood.
Will Jessica be allowed to be unlikable and complex?
Jessica is an unapologetic screw-up in Jessica Jones. She does NOT have her shit together. She doesn't care if you like her or not. And you know what, there are so many women on this show, that she is allowed to be unlikable. She doesn't have the added responsibility of being the only representation of an entire gender. (Weird how that makes for compelling television.)
So, that's our spoiler-free attempt to allay your fears. Definitely hang out with us this weekend while we're finishing up the series, and tune in to Oh, Comics! on November 23 to listen to our Jessica Jones Part One show. We'll see you guys on the other side.