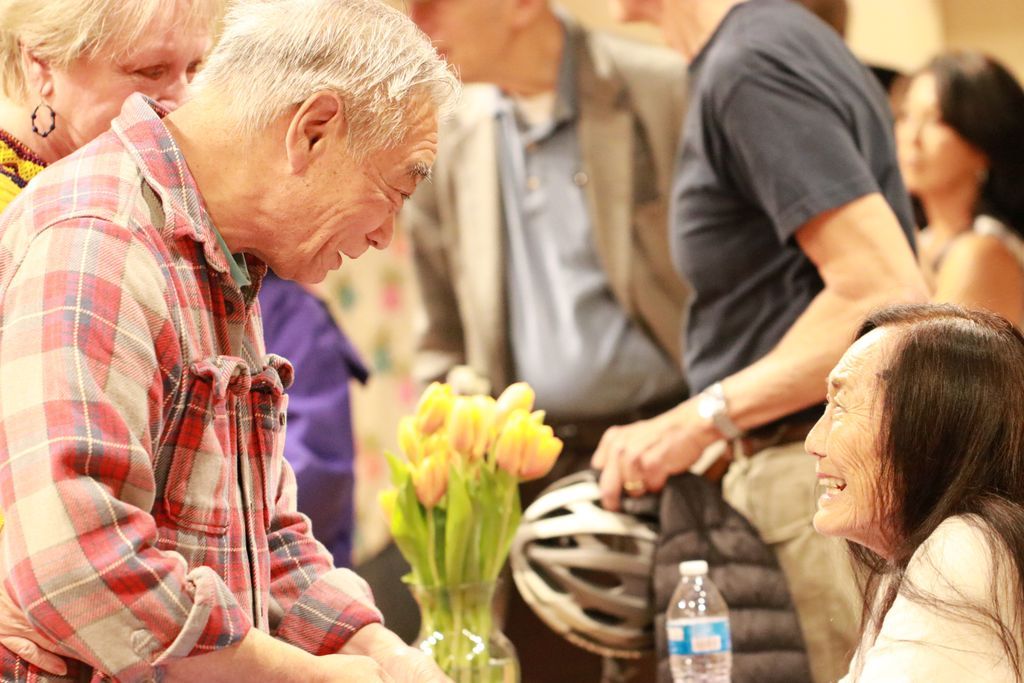 This content contains affiliate links. When you buy through these links, we may earn an affiliate commission.
"There are two questions I am always asked when discussing Farewell to Manzanar: How did it happen and can it happen again." —Jeanne Wakatsuki Houston at the Santa Monica Public Library, May 12, 2018
As bibliophiles and Book Rioters, there is one common source of joy and personal reward: finding and reading the books that have changed your perception of the world. Reading Farewell to Manzanar in 1973 while in high school, I was aware that Jeanne Wakatsuki Houston's instant classic of her youth inside Manzanar, a Japanese American Internment camp, would be on the forever list of my great and influential books.
Therefore, when I learned that Farewell to Manzanar was chosen to be the Santa Monica's Public Library's City Reads Program, Santa Monica Reads, I was glad to participate. I knew that rereading Farewell to Manzanar would reconnect me with the best parts of my past.
Forty years ago, I was an earnest young woman, despairing of all the historical wrongs committed in the name of justice when I first read Farewell to Manzanar. I had my perceptions irretrievably altered with the realization that those in governmental and corporate power have committed acts of genocide, acts of gross inhumanity and brutality, and justify themselves with pride and impunity.
Forty years later, I am an earnest older woman and I still fight for a just and better world, but upon rereading Farewell to Manzanar this past spring, I realized a good portion of the book's grace and hope did not register with me all those years ago.
At the Santa Monica Reads opening day celebration on May 12th, I came early. I wanted a good seat: I wanted to be close to the writer that I had been in respect and gratitude of for forty years.
Jeanne Wakatsuki Houston, at eighty-three years old, is a graceful and elegant woman. The Santa Monica Reads audience knew that we were in the presence of a great woman: the writer whose personal search for her family's history and her struggle to find her place in the world, has given the world a memoir that does not flinch from depicting the worst of humanity—how this country's society lost their humanity when they chose the scapegoating of American citizens (78% of those incarcerated at the Japanese American Internment camps were native-born, with the rights and privileges inherent to every American citizen) and then incarcerated them. And then produced the false narrative that such incarceration was for the Japanese Americans own safety—for their own well-being.
She answered a question from a Santa Monica reader, "Do you think that what happened at Manzanar can happen again?"
Houston replied that the same hatreds that were rampant in World War II still reside in the country but given the advancements in technology and communication—tools of communication meant to expose threats of mass incarceration to the rest of the country and to the world.
To prevent such another mass incarceration of the country's populace, we must be vigilant. No matter how uncomfortable and how inconvenient the truth is, we as a society cannot ignore it.
As a younger reader, I do not remember reading the beauty of the last pages of Farewell to Manzanar. As the older reader, it was a gift to read Houston's last pages of the book again.
Houston describes her visit to Manzanar twenty-five years after World War II with James D. Houston, her husband and the co-author of Farewell to Manzanar, and their three young children:
"Much more than a remembered place, it became a state of mind. Now, having seen it, I no longer wanted to lose it or to have those years erased. Having found it, I can only say what you can only say when you've truly come to know a place: Farewell."