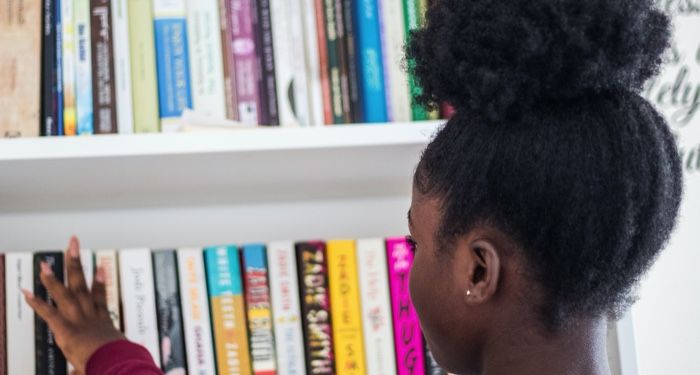 Sponsored
10 Great January 2021 YA Releases to TBR
This content contains affiliate links. When you buy through these links, we may earn an affiliate commission.
Happy New Year, book nerds! I am so excited to dive into 2021, which is already SO FULL of amazing new YA releases! I have a hard time containing my excitement about this great bunch. I'm sure you already have Concrete Rose by Angie Thomas and Winterkeep by Kristin Cashore on your radars, but here are ten more January 2021 YA books that you simply must put on your TBR!
Tessa is an aspiring romance writer who doesn't normally have a problem finding inspiration for her stories, but when she enrolls in a prestigious writing program, she finds herself confronting writer's block. Her best friend Caroline has the perfect solution: Tessa needs to go and experience some romance for herself! Caroline helps Tessa come up with a list of things to do and experience for inspiration…and soon Tessa finds herself in the middle of her own romance fit for the pages of some of her favorite books!
Nora O'Malley is the daughter of a con artist, but the biggest con she's pulled off lately is living a normal life, where no one suspects her past. But then Nora, her girlfriend Iris, and her ex Wes all walk into a bank to deposit money from a fundraiser, and before they can leave the bank is held up by two robbers. Nora must pull upon all of her knowledge from her past life in order to ensure she, Wes, and Iris make it out safely.
Evie is a math nerd and has always been awkward around guys. But when she decides to be brave, she has a meet cute with a very cute new boy…one that is witnessed by her best friend Caleb, who also happens to be her secret admirer. As Caleb tries to express his feelings for Evie, she suddenly finds herself dealing with more romantic attention than she thought possible and all the assorted weirdness that comes with it.
Lily Hu is a Chinese American young woman living in 1954 San Francisco, a dangerous time for a girl who harbors feelings for another girl. When she falls for Kathleen Miller under the lights of the Telegraph Club, a lesbian bar, Lily's life is changed in exciting new ways…but it also becomes very dangerous as she risks more and more to be with Kath.
It's an unfortunate but hard truth in Newport News, Virginia, that when a Black teen girl goes missing, the police don't do too much about it. When Jay's sister Nicole goes missing after going to a party, Jay thinks she'll turn up and tries to cover for her…but the longer she's gone, the more worried he becomes, until he realizes that he is the only one who cares enough to find out the truth about where Nicole went.
Jerzie Jhames wants nothing more than to land the lead in Roman and Jewel, a Romeo and Juliet–inspired hip hop opera that is destined to be the biggest hit anyone has ever seen. But she falls short of her dreams when she is cast as the understudy. Jerzie studies vigilantly, but the lead actress is territorial, especially when it comes to Zepp, the actor playing the love interest. But when a video of Jerzie and Zepp rehearsing together goes viral, Jerzie finds that fame comes with a hefty price.
Happi and her sister Genny are devastated when their sister Kezi is killed while attending a protest. In the aftermath of her death, Happi watches as Kazi becomes a symbol in the fight against police brutality and her image and reputation are reshaped by the public. She and Genny want to honor Kezi's memory and legacy their own way, but as they begin to do so they find secrets that will force them to think about their sister in a new light.
Charity is a real-life fairy godmother, but she's also a semi-normal teen girl. She is able to grant wishes because she can catch glimpses into the futures of her classmates. When one of her glimpses leads her astray and ends in catastrophe, Charity begins to seriously doubt herself…and then Noah, an ex of one of Charity's past wish recipients, demands that she fix her mistakes, and suddenly she's on a journey to figure out how her powers really work. As she falls for Caleb, Charity begins to wonder if she has the power to bring about her own happily ever after.
Set against the backdrop of the Greenwood Massacre in 1921 Tulsa, Oklahoma, this book is about Isaiah and Angel, two Black teens who've grown up in the same community and the same schools but have differing views on how Black people ought to gain equality. They work together on the mobile library, and as they get to know one another, their lives are forever changed when a white mob mounts an attack against Greenwood, razing buildings and displacing thousands.
Izzy is someone who keeps her thoughts to herself, and feels likes someone else is always speaking up or talking over her. But when she inadvertently walks into a comedy club and performs stand up, she discovers she's really good at it…and she finds a whole new friend group and passion. The only problem? Her new friends are all college students and she's lied and said she's older than she is. As she sneaks around, Izzy learns she'll have to find the courage to speak up about what she really wants.
---
Want more 3 on a YA Theme? We've got you covered!