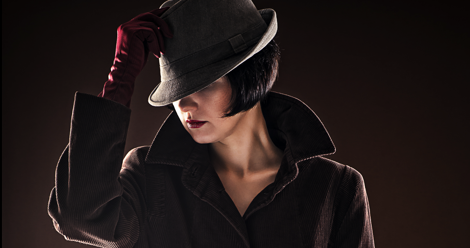 This content contains affiliate links. When you buy through these links, we may earn an affiliate commission.
A roundup of favorite mystery and thriller reviews from the biweekly Unusual Suspects crime newsletter, highlighting some great new releases and backlist mysteries that shouldn't be missed.
Publishing is like a monster that goes to sleep in December and then wakes up ready to breathe out all the books again in January. Which is awesome for readers who start the year off determined to read more books this year! This January was no exception and not only did crime publishers put out some great books but I also read some excellent backlist titles that if you haven't gotten to yet, you should. Here are my favorite mystery and thrillers that I read:
New Releases:
This novel is a heist thriller with a murder mystery starring Robin Hood—if Robin Hood were a rich teenage girl with a crew of drag queens. I adored it! Margo Manning is a socialite whose father has more money then a person can spend in a lifetime so naturally she steals from the rich. And I mean she has a full-on operation with a fence, and help with gadgets, and a crew of teenage drag queens. The heist scenes are kick-ass, and read like scenes from awesome thriller movies–but this novel is far from just flashy fun scenes. Rather than stereotypical drag queen characters used just for fun quips we get to know the entire crew, including their personal lives and the how and why they ended up as thieves. The novel is about birth families, found families, trying to make the best out of terrible situations, social justice, and the wrong path for the believed right reasons. I absolutely loved every second of this ride Roehrig took me on. And if that isn't enough of a sell, think of this book like Ocean's 11 dated RuPaul's Drag Race and the wedding reception got crashed by Hamlet. (TW addiction)
If you're a fan of thrillers get thee this book now without knowing anything about it—trust me! For everyone else going, "Yeah, no, you're going to have to tell me more," here's my leaving-everything-I-can-out review: There's a dude whose first wife died in a house fire and his current wife just fell to her death while on a hike. As you can imagine, the cops have their eyebrows raised at him because that's a hell of a coinkydink, dude! You get a detective character who I loved (she's smart and by the book and patient) trying to figure out what happened on this hike, while also bringing in a pure a-hole detective character from Chaney's previous book, What You Don't Know, who has a past mystery of his own coming to get him. This book is a wicked page-turner, dripping in dark humor, and a hell of a ride you won't realize you are on until it's too late to get off. So strap-in, and read this before anyone spoils the fun. (TW suicide/rape/revenge porn/domestic violence)
Spin by Lamar Giles
I love Giles's characters and this time he gave me three great ones! DJ ParSec, real name Paris Secord, is a sixteen-year-old up-and-coming DJ ready for fame and most importantly fortune—or was before she was murdered. Being questioned in the police station are Fuse, basically her social media hype girl, and Kya, her childhood best friend. But the questioning doesn't last long because the girls' parents refuse to let the police keep questioning them, plus they swear they just found Paris dead and don't know what could have happened. This alternates between the present where Kya and Fuse, who don't like each other, try to figure out what happened to Paris while reconciling how their relationships had deteriorated prior to Paris's death. We get to know Paris in flashback chapters that show her rise and struggle with leaving it all behind in order to "make it." Giles gives us three different girls, with different families and struggles who are all trying to find their way, while shining a light on the inequalities of social justice, obsession, and the dark side of social media and fame. If you haven't read Giles's novels yet you really should—he's writing some fantastic teen characters in the crime genre.
Lives Laid Away (August Snow #2) by Stephen Mack Jones
If you've been reading this newsletter for a while now you know I'm a fan of '80s/'90s action movies and mystery/thrillers that are either that in book form or have scenes like that. Jones has created a great character, community, mystery, and tossed in some action scenes which I love! August Snow is a former Detroit cop living in Mexicantown, Detroit, where he helps take care of the community, and works as a PI. He's asked to look into the death of an unknown Hispanic woman who is pulled from the Detroit river dressed as Marie Antoinette. That's only the beginning of the problems though, as ICE has been spending too much time harassing residents, and Snow and his friends are trying to protect their community and residents. I really like that the book brings to life this community made up of many different races and ethnicities, while weaving in Snow's PI work, and ramping up the action scenes. It's in no way a realistic look at the FBI or a procedural but who expects that in action movies? Not I! Definitely pick up this series if you're a fan of Joe Ide's IQ series. If you've read neither, here's a perfect chance to pick up two great new PI series where the leads are very different from each other but the communities are similar. Reads as a standalone. (TW suicide/human trafficking/rape)
Backlist:
Broken Places (A Chicago Mystery #1) by Tracy Clark
I'd been craving a solid mystery from beginning to end for a while now, and finally a book delivered! This starts with Cass Raines as a police officer, but after a traumatic work incident she quits the force and starts her own Private Detective firm in Chicago. When the priest who helped raise her is murdered, she's forced to deal with a cop she hates, while stopping at nothing to find out what happened. I love Raines's character, her heart and humor, and really enjoyed how the novel takes you through her process of searching for clues and witnesses. And it isn't a simple case of "this clue lead to this, and this, and bingo." She also has her ex-partner as a friend, a childhood friend, and a nun who are great for witty banter; interesting characters; and found family. If you're looking for a good mystery, don't miss this one. (TW suicide)
I loved Kang's last novel, The Impossible Girl, so as soon as I finished that I went looking for more of her writing—and now I have a new author to love. This is set in New York in 1918 and follows three childhood friends who have lost touch, brought back together to solve a murder. Allene is wealthy, engaged, and bored—so clearly the one who wants to play detective. Birdie is working at a factory, struggling to feed her little sister, and Jasper is working as a janitor, hoping to go to medical school one day and avoid the draft. While the deadly Spanish influenza is killing people, Allene, Jasper, and Birdie are realizing that some deaths are murder and not sickness…This was a great read that showed you each character's private struggles along with how childhood bonds evolve, break, repair, and change through life—all while staying focused on the mystery and teaching you some chemistry along the way. (TW suicide/pedophile—not graphic)
This one put its claws in me from the first line: "I'm eight years old the first time I watch my daddy kill a man." Harley McKenna is raised as the only child of widow Duke McKenna, the violent top-dog criminal of North County. And he raises her to survive anything—including his enemies coming to harm her. A tough and gritty read as adult Harley struggles with how much of her mother she is—including running the motel for abused women seeking help—and how much of her violent criminal father she is. She's now reached a part of life where she must decide what will happen next, and she's got a plan, but will anyone come out of it alive? I loved Harley, who isn't a tough girl character just in term, but a very real character that has been shaped by her life and is doing her best to not only survive but to just be. I really love Sharpe's writing of girls and women and look forward to more from her. If I'd gotten to this one last year it definitely would have been on my 2018 favorites list. Can't recommend enough if you're a fan of dark crime shows like Ozarks. (TW rape/domestic abuse/addiction/pedophile)
The Vanishing Season (Ellery Hathaway, #1) by Joanna Schaffhausen
If you like fictional serial killers and need a great procedural have I got the read for you! This is dark, but without doing it for shock value and it's mostly blips throughout. Ellery Hathaway is a police officer in a small town where three people have gone missing, and no one is listening to her that there is a connection and there will be more. The problem is, she can't divulge the reason she thinks there is a connection because then she'd have to share her secret: as a child she was abducted by a notorious serial killer and was the rescued victim who landed him on death row. Since she can't come out with any of that, she instead calls an FBI agent, the one who saved her, to come help. Of course there's a problem with that, too—he's kind of on leave and the sheriff loses it when he finds out she went behind his back. This is one of those page-turners where you start suspecting everybody that turns into a thriller by the end. And if you hate waiting between books you'll be thrilled to know the sequel just published, so happy reading! If you regularly read dark serial killer fiction, this is dark-ish. (TW kidnapping/domestic violence/child rape/alcoholism)
Did you have a favorite mystery or thriller read last month?