Interviews
James Holzhauer, Jeopardy! Champion and Reading Superstar
This content contains affiliate links. When you buy through these links, we may earn an affiliate commission.
"I plan to give some of my winnings to the local branches here in Las Vegas," says James Holzhauer, who has been on a record-winning Jeopardy! streak this week. He set a single-game record on Wednesday, April 9, by winning an unbelievable $110,914.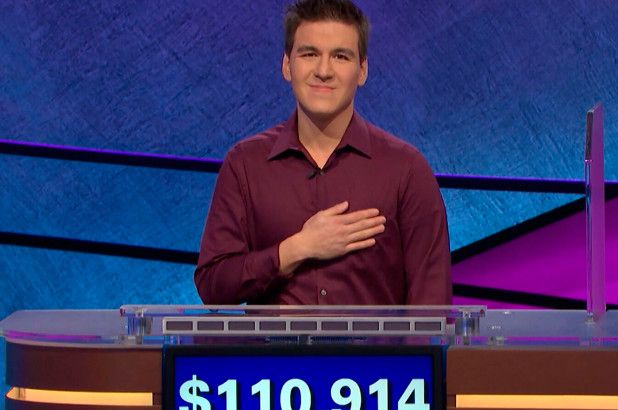 The 34-year-old professional gambler from Las Vegas went on record with his game-play strategy, noting that it was utilizing children's nonfiction books from the library that helped him bone up his knowledge quickly. Holzhauer, a Naperville, Illinois, native, told the local paper that his biggest secret for studying subjects he couldn't get into was checking the children's section, because the pictures and fun facts made getting the basics easier.
"When I first got serious about wanting to win on Jeopardy!, I thought I would finally read all those classic works of literature they always ask about. That plan lasted through one scene of Hamlet, before I fell asleep from boredom. Then I remembered how I recognized many classic works of literature—Dr. Jekyll and Mr. Hyde, "The Gift of the Magi," Cyrano de Bergerac—because they had been adapted into TV shows and kids' picture books," he said in an email with Book Riot.
Holzhauer cited Mythology For Teens and Greek Mythology For Teens, both by Zachary Hamby, as two of his favorite books encountered using this strategy. "I ended up buying both and reading them for fun," he added.
Family has been a huge part of Holzhauer's strategy as well. He's made wagers based on loved ones' birthdates that have not only allowed him to send well-wishes and appreciation for them, but also have helped him walk away with bigger and bigger prizes at the end of the day.
They've also been part of his strategy, whether or not they've been onto it.
"At my peak I read around ten books a day to study and another ten to my own kid—she's quite the bookworm," he said, adding: "My daughter's current favorite is Harry Potter, which I've never read until now. It's not bad!"
It's fitting his success and story emerged during National Library Week. As he stated above, he plans to make a donation to his local library system.
"My favorite library memories are playing Oregon Trail and Number Munchers on the Apple II. But doing preparation for Jeopardy! reminded me what an important resource libraries are for our communities."
Despite what many might presume given his winning streak and his knowledge base—not to mention his studying strategy—Holzhauer wasn't an especially diligent or invested student growing up. But one teacher stands out in his memory as making a lasting impact on him.
"I would skip reading assignments whenever I could get away with it. I do want to give a shout-out to my junior high math teacher, Suzanne Croco, who did the best she could with a student who clearly wasn't interested in giving his full effort."
Jeopardy! isn't his first run on a television trivia game; he was also a contestant on The Chase. Between the two shows, it seems reasonable to assume that there's been a question or two that haunted him, whether because he missed it or because he nailed it.
"Nothing haunts me," he said, "although I did miss a question on The Chase about the development of the human fetus—with my pregnant wife in the audience."
He couldn't go on the record about his favorite answer, as that has yet to air.
Holzhauer doesn't keep a nightstand, but his current bookshelf is anything but empty. "My bookshelf is stuffed to the gills with books on bridge and popular economics."
As reading has become a bigger part of his life, it's only natural he's put some thinking into what authors he'd love to have dinner with and which author he'd want to team up with to form the ultimate trivia partnership.
"I would have dinner with Chuck Klosterman, Nassim Nicholas Taleb, and Michael Konik, who would all have enough stories to keep me entertained for hours. Chuck Klosterman would be my teammate at trivia, because I can't imagine him whiffing on a pop culture question."
And to answer the question on every book lover's mind: "My favorite book is whatever my daughter picks out for bedtime. No prose can ever match the light in her eyes when she's lost in a good story."
Welcome to team book worm, James, and best of luck in the rest of your run. Maybe soon you'll be publishing as many books as previous mega-champion Ken Jennings.