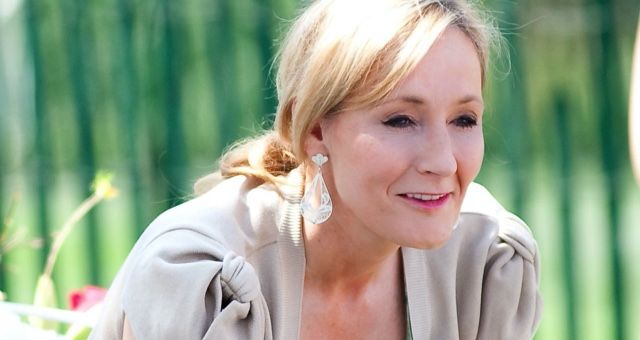 News
J.K. Rowling Makes Transphobic Statement on Twitter
This content contains affiliate links. When you buy through these links, we may earn an affiliate commission.
J.K. Rowling, best known as the author of the Harry Potter books, confirmed today on Twitter that she supports anti-trans, anti-science statements. Trigger warning for her words and discussion of what they mean.
Dress however you please.
Call yourself whatever you like.
Sleep with any consenting adult who'll have you.
Live your best life in peace and security.
But force women out of their jobs for stating that sex is real? #IStandWithMaya #ThisIsNotADrill

— J.K. Rowling (@jk_rowling) December 19, 2019
What is a TERF?
TERF is an acronym for Trans-Exclusionary Radical Feminist. In short, it means a person who calls themself a feminist but does not believe feminism applies to trans people. It most often manifests in the insistence that biological sex is real and trans women are men. The reality is that, like gender, sex is not a strict binary (there are many articles widely available on this—here is one from Slate, published last year). TERFs often identify themselves and their beliefs as "gender-critical," which is in fact the opposite of their stance.
Who is Maya?
The hashtag #IStandWithMaya came about in support of Maya Forstater, a UK researcher whose employer declined to renew her contract after she tweeted several times questioning the government's intention to allow people to identify legally as their true gender. She sued the Centre for Global Development, where she had been a visiting fellow, and the judge assigned to the case upheld the think tank's right to let her go. His judgment boils down to this: while she is entitled to believe whatever she wants, she cannot legally ignore the rights of trans people or expect her beliefs to be supported. Notably, he stated that her views were "incompatible with human dignity and fundamental rights of others" and ignored "enormous pain that can be caused by misgendering a person."
"If a person has transitioned from male to female and has a Gender Recognition Certificate (GRC), that person is legally a woman. That is not something Ms Forstater is entitled to ignore. Ms Forstater's position is that even if a trans woman has a GRC, she cannot honestly describe herself as a woman. That belief is not worthy of respect in a democratic society.
"Even paying due regard to the qualified right to freedom of expression, people cannot expect to be protected if their core belief involves violating others' dignity and creating an intimidating, hostile, degrading, humiliating, or offensive environment for them."
Thank you, Judge James Tayler. (Quotes via The Independent.)
Why Does It Matter What J.K. Rowling Thinks?
Harry Potter is one of the most popular children's series of all time. One has only to scroll through Twitter for five minutes to find stories of young trans people seeking refuge in the wizarding world, looking to her stories for a safe haven from a world that is largely unaccepting and dangerous for them.
As a children's author, Ms. Rowling has an obligation to her readers. It would be appropriate for her to help those readers who felt safe in her words continue to feel safe; to support her trans, gender-nonconforming, queer, and otherwise marginalized readers in their right to live their lives as themselves. Instead, she has told them that she does not believe in them.
To say this is disappointing would be the understatement of the year.
If you need a new series to get you through, may I recommend Percy Jackson by Rick Riordan?
Here you go, random commenter. I fixed it for you! And thanks for your concern, but I am quite happy with my sales! 😀#allkidsdeserverepresentation pic.twitter.com/jG8oUN6KCa

— Rick Riordan (@rickriordan) July 28, 2018
We also have several lists on Book Riot of books by trans authors, many of whom I'm guessing could really use your support right now.
Read Harder: A Novel By a Trans or Nonbinary Author
20 Books About Gender Identity
7 Books About Transgender History
15 Trans, Nonbinary, and Gender-Nonconforming Authors to Support