News
J.K. Rowling Defends Johnny Depp's Continuing Role in Harry Potter Universe
This content contains affiliate links. When you buy through these links, we may earn an affiliate commission.
(TW: abuse.) Johnny Depp was physically and verbally abusive to his ex-wife, Amber Heard. Among other things, he threw a magnum champagne bottle at her, hitting the wall, and left her face bruised when he hit her in the face with a cell phone. (Both incidents are described in detail in this Variety article from 2016, after she filed for a restraining order. They have since divorced, with a settlement in her favor.)
Harry Potter fans, some of the most vocal and most loyal people on earth, were not happy when they learned that he was playing Grindelwald, Dumbledore's former friend (lover?) turned enemy, in the film inspired by Fantastic Beasts and Where to Find Them. It was a small role, and filmed before the allegations, so many fans hoped Grindelwald would be recast for the sequel. He was not.
Last month, director David Yates defended Depp's casting:
"With Johnny, it seems to me there was one person who took a pop at him and claimed something. I can only tell you about the man I see every day: He's full of decency and kindness, and that's all I see. Whatever accusation was out there doesn't tally with the kind of human being I've been working with."
This is a classic white male response. "He didn't do it to me or in front of me, so he couldn't have done it." It is wrong and inappropriate, and fans were angry and disappointed, as they should be.
Today, finally, J.K. Rowling has issued a statement. It's…not great.
I'm saying what I can about the Grindelwald casting issue here:https://t.co/NDMjy542Yv

— J.K. Rowling (@jk_rowling) December 7, 2017
Her website is currently down, probably due to the millions of people trying to read the statement. Here is a screenshot of the text: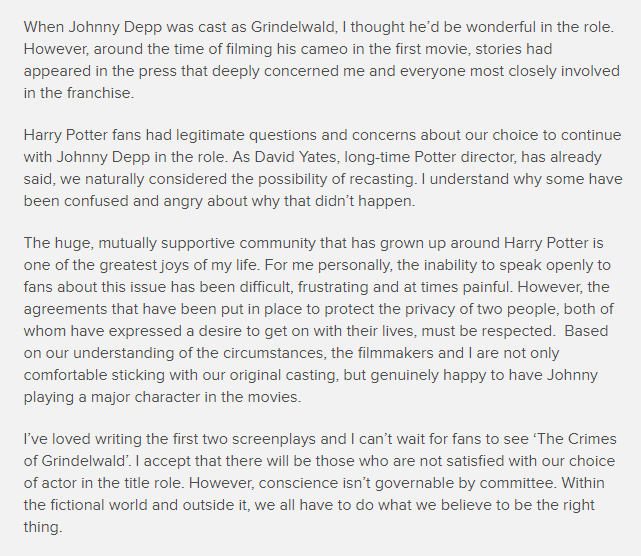 This, too, is incredibly disappointing. Fans, many of whom have been holding onto hope that she has no control over the matter, have been let down. And she states things as fact that absolutely are not. The "agreements that have been put in place to protect the privacy of two people" presumably refers to Depp's settlement with Heard, but her accusations are public.
J.K. Rowling, the woman who wrote about an abused boy who got to escape his abusers and save the world, has just shown us that she does not believe victims. And that is a real shame.
UPDATE 12/8/17: Amber Heard has responded, albeit indirectly, posting the full joint statement she and Depp issued, in which they clearly stated that her accusations were true.
For the record, this was our FULL joint statement.To pick&choose certain lines & quote them out of context, is not right.Women, stay strong. pic.twitter.com/W7Tt6A3ROj

— Amber Heard (@realamberheard) December 8, 2017