This content contains affiliate links. When you buy through these links, we may earn an affiliate commission.
I am a feminist. I'm also a Jew. A Jewish feminist.
While I'm not super-observant, I did go to religious school for almost 10 years, am fluent in Hebrew, and am raising my son Jewish. Like many people, no matter what their faith, I've gone through periods of questioning and examination, especially when looking at how my feminism intersects with my faith. There are no easy answers, and most of the time, I've found that my answer is fluid, and rarely static. The fun is in learning more about the topic, talking with other people, and re-examining why I believe the things I do.
To be honest, until recently, my religion always felt like something on the back burner. I never really thought about it, and certainly never felt in any danger because of it. Since the election, however, that has all changed. There are neo-Nazis in the White House, minorities are being threatened on a daily basis, JCCs are being terrorized with bomb threats, and I'm kept up at night, remembering how it all started in Europe all those decades ago.
This year, for International Women's Day, I am celebrating my identity as a Jewish woman, a Jewish feminist, and a Jewish mother. Here are some of my favorite books on the topic.
Every afternoon for 9 years, my afternoons consisted of Hebrew class, Torah class, and Jewish history/Holocaust/Israel class. We read the Torah, Rashi's commentary, and even some Mishnah. By the time I finally went to a secular school for high school, I felt like I never wanted to read the Bible again. Even as an elementary and middle schooler, I was angry that we didn't hear more from the women in the Bible. Then I found Five Books of Miriam: A Woman's Commentary on the Torah, by Ellen Frankel. I have returned to this book over and over. Each weekly portion is illuminated by a conversation of sorts between the Torah and various women of the Bible, like Leah, Rachel, and Sarah, along with more general characters like the Sages and the Daughters. The list of women in the Bible is fascinating, as some unnamed women finally get names, and peripheral Biblical characters are given stories of their own. Reminiscent of The Red Tent, this is not your father's Bible.
One of the first books on Jewish feminism that I ever read was Danya Ruttenberg's amazing book Yentl's Revenge: The Next Wave of Jewish Feminism. An anthology of stories on a variety of topics, including Orthodox women, women who wear kippot, Sephardic Jews, religion and body image, transgender issues and the mikvah, and intermarriage and atheism, this book showed me just how diverse Judaism was. It showed me that you could be religious and love your religion, and still be a feminist.
I was hesitant to read The War on Women in Israel: A Story of Religious Radicalism and the Women Fighting for Freedom at first. I picked up an advance copy of it, and didn't know what the author's motives were. However, I was familiar with what was going on with Women of the Wall, and having gone to Orthodox and Conservative day schools, I knew that women were not always equal to their male counterparts. This is especially true in certain sects of Judaism. I was pleasantly surprised at how thorough this book was. Examining life in Israel for women – from the public sphere to private communities, in marriage and divorce, and even fertility and childbirth, as well as the ultra-Orthodox influence – the author brings daily life in Israel vibrantly alive on the page, while underscoring the importance of change.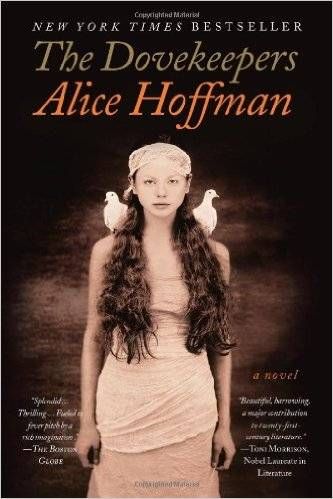 Judaism is filled with stories of resistance and rebellion, sacrifice and survival – and Alice Hoffman's The Dovekeepers is a brilliant novel that manages to capture all of this. It is a reimagining of the story of Masada, from the viewpoints of four women who are dovekeepers. Now more than ever, this is an important story about connection, fighting for what you believe in, and community.
Read and #resist.
---
This post is part of our International Women's Day celebration. See all the posts here.