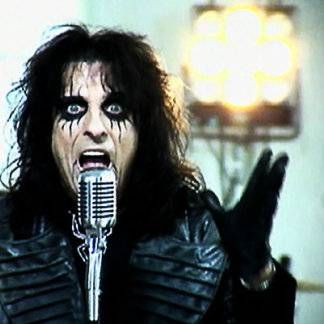 Fiction
It's Bookish Heavy Metal Time!
Like mixing chocolate and peanut butter together to produce a delicious new combination (seriously, someone should market it), mixing the world of books with heavy metal also produces some fantastic combinations. It's a strangely bookish field of music. Geezer Butler once said that Black Sabbath's "Wizard" was about Gandalf. All of Ronnie James Dio's career feels like a shelf of cheesy-but-wonderful high fantasy novels, with a side of Dungeons & Dragons. There are some more specific examples you might not have heard of, out of my own personal music library, and I thought I'd share them.
ALICE COOPER: The Last Temptation
Alice Cooper has had a gigantic career that has gone all over the map. The man who made Billion Dollar Babies is also the man who made DaDa is also the man who made Trash is also the man who made Brutal Planet. Not all of his albums are successful, but he's so prodigious that it almost doesn't matter. The next one will be along in a minute, and it'll be totally different.
For The Last Temptation, which came out in 1994, Alice Cooper hooked up with Neil Gaiman, who hadn't written many of his breathtaking and award-sweeping novels quite yet and was merely known for a small comic called Sandman (and if you have not read that, I'm going to report you). Quite how they built the album, I haven't figured out in all my years of hardcore Alice Cooper fanship, but Neil Gaiman was thoroughly involved. Moreover, the album was released alongside The Last Temptation, a comic expounding on the album's story, written by Neil Gaiman and illustrated by the astonishing Michael Zulli. And to further the literary connection here, Dave McKean, a god of an artist, did the album for the cover.
(The music video for Lost in America isn't particularly literary and has zilch to do with the rest of the album…but it is a fun song, and I love the shots of a kid reading a Neil Gaiman comic. The kid looks like she's never seen a comic book before and is overloading because of a book having words but also pictures how can this even be!)
IRON MAIDEN: Brave New World
There's always been a lot of genre in Iron Maiden's music. Whether we're looking at the horror of Fear of the Dark, or the pure science fiction of their latest album The Final Frontier, you can kind of feel the reading of bassist-and-writer Steve Harris bleeding into each album. With Brave New World, their 2001 album (a return after a lot of years of doing very little), the literary roots are right there in the title. There's not just the title song Brave New World, but further on in the album is an excellent song called Out of the Silent Planet, which is from a trilogy of science books by C.S. Lewis, perhaps lesser-known now than his more famous Chronicles of Narnia.
NIGHTWISH: Imaginaerum
It's not possible to talk to me for five consecutive minutes without hearing me talk about Nightwish, and that is why I never get invited to any of the really good parties. They blend a range of elements together in a way that resonates perfectly with me. From the blending of male and female vocals, orchestras and choirs and heavy metal instruments, the power of the lyrics, I'll spend ages and ages with the albums on repeat. I've written and published whole stories based off of their songs percolating in my brain for a long time.
Their latest album Imaginaerum doesn't have overt songs I can point to that come specifically from certain books, as with the other albums on this list (although the last song on the album is called Song of Myself, which shares a name with a famous Walt Whitman poem, an oft-mentioned influence on the band). When they were working on the album, they described it as "a theme park, designed by Neil Gaiman, Tim Burton, and Salvidor Dali," and indeed, the whole album feels very much like that. So does the Imaginaerum movie, which is coming out to accompany the album (the trailer for which, I have put above).
(This song isn't from Imaginaerum, so I'm cheating a little. It is from the current tour, I really like what their new singer does with it, and it gives me goosebumps at the end. Look, this is my article, dammit…)
RHAPSODY: The Magic of the Wizard's Dream
https://www.youtube.com/watch?v=Z93SdirnzTw
This song is so cheesy. Oh man, is it cheesy. I mean, the cheese starts in the title and goes on from there. But, look, it's a heavy metal ballad song featuring guest vocals from Christopher Lee. And Christopher Lee played Saruman in The Lord of the Rings movies which were based on books which is definitely why I've put it on this list. I haven't just done it because it's wonderfully dorky and I want everyone to see it.
(I started out watching it to laugh at it. But I've come back to it so many times, I suppose I have to admit I like it, dorkiness and all. I'm not ashamed.)

There you have it. A small glimpse of heavy-metal with bookish leanings. I didn't even scratch on all the bands who have pulled from The Lord of the Rings (and I mean besides a member of the cast). Remember, listening to any of these songs is equal to reading one whole book. Tell your teachers.