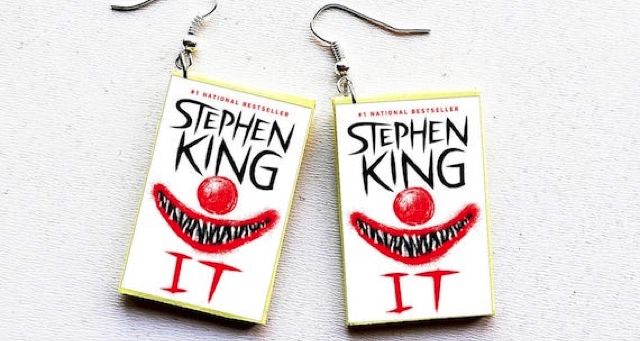 It's Spooky Season. Skeletons, ghouls, and killer clowns, and giant bags of candy everywhere. I recently listened to Stephen King's It on audiobook (all 45 hours) and I can't get It out of my head. I've got the 2017 DVD on hold at the library and will probably go see It Chapter Two in the theater soon. Until then, I decided to gather some of the best It themed pieces to fulfill for all your spooky-ooky needs.
Keep all your daily necessities close at hand with this recycled book handbag. The original It cover art makes for a perfectly eerie accessory. Customize your handbag with hardware and button choices, as a unique gift for a friend or to yourself.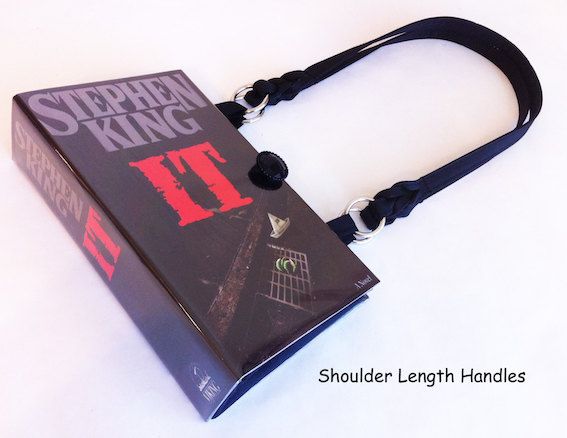 Fill the room with the delicious scent of caramel apples, chestnuts, and cotton candy for a Halloween Carnival atmosphere. Pennywise grins ominously on the label, daring you to light this candle for up to 60 hours of burn time. Choose from 9 oz or 16 oz jars.
Book Cover Earrings from Paper Wicca
Show off your affinity for It with these miniature book earrings, featuring Pennywise's signature snarling grin. Delicate and handmade, these papercraft earrings are a lightweight and fun way to add spookiness to your everyday outfits.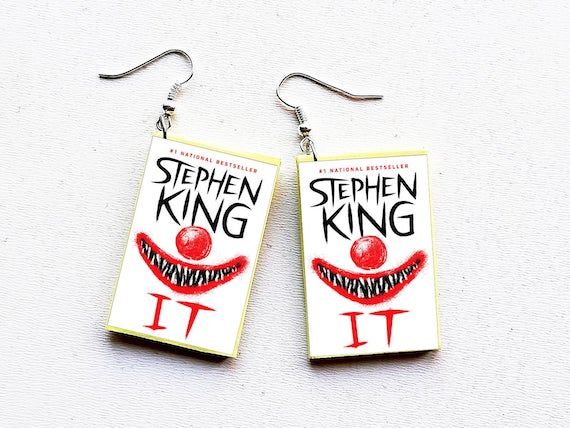 This candle features notes of the rain that brought little Georgie outside in the first place. Rain, sweet red apples, caramel, and cloves combine to create an eerie blend that recalls Derry in autumn. The label features Pennywise offering a balloon to unsuspecting passersby. Choose from three sizes of candle jars or wax melts.
Combine your love of horror with your love of geek comedy with this T-shirt, featuring The I.T. Crowd gang. Pixelated Jen, Roy, and Moss don red noses and hold tight to red balloons, while IT is written in dripping, red slashes.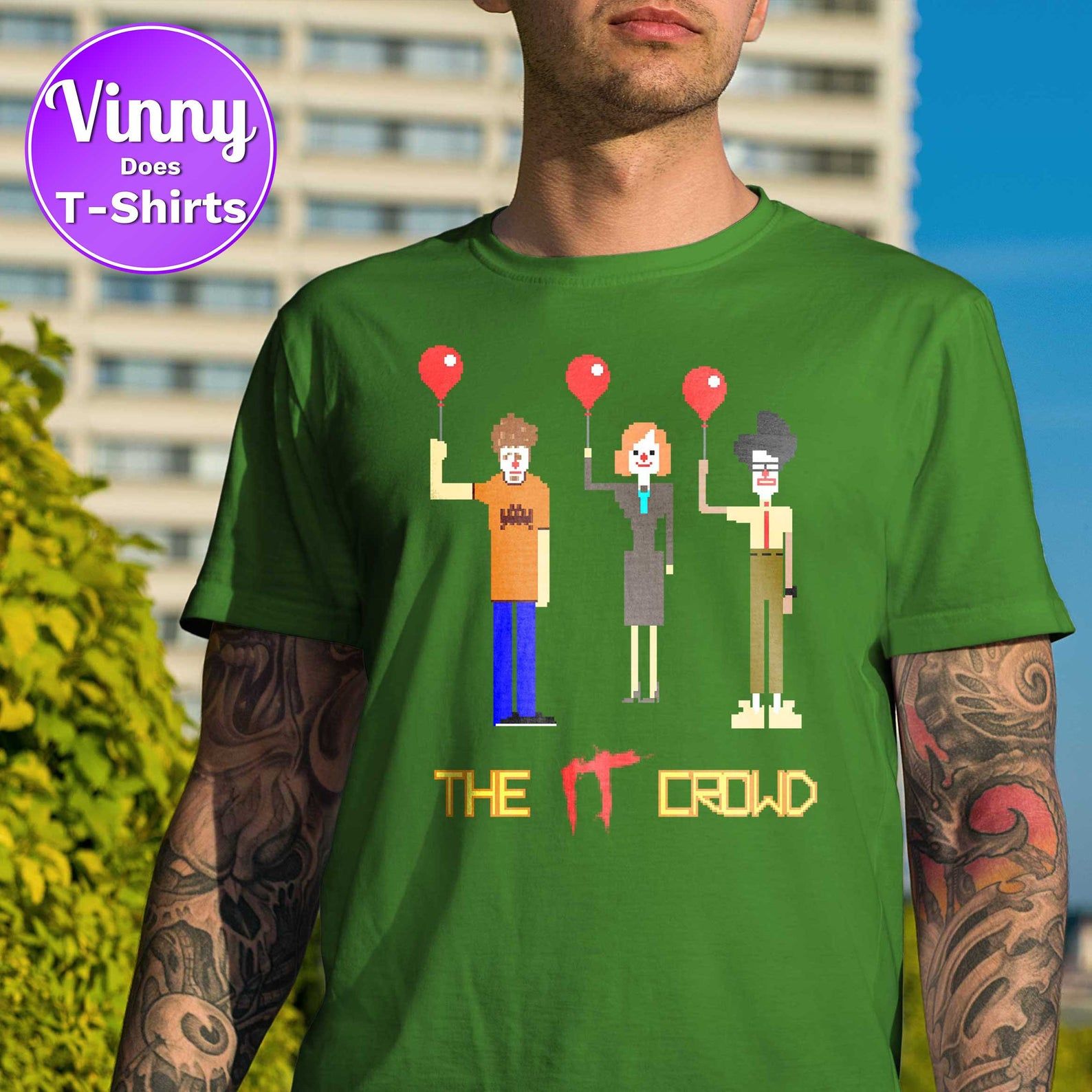 Beep Beep Enamel Pin from Pinrageous
"Beep Beep Richie." Add this cheeky little pin to your denim jacket or pin hoop. Black rimmed glasses with a taped nose bridge surround blood red lettering. Rubber pin backs keep the pin in place to remind Trashmouth when to keep quiet.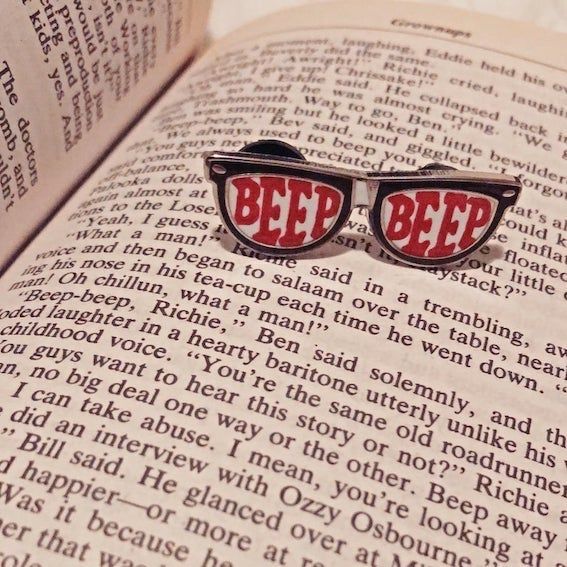 The sweet smell of kettle corn could be enough to lure anyone, but this Pennywise candle also features notes of dried cranberry, red raspberry, and melted butter. Candy pink soy wax is long burning to keep the monsters at bay. Choose from a 12 oz or 16 oz jar.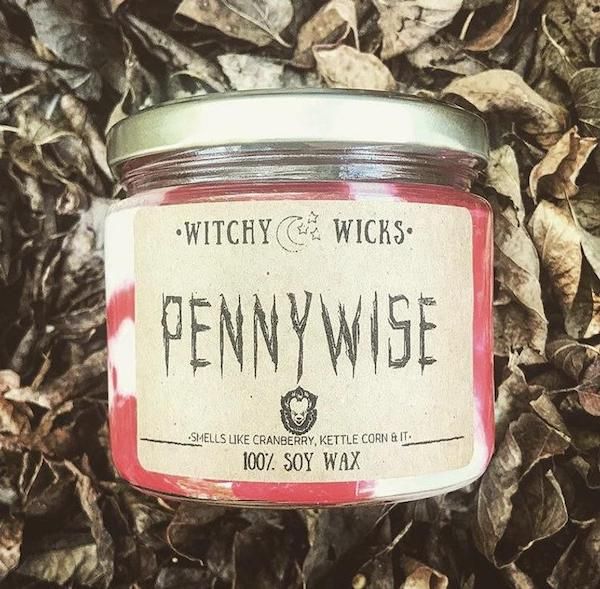 Losers Club Sweatshirt from Emtizee
Keep warm in this cozy sweatshirt featuring a retro design of Georgie's paper boat. You'll be a proud member of the Losers Club with a sweatshirt in your color of choice.
Losers Club Soy Candle from Get Fictional
Summer. Defiance. Triumph. This Losers Club candle smells like kicking evil's a**, or cinnamon and cloves, wood, patchouli, and orange. Choose from three sizes or wax melts.
Map of Derry Print from Cinemascope
Know where It is at all times with this perfectly detailed map, showing all the important locations in Derry. Details provided by Mike Hanlon. Add this print to your home for an unexpected conversation piece.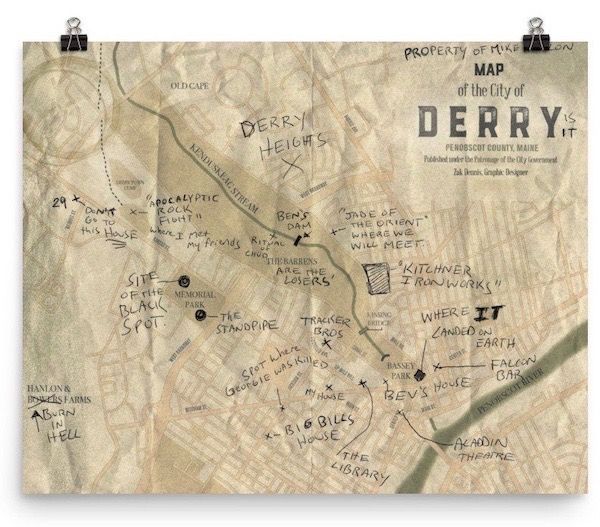 ---
Confession: I am a fairly new Stephen King reader and I have only ever listened to his books on audiobook. Want to know where to start? The 10 Best Stephen King Books, a Ranking.
Craving more horror content? Our horror archives are stocked to keep you awake for days.