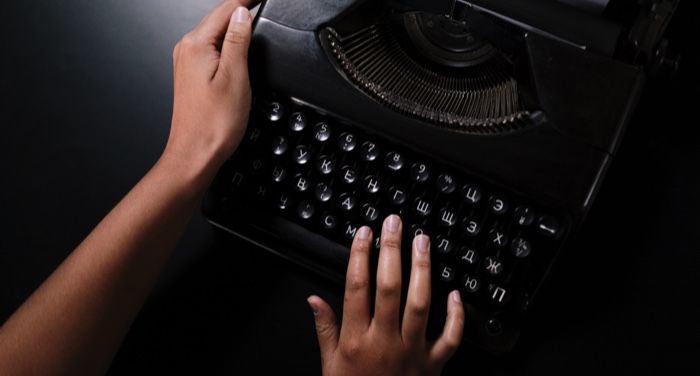 Essays
Is Ghostwriting Ruining Literature?
This content contains affiliate links. When you buy through these links, we may earn an affiliate commission.
Ghostwritten books are hardly new. The phenomenon of a household name hiring a writer on the down low to produce work for which the star will be credited, in fact, dates back to the 5th century B.C., when royalty discreetly hired local scribes to write speeches and other texts for them. The moral debate surrounding ghostwriting, however, perseveres into the modern era, where celebrities who often haven't made their names as authors stand to make many more millions off of books with their names on them — it's just they didn't exactly write all the words on the pages.
Such was the case when, in September, the debut novel by actress Millie Bobby Brown, Nineteen Steps, a historical fiction narrative, was published. While inspired by the real-life story of Brown's grandmother, the book was, in fact, ghostwritten by Kathleen McGurl. The writer's name, however, appears nowhere on the cover. Social media outrage ensued, despite the very domain of ghostwriting historically relying on the notion of little to no credit for work.
Twitter discourse started dictating that Brown was conducting some sort of reverse cultural appropriation by having employed a ghostwriter to transform her grandmother's story into a novel of historical fiction. But others came to the actress' defense, stating that no such criticism has ever occurred over male public figures having used ghostwriters for books with only their names on them.
Indeed, Prince Harry's Spare, which became the United Kingdom's fastest-selling nonfiction book in history during its first day of sales, was ghostwritten by The Tender Bar author J.R. Moehringer. While he is not credited on the book's cover, the fact that he was Prince Harry's ghostwriter was no secret. Moehringer penned an essay for The New Yorker some months later detailing the trials and tribulations of ghostwriting for Harry, which ultimately only ended up drawing more attention to the author's existing work.
Likewise, Hillary Clinton has often received flack for enlisting ghostwriters for her memoirs, criticism that is in no way lobbied at her husband, Bill, nor John F. Kennedy, Donald Trump, or even Nelson Mandela. The notion when a prominent male celebrity or politician takes to writing a book is that, of course, he's not a strong writer, so he would need some help in telling his story that nonetheless deserves to be told. But when a woman uses a ghostwriter, she's lazy, unaccomplished, selling out, and should be ashamed of herself.
Since ghostwriting has existed for so long, it feels futile to argue that it's suddenly ruining literature. The effects of modern celebrity ghostwriting, however, can be felt throughout the publishing industry as up-and-coming authors still have to fight to even have their book proposals read.
But in the end, whether male or female celebrity, public knowledge of ghostwriting does not seem to diminish sales, which can ultimately be frustrating for smaller authors without the star power. "The general public wants to be entertained by a book; they want to read a good story, and ultimately, whoever puts it together, I don't think they really mind," stated Shannon Kyle, founder of The Ghostwriters Agency.
Dr. Hannah Yelin, the author of Celebrity Memoir: From Ghostwriting to Gender Politics, also argues that ghostwriting is nothing new and that ghostwriters have been steadily employed from the Elizabethan era all the way to Maxwell Perkins, who collaborated with F. Scott Fitzgerald on The Great Gatsby. Speaking to The Guardian, Kyle opined that public perception of ghostwriting has even shifted into the 21st century since there was a time when the publishing and entertainment industries took great advantage of them, and they were often exploited for their talents and tossed aside as soon as the book was published.
Now, at least, ghostwriters are able to take some credit for their collaborative work, even if their names might not appear on the front cover. Some ghostwriters are, in fact, credited on book covers, but not in cases where publishers fear it might deter sales. This is often where both readers and industry professionals remain divided on the topic of ghostwriting.
Some believe ghostwriters should always be receiving equal credits with the so-called author, whereas others are more realistic in knowing that, from a business point of view, consumers might be less drawn to Nineteen Steps or Spare if Brown's and Prince Harry's ghostwriters received star billing alongside them. There's also the argument that ghostwriting is a legitimate business practice.
So, is ghostwriting ruining literature? Objectively, no. It's been around long enough that it's not going anywhere, so if it wasn't ruining lit a thousand years ago, it's not going to start now. Rather, what's up for debate is the ethics surrounding its continued use. Should famous names looking to become authors be sharing equal credit with their ghostwriters despite fears from publishing houses that it might diminish sales?
As we learned, public awareness of ghostwriting has yet to majorly discourage sales of a literary blockbuster to date. Would that change if ghostwriters started getting bigger credit? Moreover, do ghostwriters even want more credit? Should everyone just stay in their lane? Maybe the strength of ghostwriting is that it yields more questions than answers.