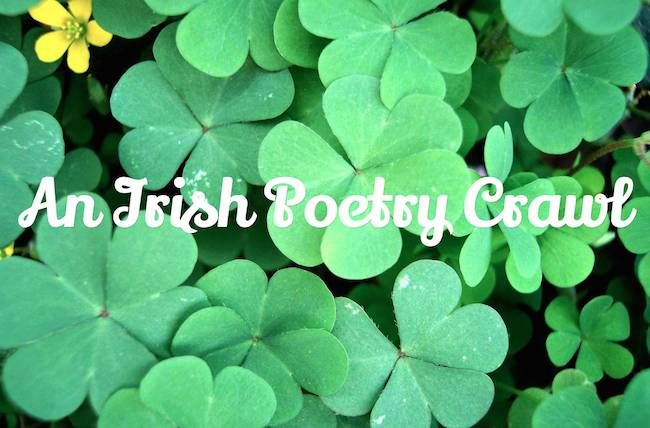 Poetry
An Irish Poetry Crawl for St. Patrick's Day
This is a guest post from Lady Vowell Smith, a writer, editor, and former English teacher who now enjoys discussing literature on her blog, The Snail on the Wall, rather than in front of a classroom. While working on a master's in Anglo-Irish literature at Trinity College, Dublin, in the early 1990s, she also received a rich education in Irish pubs. Follow her on Twitter @snailonwall.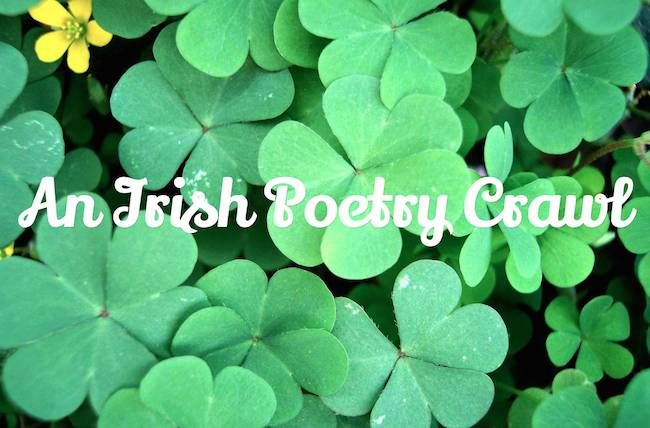 According to Irish lore, you can't walk down a street in Dublin without passing at least one pub. That bit of trivia, whether entirely accurate or not, means there are endless possibilities for a pub crawl, that age-old tradition of touring as many drinking houses as possible in a single outing. In Ireland, there's a poet to be found on just about every corner as well. So, in honor of St. Patrick's Day, we want to celebrate by combining two of the Emerald Isle's greatest traditions: verse and drink. We're taking you on a good old-fashioned Irish poetry crawl, but for this experience you won't have to leave your chair or lift a pint—unless you want to go grab a Guinness and drink along.
The bards we've chosen will treat us to a true pub crawl with all the usual elements: plenty of drink, a lot of fun, and maybe even a little debauchery. Come along!
Our crawl gets off to a raucous start with poet Patrick Kavanagh, who's serving up the hard stuff—whiskey, rum, and gin. In Kavanagh's satiric poem "The Paddiad," the devil brings together a handful of Ireland's most popular writers to drink and debate literature. Reading this opening stanza from the poem, we down the first drinks of our journey, while still managing to hold the devil at bay.
In the corner of a Dublin pub
This party opens—blub-a-blub—
Paddy Whiskey, Rum and Gin
Paddy Three sheets in the wind . . .
— from "The Paddiad" (1949), by Patrick Kavanagh
What's a night on the town without a little love thrown into the mix? Irish master William Butler Yeats hosts our next stop with a little ditty about drinking and romance. Known more for his politics, mysticism, and myth, here Yeats focuses on the simple pleasures in life. It's not clear whether the poem ends in pleasure or pain, but that's true of most barroom romances, right?
Wine comes in at the mouth
And love comes in at the eye;
That's all we shall know for truth
Before we grow old and die.
I lift the glass to my mouth,
I look at you, and I sigh.
— "A Drinking Song" (1916), by W. B. Yeats
The stout is still going down easy at the next pub, which takes us back to the Gaelic days of old. "The Yellow Bittern," translated by Thomas MacDonagh, is based on a true classic, an Irish-language lament called "An Bonnán Buí" by 18th-century poet Cathal Buí Mac Giolla Ghunna. It's a response to the teetotalers who might be saying it's time to slow down. We're sticking with the poem on this one: we have a ways to go, and we want a few more pints to fortify us for the journey.
My darling told me to drink no more
Or my life would be o'er in a little short while;
But I told her 'tis drink gives me health and strength
And will lengthen my road by many a mile.
— from "The Yellow Bittern" (1913), trans. by Thomas MacDonagh
Emboldened by drink, we're bound to start some trouble. It happens at our fourth stop, where we enjoy an old Irish-language poem composed by a 16th-century bard named O'Bruadair and translated for posterity by Dubliner James Stephens. We were merely asking for a beer—just for the "loan" of it, in fact—but maybe we didn't ask nicely? We're not hanging around for the rest of this poem; based on the first stanza, we're not likely to make friends here.
The lanky hank of a she in the inn over there
Nearly killed me for asking the loan of a glass of beer;
May the devil grip the whey-faced slut by the hair,
And beat bad manners out of her skin for a year.
— "Righteous Anger" (1918), trans. by James Stephens
The next destination is more hospitable. It's Yeats again, a familiar voice that bids us come in and make ourselves at home. But as the night wears on things take a turn for the worse, often the case when guests overstay their welcome (or, as Yeats tells it, when the English completely crash Ireland's party). By morning, when we come to, the festive atmosphere is gone. And we're not feeling too great either.
I came on a great house in the middle of the night,
Its open lighted doorway and its windows all alight,
And all my friends were there and made me welcome too;
But I woke in an old ruin that the winds howled through . . .
— from "The Curse of Cromwell" (1938), by W. B. Yeats,
We've hit one too many stops, and overindulgence has taken its toll. When Samuel Beckett, the Irish-born French expat, greets us, we know we've bottomed out and entered a bleak, existential place. Taking advantage of our wasted state, Beckett convinces us that life is not only mournful but maybe even meaningless.
I would like my love to die
and the rain to be falling on the graveyard
and on me walking the streets
mourning the first and last to love me
— "Poem" (1948), by Samuel Beckett
Modernist Denis Devlin plays host near the end of our tour. But we no longer have the brainpower or the sobriety to follow his meditation on God, humanity, and the modern world. We listen to a few lines and, unfortunately for us, all we hear is incoherent babbling.
It was said stone dreams and animal sleeps and man
Is awake; but sleep with its drama on us bred
Animal articulate, only somnambulist can
Conscience like Cawdor give the blood its head
For the dim moors to reign through druids again.
O first geometer! tangent-feelered brain
— from "Lough Derg" (1946), by Denis Devlin
It's time to head—or crawl—home, fittingly to the rhythm of a soothing Irish 19th-century ballad. After a long evening of many stops and much to drink, we're ready for rest, relief, and the comfort of a mum's arms. Until next year . . .
Lulla lo! to the rise and fall of mother's bosom 'tis sleep has bound you,
And O, my child, what cosier nest for rosier rest could love have found you?
Sleep, baby dear;
Sleep without fear;
Mother's two arms are clasped around you.
— from "Irish Lullaby" (1873), by Alfred Perceval Graves