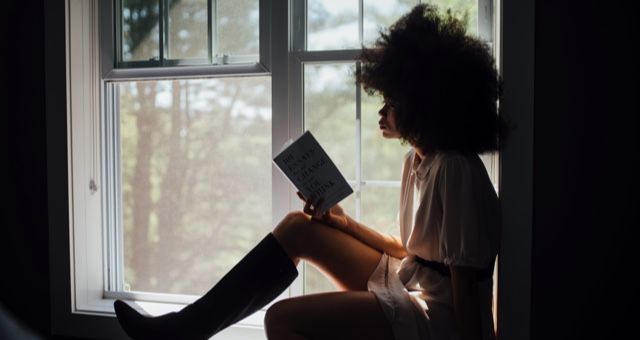 Lists
50 Must-Reads from Iowa City: A City of Literature
This content contains affiliate links. When you buy through these links, we may earn an affiliate commission.
As a resident Iowa-based Book Rioter, I'm very proud of Iowa City's UNESCO City of Literature designation. There are only 28 "cities of literature" in the world, and just two in the United States: Iowa City (established in 2008) and Seattle (established in 2017). These designations are earned by having a diverse publishing industry, exceptional educational programming and literary events, spaces which preserve and promote literature, and media outlets that supports readers and reading.
In Iowa City, the University of Iowa Writers Workshop is famous for its creative writing program. Since its founding in 1936, the program has been home to thousands of remarkable writers, instructors, and lecturers.
Today I'm featuring 50 must-reads from writers who spent time in this heartland city of literature. I hope you enjoy, and come visit us in Iowa some day!
(Descriptions graciously supplied from publisher descriptions and condensed when necessary.)
Short story collection: "Migration. Betrayal. Family secrets. Doomed love. Uncertain futures. In Daniel Alarcón's hands, these are transformed into deeply human stories with high stakes. Richly drawn, full of unforgettable characters, The King is Always Above the People reveals experiences both unsettling and unknown, and yet eerily familiar in this new world." (Amazon)
Short story collection: "Tenderness and cruelty, loyalty and betrayal, ambition and regret—Alexia Arthurs navigates these tensions to extraordinary effect in her debut collection about Jamaican immigrants and their families back home. Sweeping from close-knit island communities to the streets of New York City and midwestern university towns, these eleven stories form a portrait of a nation, a people, and a way of life." (Amazon)
Nancy Drew series by Mildred Wirt Benson (as Carolyn Keene)
The first 23 books in the Nancy Drew series were authored by Mildred Wirt Benson. "First published in 1930, The Nancy Drew Mystery Stories about a teenage sleuth have become a cherished part of our cultural landscape." (Penguin Random House)
Poetry collection: "The Dream Songs are eighteen-line poems in three stanzas. Each individual poem is lyric and organized around an emotion provoked by an everyday event. The tone of the poems is less surreal than associational or intoxicated. The principal character of the song cycle is Henry, who is both the narrator of the poems and referred to by the narrator in the poems." (Goodreads)
Novel: "It is 1970, and a down-at-the-heels California commune devoted to peace, free love, and the simple life has decided to relocate to the last frontier—the unforgiving landscape of interior Alaska—in the ultimate expression of going back to the land. Armed with the spirit of adventure and naïve optimism, the inhabitants of "Drop City" arrive in the wilderness of Alaska only to find their utopia already populated by other young homesteaders. When the two communities collide, unexpected friendships and dangerous enmities are born as everyone struggles with the bare essentials of life: love, nourishment, and a roof over one's head." (Goodreads)
Short story collection: "In his second collection, including the iconic and much-referenced title story, Carver establishes his reputation as one of the most celebrated short-story writers in American literature—a haunting meditation on love, loss, and companionship, and finding one's way through the dark." (Amazon)
Short story collection: "With this, his first collection, Carver breathed new life into the short story. In the pared-down style that has since become his hallmark, Carver showed us how humour and tragedy dwelt in the hearts of ordinary people, and won a readership that grew with every subsequent brilliant collection of stories, poems and essays that appeared in the last eleven years of his life." (Goodreads)
Essay collection: "How to Write an Autobiographical Novel is the author's manifesto on the entangling of life, literature, and politics, and how the lessons learned from a life spent reading and writing fiction have changed him. He examines some of the most formative experiences of his life and the nation's history, including his father's death, the AIDS crisis, 9/11, the jobs that supported his writing—Tarot-reading, bookselling, cater-waiting for William F. Buckley—the writing of his first novel, Edinburgh, and the election of Donald Trump." (Amazon)
Short story collection: "When The Stories of John Cheever was originally published, it became an immediate national bestseller and won the Pulitzer Prize. Here are sixty-one stories that chronicle the lives of what has been called "the greatest generation." From the early wonder and disillusionment of city life in "The Enormous Radio" to the surprising discoveries and common mysteries of suburbia in "The Housebreaker of Shady Hill" and "The Swimmer," Cheever tells us everything we need to know about "the pain and sweetness of life." (Amazon)
Poetry collection: "Thomas and Beulah is a book of poems by African American poet Rita Dove that tells the semi-fictionalized chronological story of her maternal grandparents, the focus being on her grandfather in the first half and her grandmother in the second. It won the 1987 Pulitzer Prize for poetry." (Amazon)
Short story collection: "A luminous collection that reveals the seams of hurt, courage, and tenderness that run through the bedrock of contemporary American life. In these fourteen stories, Dubus depicts ordinary men and women confronting injury and loneliness, the lack of love and the terror of actually having it." (Goodreads)
Poetry collection: "Engle's formally driven, elegiac poems explore themes of travel, allegiance, and family. Engle published more than a dozen collections of poetry during his career, including the bestselling American Song in 1934" (Poetry Foundation)
Novel: "Scrappy, street-smart drug dealer Reggie Marshall has never liked the simpering addict Leland Bloom-Mittwoch, which doesn't stop Leland from looking up to Reggie with puppy-esque devotion. But when a drug deal goes dramatically, tragically wrong and a suitcase (which may or may not contain a quarter of a million dollars) disappears, the two men and their families become hopelessly entangled." (Goodreads)
Flora by Gail Godwin
Novel: "Ten-year-old Helen and her summer guardian, Flora, are isolated together in Helen's decaying family house while her father is doing secret war work in Oak Ridge during the final months of World War II. At three Helen lost her mother and the beloved grandmother who raised her has just died. A fiercely imaginative child, Helen is desperate to keep her house intact with all its ghosts and stories." (Goodreads)
Memoir: "At age nine, Lucy Grealy was diagnosed with a potentially terminal cancer. When she returned to school with a third of her jaw removed, she faced the cruel taunts of classmates. In this strikingly candid memoir, Grealy tells her story of great suffering and remarkable strength without sentimentality and with considerable wit." (Goodreads)
Novel: "Two half-sisters, Effia and Esi, are born into different villages in eighteenth-century Ghana. Effia is married off to an Englishman and lives in comfort in the palatial rooms of Cape Coast Castle. Unbeknownst to Effia, her sister, Esi, is imprisoned beneath her in the castle's dungeons, sold with thousands of others into the Gold Coast's booming slave trade, and shipped off to America, where her children and grandchildren will be raised in slavery. One thread of Homegoing follows Effia's descendants through centuries of warfare in Ghana, as the Fante and Asante nations wrestle with the slave trade and British colonization. The other thread follows Esi and her children into America." (Goodreads)
Short story collection: "An elderly inventor, burning with manic creativity, tries to reconcile with his estranged gay son. A bereaved boy draws a thuggish classmate into a relationship of escalating guilt and violence. A genteel middle-aged woman, a long-time resident of a psychiatric hospital, becomes the confidante of a lovelorn teenaged volunteer. Told with Chekhovian restraint and compassion, and conveying both the sorrow of life and the courage with which people rise to meet it, You Are Not a Stranger Here is a triumph of storytelling." (Goodreads)
Novel: "A dazzling, heartbreaking page-turner destined for breakout status: a novel that gives voice to millions of Americans as it tells the story of the love between a Panamanian boy and a Mexican girl: teenagers living in an apartment block of immigrant families like their own." (Goodreads)
Poetry collection: ""The Guide" is a former South Korean dissident and tour guide who speaks a fluid fabricated language; "the Historian" interviews the Guide and annotates the commentaries. Cathy Park Hong's passionate and artful poem sequence weaves an ultimately revitalizing dialogue on shared experience in a globalized world, using language as subversion and disguise." (Goodreads)
Novel: "This is the life and times of T. S. Garp, the bastard son of Jenny Fields—a feminist leader ahead of her times. This is the life and death of a famous mother and her almost-famous son; theirs is a world of sexual extremes—even of sexual assassinations. It is a novel rich with "lunacy and sorrow"; yet the dark, violent events of the story do not undermine a comedy both ribald and robust." (Goodreads)
Novel: "In the summer of 1953, two eleven-year-old boys—best friends—are playing in a Little League baseball game in Gravesend, New Hampshire. One of the boys hits a foul ball that kills the other boy's mother. The boy who hits the ball doesn't believe in accidents; Owen Meany believes he is God's instrument. What happens to Owen after that 1953 foul ball is extraordinary." (Amazon)
Short story collection: "The seven stories in Nam Le's masterful collection take us across the globe, guiding us to the heart of what it means to be human. From the slums of Colombia to Iowa City and from the streets of Tehran to a foundering vessel in the South China Sea, here are thrilling versatile tales that herald the arrival of a remarkable new writer." (Goodreads)
Memoir: "Yiyun Li grew up in China and has spent her adult life as an immigrant in a country not her own. She has been a scientist, an author, a mother, a daughter and through it all she has been sustained by a profound connection with the writers and books she loves. From William Trevor and Katherine Mansfield to Soren Kierkegaard and Philip Larkin, Dear Friend is a journey through the deepest themes that bind these writers together." (Goodreads)
Memoir: "In The Narrow Door, Paul Lisicky creates a compelling collage of scenes and images drawn from two long-term relationships, one with a woman novelist and the other with his ex-husband, a poet. The contours of these relationships shift constantly. Denise and Paul, stretched by the demands of their writing lives, drift apart, and Paul's romance begins to falter. And the world around them is frail: environmental catastrophes like the Deepwater Horizon oil spill, natural disasters like the earthquake in Haiti, and local disturbances make an unsettling backdrop to the pressing concerns of Denise's cancer diagnosis and Paul's impending breakup." (Goodreads)
Short story collection: "A wife refuses her husband's entreaties to remove the green ribbon from around her neck. A woman recounts her sexual encounters as a plague slowly consumes humanity. A salesclerk in a mall makes a horrifying discovery within the seams of the store's prom dresses. One woman's surgery-induced weight loss results in an unwanted houseguest."
"Earthy and otherworldly, antic and sexy, queer and caustic, comic and deadly serious, Her Body and Other Parties swings from horrific violence to the most exquisite sentiment. In their explosive originality, these stories enlarge the possibilities of contemporary fiction." (Goodreads)
Poetry collection: "In this classic collection of poetry, the reader will find a bold poem for each crucial issue of Black life." (Goodreads)
Ohio by Stephen Markley
Novel: "One sweltering night in 2013, four former high school classmates converge on their hometown in northeastern Ohio."
"Set over the course of a single evening, Ohio toggles between the perspectives of these unforgettable characters as they unearth dark secrets, revisit old regrets and uncover—and compound—bitter betrayals. Before the evening is through, these narratives converge masterfully to reveal a mystery so dark and shocking it will take your breath away." (Goodreads)
Elbow Room by James Alan McPherson
Short story collection: "A beautiful collection of short stories that explores blacks and whites today, Elbow Room is alive with warmth and humor. Bold and very real, these twelve stories examine a world we all know but find difficult to define." (Goodreads)
Novel: "As an Indian wedding gathers a family back together, parents Rafiq and Layla must reckon with the choices their children have made."
"A Place for Us takes us back to the beginning of this family's life: from the bonds that bring them together, to the differences that pull them apart. All the joy and struggle of family life is here, from Rafiq and Layla's own arrival in America from India, to the years in which their children—each in their own way—tread between two cultures, seeking to find their place in the world, as well as a path home."
Short story collection: "An aristocratic Filipina negotiates a new life for herself with an Atlanta investment banker. A Vietnam vet returns to Florida, a place now more foreign than the Asia of his war experience. And in the title story, an Iraqi Jew whose travels have ended in Queens suddenly finds himself an unwitting guerrilla in a South American jungle. Passionate, comic, violent, and tender, these stories draw us into the center of a cultural fusion in the midst of its birth pangs, yet glowing with the energy and exuberance of a society remaking itself." (Amazon)
Poetry: "In "The Descent of Alette," Alice Notley presents a feminist epic, a bold journey into the deeper realms. Alette, the narrator, finds herself underground, deep beneath the city, where spirits and people ride endlessly on subways, not allowed to live in the world above. Traveling deeper and deeper, she is on a journey of continual transformation, encountering a series of figures and undergoing fragmentations and metamorphoses as she seeks to confront the Tyrant and heal the world." (Goodreads)
Short story collection: "This now classic book revealed Flannery O'Connor as one of the most original and provocative writers to emerge from the South. Her apocalyptic vision of life is expressed through grotesque, often comic situations in which the principal character faces a problem of salvation: the grandmother, in the title story, confronting the murderous Misfit; a neglected four-year-old boy looking for the Kingdom of Christ in the fast-flowing waters of the river; General Sash, about to meet the final enemy." (Goodreads)
Short story collection: "Flannery O'Connor was working on Everything That Rises Must Converge at the time of her death. This collection is an exquisite legacy from a genius of the American short story, in which she scrutinizes territory familiar to her readers: race, faith, and morality. The stories encompass the comic and the tragic, the beautiful and the grotesque; each carries her highly individual stamp and could have been written by no one else."
Novel: "In an unnamed South American country, a world-renowned soprano sings at a birthday party in honor of a visiting Japanese industrial titan. Alas, in the opening sequence, a ragtag band of 18 terrorists enters the vice-presidential mansion through the air conditioning ducts. Their quarry is the president, who has unfortunately stayed home to watch a favorite soap opera. And thus, from the beginning, things go awry." (Goodreds)
Short story collection: "Packer dazzles with her command of language, surprising and delighting us with unexpected turns and indelible images, as she takes us into the lives of characters on the periphery, unsure of where they belong. We meet a Brownie troop of black girls who are confronted with a troop of white girls; a young man who goes with his father to the Million Man March and must decides where his allegiance lies; an international group of drifters in Japan, who are starving, unable to find work; a girl in a Baltimore ghetto who has dreams of the larger world she has seen only on the screens in the television store nearby, where the Lithuanian shopkeeper holds out hope for attaining his own American Dream." (Amazon)
Novel: "The Sultan has commissioned a cadre of the most acclaimed artists in the land to create a great book celebrating the glories of his realm. Their task: to illuminate the work in the European style. But because figurative art can be deemed an affront to Islam, this commission is a dangerous proposition indeed. The ruling elite therefore mustn't know the full scope or nature of the project, and panic erupts when one of the chosen miniaturists disappears. The only clue to the mystery–or crime? –lies in the half-finished illuminations themselves. Part fantasy and part philosophical puzzle, My Name is Red is a kaleidoscopic journey to the intersection of art, religion, love, sex and power." (Goodreads)
Snow by Orhan Pamuk
Novel: "Following years of lonely political exile in Western Europe, Ka, a middle-aged poet, returns to Istanbul to attend his mother's funeral. Only partly recognizing this place of his cultured, middle-class youth, he is even more disoriented by news of strange events in the wider country: a wave of suicides among girls forbidden to wear their head scarves at school."
"No sooner has he arrived, however, than we discover that Ka's motivations are not purely journalistic; for in Kars, once a province of Ottoman and then Russian glory, now a cultural gray-zone of poverty and paralysis, there is also Ipek, a radiant friend of Ka's youth, lately divorced, whom he has never forgotten." (Goodreads)
Gilead by Marilynne Robinson
Novel: "Marilynne Robinson returns with an intimate tale of three generations, from the Civil War to the 20th century: a story about fathers and sons and the spiritual battles that still rage at America's heart. In the words of Kirkus, it is a novel "as big as a nation, as quiet as thought, and moving as prayer. Matchless and towering." Gilead tells the story of America and will break your heart." (Amazon)
Idaho by Emily Ruskovich
Novel: "Ann and Wade have carved out a life for themselves from a rugged landscape in northern Idaho, where they are bound together by more than love. With her husband's memory fading, Ann attempts to piece together the truth of what happened to Wade's first wife, Jenny, and to their daughters. In a story written in exquisite prose and told from multiple perspectives—including Ann, Wade, and Jenny, now in prison—we gradually learn of the mysterious and shocking act that fractured Wade and Jenny's lives, of the love and compassion that brought Ann and Wade together, and of the memories that reverberate through the lives of every character in Idaho." (Amazon)
Short story collection: "A suburban mother of two fantasizes about the downfall of an old friend whose wholesome lifestyle empire may or may not be built on a lie. A high-powered lawyer honeymooning with her husband is caught off guard by the appearance of the girl who tormented her in high school. A shy Ivy League student learns the truth about a classmate's seemingly enviable life.
Curtis Sittenfeld has established a reputation as a sharp chronicler of the modern age who humanizes her subjects even as she skewers them." (Amazon)
Sisterland by Curtis Sittenfeld
Novel: "From an early age, Kate and her identical twin sister, Violet, knew that they were unlike everyone else. Kate and Vi were born with peculiar "senses"—innate psychic abilities concerning future events and other people's secrets. Though Vi embraced her visions, Kate did her best to hide them.
Now, years later, their different paths have led them both back to their hometown of St. Louis. Vi has pursued an eccentric career as a psychic medium, while Kate, a devoted wife and mother, has settled down in the suburbs to raise her two young children. But when a minor earthquake hits in the middle of the night, the normal life Kate has always wished for begins to shift. After Vi goes on television to share a premonition that another, more devastating earthquake will soon hit the St. Louis area, Kate is mortified. Equally troubling, however, is her fear that Vi may be right. As the date of the predicted earthquake quickly approaches, Kate is forced to reconcile her fraught relationship with her sister and to face truths about herself she's long tried to deny." (Amazon)
Novel: "Aging Larry Cook announces his intention to turn over his 1,000-acre farm–one of the largest in Zebulon County, Iowa–to his three daughters, Caroline, Ginny, and Rose. A man of harsh sensibilities, he carves Caroline out of the deal because she has the nerve to be less than enthusiastic about her father's generosity. While Larry Cook deteriorates into a pathetic drunk, his daughters are left to cope with the often grim realities of life on a family farm–from battering husbands to cutthroat lenders. In this winner of the 1992 Pulitzer Prize for Fiction, Smiley captures the essence of such a life with stark, painful detail." (Goodreads)
Novel: "Marion and Shiva Stone are twin brothers born of a secret union between a beautiful Indian nun and a brash British surgeon at a mission hospital in Addis Ababa. Orphaned by their mother's death in childbirth and their father's disappearance, bound together by a preternatural connection and a shared fascination with medicine, the twins come of age as Ethiopia hovers on the brink of revolution. Yet it will be love, not politics—their passion for the same woman—that will tear them apart and force Marion, fresh out of medical school, to flee his homeland. He makes his way to America, finding refuge in his work as an intern at an underfunded, overcrowded New York City hospital. When the past catches up to him—nearly destroying him—Marion must entrust his life to the two men he thought he trusted least in the world: the surgeon father who abandoned him and the brother who betrayed him." (Goodreads)
Novel: "Selected by the Modern Library as one of the 100 best novels of all time, Slaughterhouse-Five, an American classic, is one of the world's great antiwar books. Centering on the infamous firebombing of Dresden, Billy Pilgrim's odyssey through time reflects the mythic journey of our own fractured lives as we search for meaning in what we fear most." (Goodreads)
Novel: "Dr Felix Hoenikker, one of the founding 'fathers' of the atomic bomb, has left a deadly legacy to the world. For he's the inventor of 'ice-nine', a lethal chemical capable of freezing the entire planet. The search for its whereabouts leads to Hoenikker's three ecentric children, to a crazed dictator in the Caribbean, to madness. Felix Hoenikker's Death Wish comes true when his last, fatal gift to humankind brings about the end, that for all of us, is nigh…" (Goodreads)
Play: "The story famously recounts how the faded and promiscuous Blanche DuBois is pushed over the edge by her sexy and brutal brother-in-law, Stanley Kowalski." (Goodreads)
Play: "Cat on a Hot Tin Roof first heated up Broadway in 1955 with its gothic American story of brothers vying for their dying father's inheritance amid a whirlwind of sexuality, untethered in the person of Maggie the Cat. The play also daringly showcased the burden of sexuality repressed in the agony of her husband, Brick Pollitt." (Goodreads)
Poetry collection: "A collection of "poems for women" from Pulitzer Prize winner Carolyn Kizer. A The New York Times notable book." (Amazon)
Short story collection: "Jenny Zhang's stories cut across generations and continents, moving from the fraught halls of a public school in Flushing, Queens, to the tumultuous streets of Shanghai, China, during the Cultural Revolution of the 1960s. In the absence of grown-ups, latchkey kids experiment on each other until one day the experiments turn violent; an overbearing mother abandons her artistic aspirations to come to America but relives her glory days through karaoke; and a shy loner struggles to master English so she can speak to God.
Narrated by the daughters of Chinese immigrants who fled imperiled lives as artists back home only to struggle to stay afloat—dumpster diving for food and scamming Atlantic City casino buses to make a buck—these seven stories showcase Zhang's compassion, moral courage, and a perverse sense of humor." (Amazon)
---
Liked this list of 50 Must Reads from Iowa City, a City of Literature? Check out more of Book Riot's 50 must-read book lists!