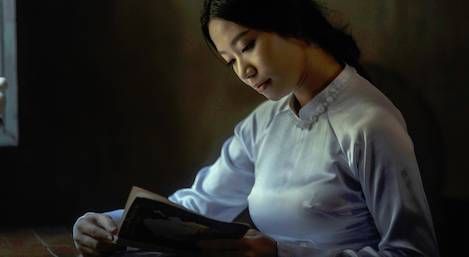 This content contains affiliate links. When you buy through these links, we may earn an affiliate commission.
This post is part of our International Women's Day celebration. See all the posts here.
---
This is a guest post from Bae Suah. One of the most highly acclaimed contemporary Korean authors, she has published more than a dozen works and won several prestigious awards. She has also translated several books from the German, including works by W. G. Sebald, Franz Kafka, and Jenny Erpenbeck. Her most recent novel is Recitation.
---
Writing is as challenging and fascinating an adventure as being a woman.
I love them both, writing and being a woman, although it has made life sometimes tougher. Maybe for that very reason.
When I think of "being a woman," several words come to mind: "reprieved freedom," "secret wonder," "hunger for self," "her own language," and "intense inner body".
Among them, my favorite characteristics for my female heroine is the "intense inner body," whose physicality arouses the mental language in her.
Her intense inner body talks to her, moves her, breaks her, quivers her, kills her, and incites her to suffer from dreaming: sometimes it brings her out of the old world into another.
It is often expressed in her eyes' mucosa, in her tongue, in the shape of her vocal chords, in her voice, etc. Not infrequently it stays unknown to her till the end.
When I talk with a woman, I occasionally feel like I'm peeping at a sea inside her.
It is not a beach or a seaside but a real sea: a far sea, the farthest sea.
I see a sea even in a woman who has never escaped from her own land in her lifetime, or who has never seen a sea before.
She drifts away and into the farthest sea. Looking at her is an extraordinary experience. She encompasses me. She drifts in me. She makes me write.
Most of my novels have female speakers.
Men are prone to assume that female writers prefer a female speaker
because they know female psychology better than a male one, but my speakers aren't female just because of it.
They are, of course, deliberately induced female beings.
As a novelist I'm most interested in the theme of "woman in leaving." That's why I describe a "traveling woman" in many of my novels.
I often want to meet her, the main character and main voice of my novel.
I imagine her face suddenly appearing out of a corner. I wonder: can I recognize her?
I think I have actually met one. It was at the Altai in Mongolia.
She had lived there about 2,000 years ago. She had been buried alive in the tomb of a Hun aristocrat, probably for a suttee.
At the moment when I met her, I knew I would write about her.
An old nomad told me he had met a strange woman in his childhood who had been surprisingly similar to me. It meant I could finally learn where I come from.
At the moment I knew I would write about her. About strange me.
In most cases I choose the characters of my heroines with a clear intention. My heroine is generally one who hasn't accepted or has explicitly rejected her place imposed by the traditional society.

As a writer I am charmed and attracted by her.
She doesn't have a guaranteed status through marriage, or has rejected it openly. She doesn't sacrifice herself for her parents or siblings. She doesn't compromise. She refuses to be considered feminine. As a result she lives poor and lonely.
She adheres to her own way stubbornly, of which she isn't afraid. She looks anti-social from a traditional perspective. At the same time she is said to be unusual and independent.
I'm interested in such a life and in what it is going to encounter, about which I will keep writing in the future.
It may sound wild and romantic. People, especially Koreans, don't always feel comfortable with such a woman, especially when she is a Korean woman.
I want to add an aesthetic status to my heroine through writing. I want her to overcome the boundaries of life which I couldn't because of lack of courage. I want her to be stronger than me.
While I keep writing, she drifts away and reaches the farthest sea.