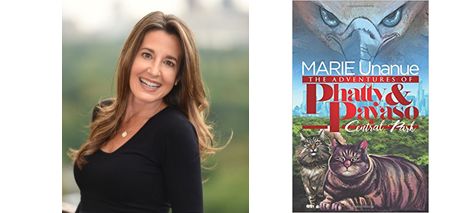 Children's
Interview with Marie Unanue, Author of THE ADVENTURES OF PHATTY & PAYASO
Two cats are awaiting a visitor to their apartment. While Clyde would rather wait out the visitor, his brother Phatty is eager. He's especially eager since a hawk has threatened to burgle their apartment. The cats and their dog neighbor Stanley have to work together, with a few unlikely allies, to stop their humans from being robbed. They journey from their safe apartment to the exciting world of Central Park.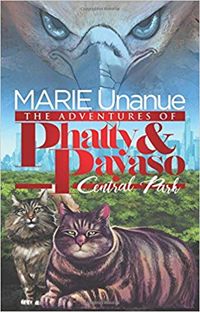 Marie Unanue is the author of the children's book series The Adventures of Phatty & Payaso. Per her official bio, "Marie has always been an avid reader and an activist for children who are bullied. As a kindness advocate, she hopes to inspire children across the world to remember to always treat each other with kindness and compassion." Marie sat down with us at Book Riot to discuss her new series, what she hopes to accomplish with writing and compassion, and the real-life pet family that inspired these fictional adventures.
The Adventures Phatty And Payaso : Central Park is a fun adventure story that involves thwarting a heist and a trip through the city. What was your inspiration?
"The story itself, we knew when I started out writing the book that I wanted it to be a story about kindness," she says. "I want it to be a book about kindness and fitting in, and to try to fit in, and to be nice to each other. At the same time, I wanted to give the kid the modern-day adventure to change the page. I'd read aloud to my husband, and he'd say 'This is great!' and and will keep kids turning the page.
"I wanted to give examples of forgiveness, empathy and compassion while giving the kids a fun story. With the park right there, it seems like a wonderful place."
Do you know any cats that are like Phatty, Payaso, or Clyde?
"Phatty and Clyde were my cats for many many years. Phatty was a tabby, as was Clyde. Payaso was my neighbor's cat; every spring, Payaso would come into town. He'd come out of his crate every time he flew from out of time, sit at the door until someone opened it, come to my door and cry until I open it, and then he'd go and play with Phatty. Clyde in real life didn't get along with Payaso and didn't understand why this cat Stanley is alive and is a doll-face.
"Payaso is a gorgeous exotic cat, while Phatty was this overweight tabby, and despite their differences. Phatty would go and sit at the window, pecking at the birds. He just loved animals, while his brother Clyde is the opposite, who loves humans and hates animals. Payaso knows that his special; his parents are Cuban, and my husband is Hispanic. It felt important to make the Hispanic character the most educated and well-read. It felt important to me. Clyde is a little nicer to Payaso now because he's lonely, but it's just a funny thing to watch. And the dog likes to watch."
Would Phatty's plans to foil a heist work in real life?
"I know they do, because my plan was to come up with booby trap kits to market to children in the books. We'd set up ping pong balls in the medicine cabinet and in the ceiling. My husband and I tried different things to see how much our trapped works. Taping the door, and string was fun, but it seemed a liability in the end. All the booby traps do work, especially the one with the medicine cabinet.
"Another type of super ball would bounce all over the place in every direction. It was hysterical."
The book shows that you a lot of research on raptors and the city. What resources did you use?
"Ironically, while I was writing the first draft of the book, there was no hawk, no villain. It was just a story about Phatty overcoming his weight and the birds picking on him. Then my editor said, 'I think for this age group, you need a villain.'
"Our building had a family of hawks living in our building, in an air conditioning unit. We'd find the remains of chicken wings and such; they'd eat whatever they could get. They'd eat in the nest above our terrace, and whatever they ate fell in our terrace. We decided as a building to leave the hawks alone, and I felt it was appropriate for me to use the hawks in our story.
"The cats would run inside whenever the hawk would swoop down. The dog is only eight pounds, so we're careful to let him on the terrace alone because the hawk could grab him. Phatty's belly would sway under him. It would be hard for a hawk to pick up a 28-pound cat."
Hahahaha, Okay. What was the most interesting fact you learned?
"I was talking to characterlab.com, and Character Lab had come up with children's character skills that were sometimes lacking. My girlfriend felt that was so important to have all those character skills, which used to be called character traits. They are called skills now because they are learnable behavior. 'Kids don't have the ability to finish what they're starting, for example. Kids don't have gratitude.' Grit was another important one. Zest, approaching life with excitement, curiosity, social intelligence which is huge right now; children are not taught to be aware about the motives of other people, knowing what to fit in, what makes other people tick. And last but not least: purpose; today's kids are missing purpose, and kids are missing contributing to the well-being of others, and self-control. Kids don't understand what one feels and does to service goals.
"I researched all these character traits to death. Phatty has a lack of self-control, over how much he ate, and yet he had an abundance of gratitude. Every character would have a strength in one trait and a weakness in the other. Kids are seeing how to learn that skill that character has and why it's important. It's why I wrote this book, to show kindness, empathy and gratitude."
If you could be any of the animals in the book, which would you be?
"That's a great question and a hard one at the same time. Clyde represents great strength, how he moves and protects. At the same time, Payaso is so intelligent, and he's such a leader, and there's so much of him I love. And yet, Phatty is so kind, he has his abundance of kindness despite being bullied and treated horribly, and to show empathy.
"Then there's Stanley, who is so loving. He gets along with everybody. He finds something to relate with for everybody, to not offend them. I have a hard time picking. It would be a toss up between Phatty and Stanley, because Stanley encompasses everything and he's a really funny character in the book."
What other adventures might the cats and their new human have in the future?
"The next book, Milagro, is almost done. It means miracle. In real life, Payaso has a sibling named Milagro. When Milagro comes with the other cats it's hysterical because Payaso has competition from a girl. While Rocky the raccoon and Birdie the bird is female, Payaso doesn't realize they're female. Phatty is welcoming to Milagro and Payaso having a sibling, and Payaso says Milagro is just a girl. Milagro has her own qualities and she is just hysterical. It's about for any child that all of a sudden ends up with a sibling late in life, or if say mom and dad get married and there is a half-sister or a step-sister involved. It's about accepting someone new.
"The real Milagro is the same way; she is very tiny and very fierce, with a long tail, while Payaso has a bob tail. She whips it around in the other cats' faces, and they sit there stunned. She would wrap her tail around Phatty. In real life, while Clyde doesn't like Payaso, he has a huge crush in Payaso to the point where he hangs out at her house, the neighbors' house.
"We are talking about doing a book signing out at Amazon in the Spheres, and since Payaso lives in Seattle year round, he may be at the opening, just like kids will meet Stanley, who will come to many of the openings and signings. He works at nursing homes and is extremely popular with kids because he is so well-behaved."
In addition to Phatty and Payaso, what other projects are you working on?
"We're really excited. We've decided to do a kindness call to action to launch at the same time as the book. Phatty is a role model, the picture of kindness. The kindness challenge is asking kids everywhere to become a kindness advocate. They can download a kindness advocate photo from the website—Phatty or Payaso—and show it to adults to ask people to be kind, supportive, and inclusive. Be kind to those kids who struggle to fit in, to the elderly, and to make sure to point out a bully when they see one, be courteous, be watchful when they talk to others, be sure to spread gossip and meanness, be the best person that they can be. Then take a photo with their kindness advocate sign and hashtag it as #LetsAllbekind and share what act of kindness they did and how important it is for other kids to follow their example. It's a big call to action: Let's All be Kind.
"My favorite thing is 'be the change you want to see in the world' and writing this book was my way to show, especially children, that you can be that change. It has momentum."
Marie resides with her husband Andy and their animals in NYC and Mantoloking, NJ. Visit her at www.letsallbekind.com. The Adventures of Phatty & PAyaso: Central Park is in stores August 24. Be sure to pick up a Copy!
Also In This Story Stream