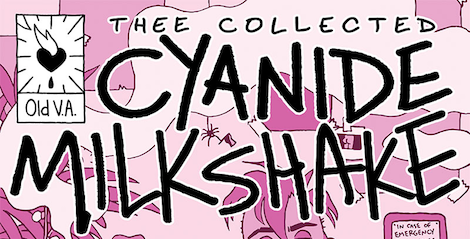 This content contains affiliate links. When you buy through these links, we may earn an affiliate commission.
I have the opportunity to chat with Liz Suburbia, artist and writer of Sacred Heart. In 2016, she received the Alex Award for the work; the Young Adult Library Services Association listed it as a top 10 Graphic Novel for Teens by the Young Adult Library Services Association. Her zine Cyanide Milkshake was just been published by woman-owned publishing company Gimme Action in November. The collection is aptly titled Thee Collected Cyanide Milkshake. Gimme Action describes it as: "All seven issues of Liz Suburbia's mini-comic masterpiece are now collected in one essential volume! 176 pages of hilarious and angst-ridden comics: horny dystopian fantasies commingle with autobiographical vignettes." I talked with Liz Suburbia about the Cyanide Milkshake and the power of zines and punk.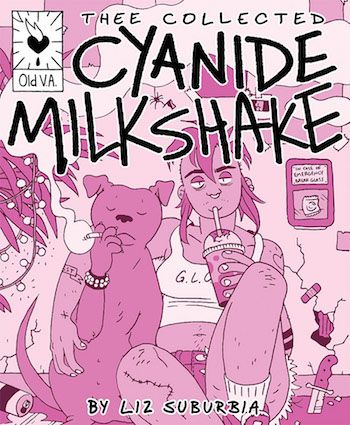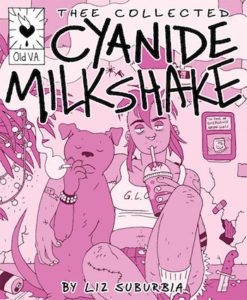 Elisa Shoenberger: What's the power of zines?
Liz Suburbia: I'd been exposed to for the first time in high school, but not until my senior year of high school. My family was in the military so we moved around a lot and I was still very much a new kid. [My friend Matt's older brother, Kevin] was making one regularly at that time and Kevin would contribute some of their own little comics to it. They gave me a copy around Christmas, senior year of high school. That was the first time I'd ever heard of the concept of a zine or seen one. Matt who is making this zine called Aftermath continued to make a couple more issues. We went to the same college and he taught me how to do it.
Once I was exposed to the idea, it seems like the easiest and most natural thing in the world. It was that or playing music but I didn't have any musical ability. I like tried to play guitar and never got good at it. But I could draw and I was always drawing for myself and I kind of screwed around with a webcomic for a little while at first, like really embarrassing one when I was in high school. But the zine thing was a lot more fun. It was something about the material nature of it where you could finish something and hold it in your hand and give it to your friends. Somehow I thought that was more satisfying than just putting stuff online and assuming my friends were looking at it just because I sent them the link on Aol Messenger.
Shoenberger: Could you talk about the creative process and what is punk? You talk about your frustration with people who say "That stuff is in my past." Could you speak to those ideas?
Liz Suburbia: It's definitely something I believe 100 percent. I feel like I got kind of repetitive talking about it in the little Cyanide Milkshake essays, but making the zine always kind of put me in the mindset where that was the biggest thing that was on my mind. It's still something I think about all the time. I just turned 34 last week, but I'm still pretty attached to the whole things like DIY and radical politics and having a weird haircut and all that kind of stuff that comes under the umbrella being into punk.
At the end of the day, I still stand by what I was writing in the comic. I feel like the women that I know have really led the way on, sticking to that more than anybody else. They say you're going to get more conservative as you get older. But I know so many cool women in punk and comics and the DIY scene who are just getting more radical and more creative and even more of all of that great stuff the older they get and that's how I want to be.
Shoenberger: There were some recurring storylines in Cyanide Milkshake. You have the story of the dogs who are kind of living a life of crime at times. Then the series you call the GBA with an on and off again couple negotiating a relationship during a Zombie apocalypse. There were other stories that felt more like one shots. Could you talk about these storylines?
Suburbia: The whole project started out kind of self indulgent where I'm just going to write all my stupidest jokes and put them in one place and gave it to my friends. By the second or third issue, I realized that I should use this to challenge myself and branch out and think of new things or new ways to tell jokes or new things that could be considered a comic, like flash cards, pinup posters or activity sheets, classified ads, stuff like that. With the dogs, those are my dogs. I like drawing them and drawing their little adventures because that's what dogs moms like to do.
For the other one, it's also just an excuse to do a horny relationship comics without having to expand too much on it. I got kind of attached to them the longer the story went on and wanted to see it through. I think I'm still going to use those characters in other comics projects and use that kind of world that they're in.
That's another thing that the zine was good for. It was just starting with little ideas and branching off from them and using it as a testing ground for them to grow. There's stuff from my graphic novel, Sacred Heart, that wasn't in the first draft of it because I did an online draft of the book. Then it was picked up by a publisher and I redrew through the whole thing from scratch. But there were a little side stories involving the same characters that I put in Cyanide Milkshake that eventually I redid it and ended up putting in the main book. I looked back on the ones I did for Cyanide Milkshake and they still like them.
Shoenberger: Do you see zines being like a incubator?
Suburbia: I think they definitely can be. At least for me, the stakes were so low. I know there's a lot of people who work really hard to make their zines an art object, make use really nice paper and really nice covers and really put a lot of thoughts into things like layout and aesthetics and that's something that I super admire. At the same time I am totally incapable of doing myself, you know.
I think zines can be both: a way to experiment with an art form for some people and for other people like me, just a really low stakes slapdash way to just put something out there real quick before you overthink it and you get kind of a sense of accomplishment. And if you're like me and you're kind of shy, it's a great way to connect with other people without kind of stewing in your anxiety all night. It's definitely helped me make friends.
Shoenberger: What do you want people to know about Cyanide Milkshake?
Suburbia: I want people to feel like they can make it too. I say this a lot in Cyanide Milkshake itself: if you pick up an issue and you like it, and you think you might want to try it but you're worried that you won't be good at it, don't worry about it. I think everybody should try making a zine or a comic at least once just to see what it's like. Even if you don't consider yourself an artist or a cartoonist or a zine maker, it's a process that'll teach you something about yourself, in a way that can help you move through the world. I think it's a good practice to try at least once.
Check out Cyanide Milkshake and check out Liz Suburbia's other work here. See what other Rioters have said about Suburbia's work here.