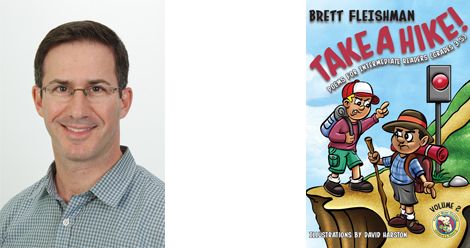 Children's
Interview with Brett Fleischman, Author of FUNNY BONE-TICKLING POETRY
This content contains affiliate links. When you buy through these links, we may earn an affiliate commission.
Writing humorous children's poetry seems easy, but it isn't. You have to create clever but simple wordplay, set up fictional scenarios with punchlines, and sneak in the occasional morbid humor. Also your work has to be age-appropriate.

Brett Fleischman succeeds in all of these. His series Funny Bone-Tickling Poetry covers humorous poetry for kids of various ages, and he has released the second volumes for different age groups; FBT Poetry also has a Facebook and Instagram page. These titles include Toilet Trouble, Take A Hike and Bedtime Story. Brett sat down with us at Book Riot to talk about his newest releases.
When did you start writing humorous poetry for children?
I started writing children's poetry four years ago. At the time my boys were 8- and 10-yrs old. They were the perfect target audience for my poetry. Nothing beats having a captive audience to test out the new material! Instead of reading books at bedtime, I would instead read them some of my new poems. That was a very cool experience for me (and for the boys, too, hopefully!)
You've talked about incorporating "smart" humor for poetry, which includes wordplay and some rather clever puns. What's your favorite aspect of wordplay?
I'm a big fan of double entendres. And I love to trick my readers. Puns are one type of wordplay that allows me to accomplish this. I have a poem in my first intermediate book (Twist and Shout!) called 20 Bucks. In this poem a boy offers 20 bucks to any of his friends who can correctly answer a series of questions. When Isabelle finally answers all of them correctly, he gives her the 20 bucks. But he doesn't give Isabelle the 20 dollars that she's expecting. Instead, he gives Isabelle the 20 deer that are standing in the back of a truck.
I sometimes read my poems to students in elementary schools, and it is so much fun to read them a poem that ends with a trick because, when someone gets the trick, his or her face absolutely lights up. It's the 'Ahhhhhhh, I get it!' expression, and it is really fun for me to see that expression.
What are your thoughts on other humorous poets, like Shel Silverstein and Jack Prelutsky, whose poems can turn morbid?
I think both of these poets are brilliant. I read a lot of Shel Silverstein growing up. I probably read Where the Sidewalk Ends 50 times. I haven't read as much of Jack Prelutsky's work, but I think he is one of the very best rhymers around.
I don't have an issue with poems that turn morbid as long as those poems are age-appropriate. I wouldn't want a 5-year old reading a morbid poem. But I would be OK with a 12-year old reading a morbid poem. I think it's important that poems (and other literary forms) are age-appropriate. In fact, that's one of the reasons why I write children's poetry books that are specifically designed for beginner (grade K-2), intermediate (grades 3-5) and advanced (grades 5-7) readers.
How do you think writing poetry compares to writing prose, especially for children?
I think poetry is a particularly powerful tool for young children. Rhyming is a great method for capturing children's attention. Illustrations are also a powerful tool for capturing children's attention. And the younger the children are, the smaller their attention spans are, all things equal. Prose, of course, can also be quite captivating, particularly if a story has compelling characters.
What advice do you have for writers who would like to write for kids, especially with poetry?
My advice to those writers is to think like a child (given my maturity level, this happens to come quite naturally for me!) and know your target audience. Pay attention to the length of the poems and the difficulty of the vocabulary because they can, and should, vary depending on the audience.
After finishing your three books, which of your books would you recommend for readers?
That's a tough question to answer. I write children's poetry books for three distinct reading levels. I would recommend my beginner book for children between 3 and 8 years old. I would recommend my intermediate book for children between 9 and 11 years old. I would recommend my advanced book for children between 11 and 13 years old. All three books are humorous, but the intermediate and advanced books are also very educational. I hope parents and educators (and the children reading those books!) find that combination appealing.
What upcoming projects do you have planned?
In 2019, I plan to publish Chasing Santa Claus, which consists of a 32-verse poem accompanied by 32 colorful illustrations. This book starts off with children waiting in line at the mall to meet Santa Claus. Unfortunately, the kids in the back of the very long line don't realize that Santa is only working for one hour that day. So, when they do finally make it to the front of the line, full of excitement with their wish lists in hand, they are none too pleased when they see Santa closing up shop. The children end up chasing Santa Claus all over town, hoping he will review their wish lists after all. I won't reveal the ending, but the poem does end, as many of my poems do, with a surprise twist and a clever pun.
Also In This Story Stream