Fiction
An Interview With Megan Abbott
This content contains affiliate links. When you buy through these links, we may earn an affiliate commission.
Megan Abbott is the Edgar award-winning author of the novels The End of Everything, Queenpin, The Song is You, Die a Little, Bury Me Deep, and Dare Me. Her latest novel, The Fever, introduces us to the Nash family. Tom is a popular teacher, father of two teens: Eli, a hockey star and girl magnet, and his sister Deenie, a diligent student. Their seeming stability, however, is thrown into chaos when Deenie's best friend is struck by a terrifying, unexplained seizure in class. Rumors of a hazardous outbreak spread through the family, school and community. As hysteria and contagion swell, a series of tightly held secrets emerges, threatening to unravel friendships, families and the town's fragile idea of security.
A lot of us are big fans of Megan's, so we thought we'd ask her some fun questions.
This isn't your first rodeo writing about teenage girls. What is it about them that makes for such compelling characters?
There's just so darn much to explore there. I think teenage girls continue to suffer from these tightly fixed beliefs that they're supposed to be these happy, smiling innocents—they're not supposed to express anger, to desire, to have ambitions. So I love looking at all that longing and rage. I love exploring the often covert ways that teen girls frequently have to operate to acquire, or keep, power—since they're not supposed to want it at all. And there's so much about teen girls that, in "adult fiction" (note the quote marks), has been underexplored, or not taken seriously. The intensity of female friendships at that age, the unique pressures brought to bear by technology (texting, social media). It's rich territory. Dramatic territory.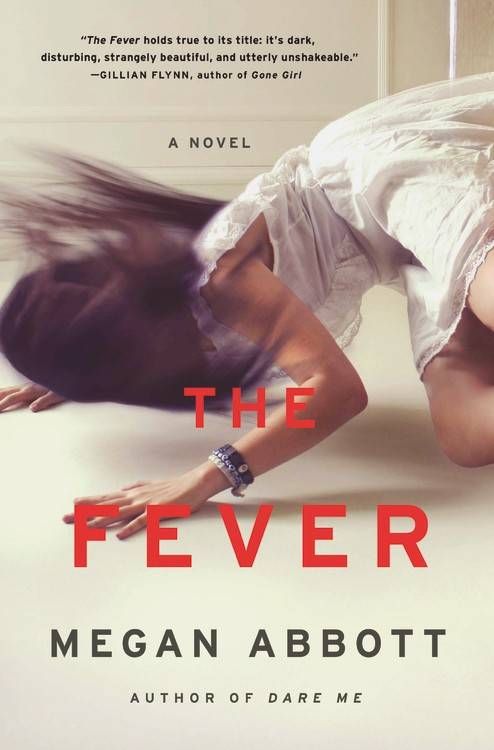 What do you think about the possibility that young adults will read The Fever?
Based on those who've responded to early galleys, it seems like they are. I hope they do. To me it feels like those lines between YA and adult don't make much sense. Stories are stories.
I read The Fever, and I have to admit, it made me really glad I was a nerd and kept mostly to myself in high school. What were those years like for you personally? YOU WERE A CHEERLEADER WEREN'T YOU DON'T LIE
I'M CHEERING RIGHT NOW. But no. I was the editor-of-the-high-school newspaper type. And the compulsive reader I still am. I did have a group of female friends and we engaged in the usual girl warfare of ritual fighting, shunning and passive-aggressive humiliation. I can't believe how much of that I remember. The complexities of the three-corner friendships. The various disillusionments and betrayals. The mysteries of boys. That fear that everyone else is "ahead" of you in terms of experience. How everything just feels so much.
A lot of your books, including The Fever, are with Hachette. As an author, what is it like to have a summer blockbuster book released when Amazon is playing a really lame game of hardball?
Well, it's just lousy, isn't it? When a friend sent me a message saying they'd removed my buy buttons, I looked at the Amazon page for The Fever and seeing those blank spaces where the pre-order links should be—it just felt they'd erased me. And then clicking over to the pages of authors I love, like Michael Koryta, and seeing the same thing, it felt rotten, and unbelievably frustrating, and continues to feel so.
But as someone who grew up in bookstores, if it means that indies benefit from what Amazon is doing to its customers, then that's fantastic. My books wouldn't exist without the support of indie stores and I'm beyond grateful for them—as a writer and a reader. So I hope they sell tons of Hachette books and make a mint off The Silkworm alone!
The big book tour begins! What are you taking to read while on your travels?
Oh, great question! Elliott Holt's You Are One of Them, Lisa Howorth's Flying Shoes (as soon as I can snag a copy) and We Were Liars by E. Lockhart.
You love Mad Men. We love Mad Men. Betty or Megan?
Oh gosh, both! It feels like a lot of viewers are especially hard on Betty, so I'll give a special shout of love for her. Hitting that generation right before things began to change so much for women had to have been so hard. And now she's this glacial queen in her Gothic suburban mansion, her hair shellacked to Pat Nixon perfection, smoking her cigarettes and coolly judging. She's awesome.
Save