Fiction
An Interview With Markus Zusak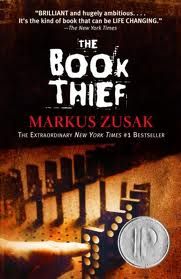 In honor of the film adaptation of Markus Zusak's much beloved novel The Book Thief (it's sold 8 million copies worldwide, if that's not beloved, dear God, I don't know what is) hitting theaters today, as follows, an edited phone interview I, along with a handful of other book bloggers, conducted with Zusak a few weeks ago. Topics not covered in the interview: how completely handsome and charming and Australian Zusak is on the phone (you absolutely can be handsome on the phone, just go Skype Zusak and see) and how vaguely guilty I feel about being so cheeky in my Trailer Rundown of The Book Thief (but I will live with my guilt in exchange for my journalistic integrity or whatever it's called in blogging).
And now, some highlights from the interview
On his involvement with the adaptation:
No, basically, I read the screenplay. And again, I sort of don't envy the task of taking a 560-page novel and turning it into a 120-page script. And so, Michael Petroni, who wrote it–I basically read the script at a certain point. And then I just sat down with the producers, with Karen Rosenfelt and Ken Blancato and also Brian Percival, the Director. They asked me, "What from the book, you know, do you feel like you would mourn not being in the film?" And–.There were a few things. And so, I'm curious to see what happens in the very end.
On book-to-film adaptations he loves:
One of my favorite books is What's Eating Gilbert Grape? The film is really great as well. It's a really good example as well because that's a perfect example of a book and a film that really do have the same heart, there's just something about the film that you can tell the feeling of the book comes through the film as well.
Another one that's really interesting as well for me is The English Patient. And this is one that's pretty divisive because there are some people who love that book. And I love that book, too. But, I also love the movie.
I really like the High Fidelity adaptation as well with John Cusack. That's one where they moved the whole setting from England to Chicago. That was really interesting.
And I think what I hoped was that the film will be different from the book in a whole lot of ways. But, I think it'll have the same heart. And I don't think, as the writer of the book, you can really ask for any more than that.
On how The Book Thief as a book/film fit into the canon of Holocaust film/literature:
If I was to say anything or have a stab at anything, and I try to sort of think of this almost dispassionately, is to say that, in a lot of cases, there weren't a whole lot of books and documentaries and things like that that really focused on the everyday of certain German people or communities.
Those are the stories I grew up on, where, for better or worse, too, that kids still had childhoods. It's just that idea of just a childhood as well. Those were a lot of the stories my mom and dad told me.
Then the idea of the German people who didn't want to fly the Nazi flag, which my mom's foster father didn't want to do or my dad himself, he was just a kid. And he was forced to go to the Hitler Youth. And he didn't really want to because he thought it was boring. He said, "This is bloody stupid, this Hitler Youth stuff."
And so, he went to the river and threw rocks in the water and stones in the water just for the whole time that he should've been at Hitler Youth.
In a way, maybe it's just a few little pockets of things and those little stories that just show a slightly different side to things as just stories themselves. Maybe that's the best way to think of it contributing.
On the books that made him want to be a writer:
Well, I'll tell you the books that made me want to be a writer were S.E. Hinton's books. And so, I read The Outsiders when I was 14.
And I remember just lying in my bed reading that. I remember just the yellow light of my brother's in my bedroom. And I remember him complaining to me about the light being on and we had little sort of bedside table lamps that sort of clips on.I'm just going into the details of the lighting in my house when I grew up. But, it's all these little details. And I remember just staying up and reading that book.
She was the one where I read those books, and I thought, "I know this isn't true, but I believe it."I love that magic act of fiction.
_________________________
Sign up for our newsletter to have the best of Book Riot delivered straight to your inbox every two weeks. No spam. We promise.
To keep up with Book Riot on a daily basis, follow us on Twitter, like us on Facebook, , and subscribe to the Book Riot podcast in iTunes or via RSS. So much bookish goodness–all day, every day.