This content contains affiliate links. When you buy through these links, we may earn an affiliate commission.
I started thinking about feminist middle grade books while reading Kelly Jensen's wonderful feminist anthology, Here We Are: Feminism for the Real World. If you haven't read it yet, get it now! In her introduction, Jensen writes, "What unites feminists is the belief that every person—regardless of gender, class, education, race, sexuality, or ability—deserves equality."
Reading Jensen's words has made me think about how children are shaped by the literature they read. And then I came across an interview in Poets and Writers Magazine with the National Ambassador for Young People's Literature, Gene Luen Yang. He said, "There are studies that show that fiction in particular builds empathy–that when you read about characters who don't look or live like you, you begin to understand them a little better."
When children are exposed to a wide range of characters, of girls who love adventure and science and writing and math, girls who excel at sports and stand up to bullying, girls who love to cook and embrace their individuality, our children of today are given a gift that will not only last a lifetime but that will travel far beyond that. The lessons young people learn from the books they read will linger as they grow up and share ideas and become leaders in the world: politicians and journalists and writers and travelers. These readers will grow up with a powerful arsenal of empathy, understanding, and a desire for equality and justice.
There are countless numbers of feminist middle grade books, but here are some of my favorites. Feel free to add to the conversation by sharing your favorite feminist children's books in the comments.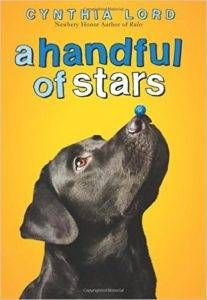 A Handful of Stars by Cynthia Lord
When Lily's blind dog, Lucky, slips his collar and runs away across the wide-open blueberry barrens of eastern Maine, it's Salma Santiago who manages to catch him. Salma, the daughter of migrant workers, is in the small town with her family for the blueberry-picking season. After their initial chance meeting, Salma and Lily bond over painting bee boxes for Lily's grandfather, and Salma's friendship transforms Lily's summer. But when Salma decides to run in the upcoming Blueberry Queen pageant, they'll have to face some tough truths about friendship and belonging. Should an outsider like Salma really participate in the pageant – and possibly win?
"I was feeling a bit scared, and I realized something. To do brave things, you don't have to be hugely brave. You only have to be a little bit braver than you are scared."
–A Handful of Stars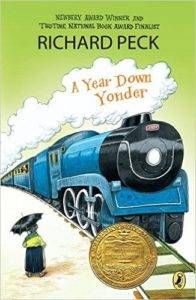 A Year Down Yonder by Richard Peck
Mary Alice's childhood summers in Grandma Dowdel's sleepy Illinois town were packed with enough drama to fill the double bill of any picture show. But now she is fifteen, and faces a whole long year with Grandma, a woman well known for shaking up her neighbors – and everyone else! All Mary Alice can know for certain is this: when trying to predict how life with Grandma might turn out . . . better not.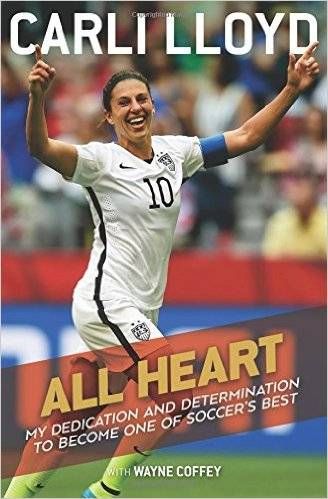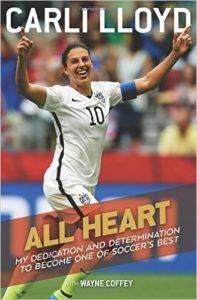 All Heart: My Dedication and Determination to Become One of Soccer's Best by Carli Lloyd
In the summer of 2015, the U.S. women's national soccer team won the World Cup behind an epic performance by Carli Lloyd. Carli, a midfielder, scored three goals in the first sixteen minutes—the greatest goal-scoring effort in the history of World Cup finals. But there was a time when Carli almost quit soccer. She struggled with doubts and low confidence. In All Heart, adapted from When Nobody Was Watching specifically for younger readers, Carli tells the full inspiring story of her journey to the top of the soccer world—an honest, action-packed account that takes readers inside the mind of a hardworking athlete.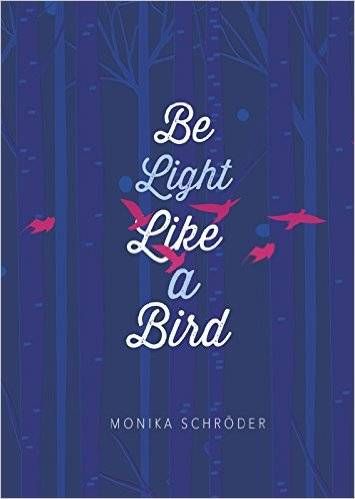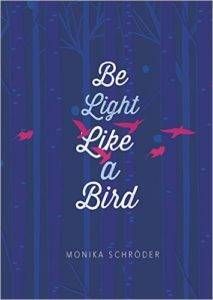 Be Light Like a Bird by Monika Schroder
After the death of her father, twelve-year-old Wren finds her life thrown into upheaval. And when her mother decides to pack up the car and forces Wren to leave the only home she's ever known, the family grows even more fractured. As she and her mother struggle to build a new life, Wren must confront issues with the environment, peer pressure, bullying, and most of all, the difficulty of forgiving those who don't deserve it. A quirky, emotional middle grade novel set in Michigan's Upper Peninsula, Be Light Like a Bird features well-drawn, unconventional characters and explores what it means to be a family ― and the secrets and lies that can tear one apart.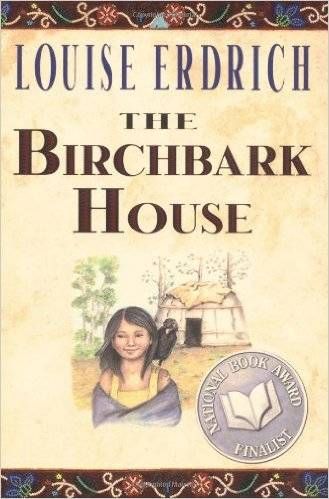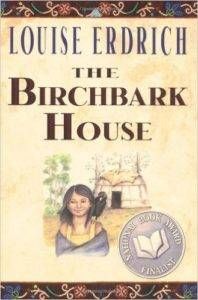 The Birchbark House by Louise Erdrich
"[In this] story of a young Ojibwa girl, Omakayas, living on an island in Lake Superior around 1847, Louise Erdrich is reversing the narrative perspective used in most children's stories about nineteenth-century Native Americans. Instead of looking out at 'them' as dangers or curiosities, Erdrich, drawing on her family's history, wants to tell about 'us', from the inside. The Birchbark House establishes its own ground, in the vicinity of Laura Ingalls Wilder's 'Little House' books." —The New York Times Book Review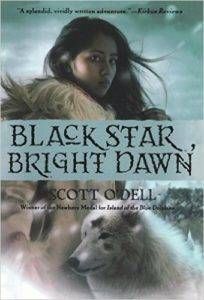 Black Star, Bright Dawn by Scott O'Dell
When her father is injured while training for the Iditarod (the famous 1200-mile dogsled race between Anchorage and Nome), Bright Dawn eagerly takes his place. "The race is won by thinking," an older competitor warns her, which proves to be true. Like all superb adventure stories, this one concerns external threats from the elements and nature, as well as the inner battle: the strength of Bright Dawn's character. Of O'Dell's recent works this is one of his most exciting to read and infused with dignity. The race, with an unexpected ending, gives the story its simple, penetrating structure. But the story's depth comes from Bright Star's admiration for her father, running like a current through the story. O'Dell's understated, laconic style seems perfectly suited to depicting their relationship. (Publishers Weekly)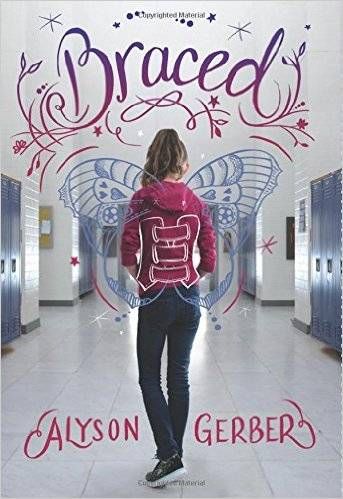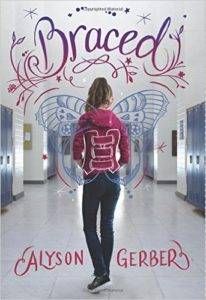 Braced by Alyson Gerber (Arthur A. Levine Books, March 28, 2017)
Rachel Brooks is excited for the new school year. She's finally earned a place as a forward on her soccer team. Her best friends make everything fun. And she really likes Tate, and she's pretty sure he likes her back. After one last appointment with her scoliosis doctor, this will be her best year yet.
Then the doctor delivers some terrible news: The sideways curve in Rachel's spine has gotten worse, and she needs to wear a back brace twenty-three hours a day. The brace wraps her in hard plastic from shoulder blades to hips. It changes how her clothes fit, how she kicks a ball, and how everyone sees her–even her friends and Tate. But as Rachel confronts all the challenges the brace presents, the biggest change of all may lie in how she sees herself.
"Then I dribble across the yard, accelerate, and change direction, pulling the ball with me. Each time I speed up and turn, the brace rubs against my hips. I don't care that it hurts. I push through. I'm not giving up. I'm playing, and I'm going to be good, even in the brace."
–Braced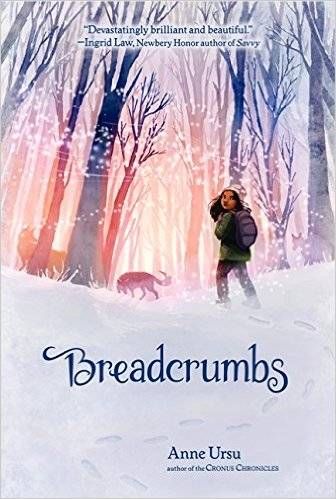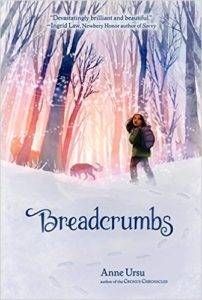 Breadcrumbs by Anne Ursu
Once upon a time, Hazel and Jack were best friends. But that was before he stopped talking to her and disappeared into a forest with a mysterious woman made of ice. Now it's up to Hazel to go in after him. Inspired by Hans Christian Andersen's "The Snow Queen," Breadcrumbs is a stunningly original fairy tale of modern-day America, a dazzling ode to the power of fantasy, and a heartbreaking meditation on how growing up is as much a choice as it is something that happens to us.
"Her father said she was a princess. He did not see that she was a brave knight."
– Breadcrumbs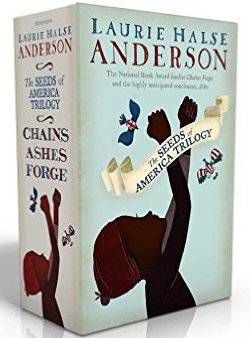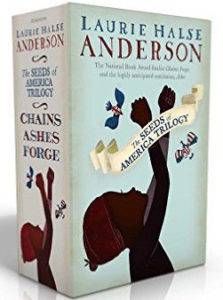 Chains, Forge, and Ashes by Laurie Halse Anderson
It's 1776 and Isabel, Curzon, and Ruth have only ever known life as slaves. But now the young country of America is in turmoil—there are whisperings, then cries, of freedom from England spreading like fire, and with it is a whole new type of danger. For freedom being fought for one isn't necessarily freedom being fought for all…especially if you are a slave. But if an entire nation can seek its freedom, why can't they? As war breaks out, sides must be chosen, death is at every turn, and one question forever rings in their ears: Would you risk everything to be free? As battles rage up and down the Eastern seaboard, Isabel, Curzon, and Ruth flee, separate, fight, face unparalleled heartbreak and, just like war, they must depend on their allies—and each other—if they are to survive. Which leads to a second, harrowing question: Amidst so much pain and destruction, can they even recognize who their allies are?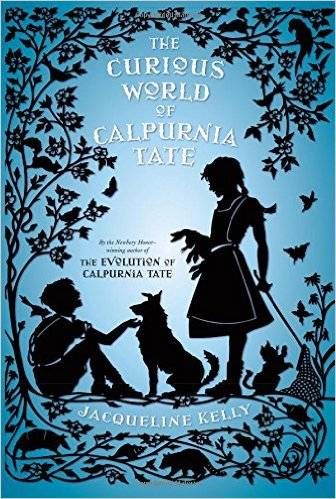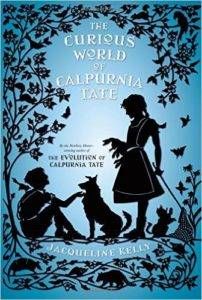 The Curious World of Calpurnia Tate by Jacqueline Kelly
Travis keeps bringing home strays. And Callie has her hands full keeping the wild animals–her brother included–away from her mother's critical eye. Whether it's wrangling a rogue armadillo or stray dog, a guileless younger brother or standoffish cousin, the trials and tribulations of Callie Vee will have readers laughing and crying and cheering for this most endearing heroine.
"It seemed to me that everything boiled down to one question that kept repeating in my head: Am I not as smart as my brothers? The answer was no. No, I was not.
I was smarter.
And if I had to make my own way in the world, so be it. I would find that way."
–The Curious World of Calpurnia Tate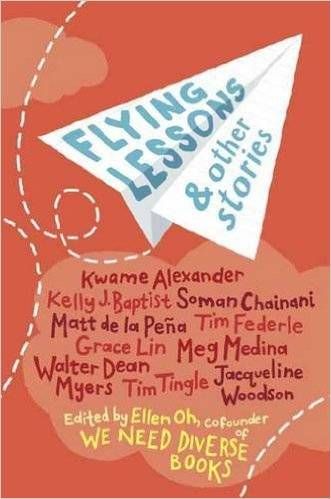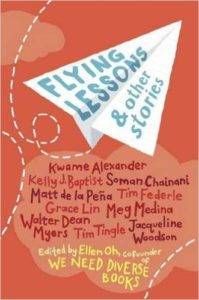 Flying Lessons and Other Stories, edited by Ellen Oh
In a partnership with We Need Diverse Books, this is a story collection that is as humorous as it is heartfelt. Look in particular for Grace Lin's story, The Difficult Path and Jacqueline Woodson's story, Main Street.
The wind is wild, and the waves are endless, and the shore is so distant it is hard to imagine that it even exists. But my head is raised and I can't help but smile. For while the path before me might be difficult, it will be my own."
-from The Difficult Path by Grace Lin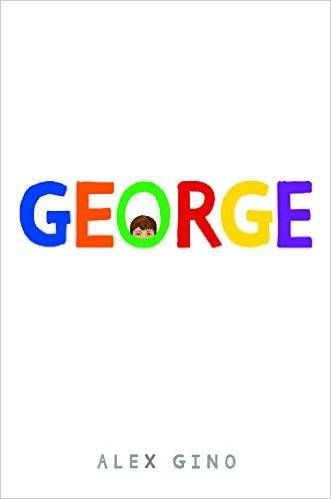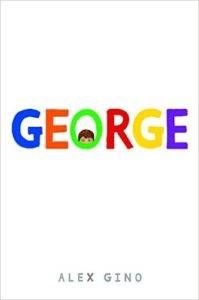 George by Alex Gino
When people look at George, they think they see a boy. But she knows she's not a boy. She knows she's a girl. George thinks she'll have to keep this a secret forever. Then her teacher announces that their class play is going to be Charlotte's Web. George really, really, REALLY wants to play Charlotte. But the teacher says she can't even try out for the part . . . because she's a boy. With the help of her best friend, Kelly, George comes up with a plan. Not just so she can be Charlotte — but so everyone can know who she is, once and for all.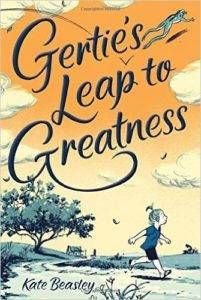 Gertie's Leap to Greatness by Kate Beasley
Gertie Reece Foy is 100% Not-From-Concentrate awesome. She has a daddy who works on an oil rig, a great-aunt who always finds the lowest prices at the Piggly Wiggly, and two loyal best friends. So when her absent mother decides to move away from their small town, Gertie sets out on her greatest mission yet: becoming the best fifth grader in the universe to show her mother exactly what she'll be leaving behind. There's just one problem: Seat-stealing new girl Mary Sue Spivey wants to be the best fifth grader, too. And there is simply not enough room at the top for the two of them.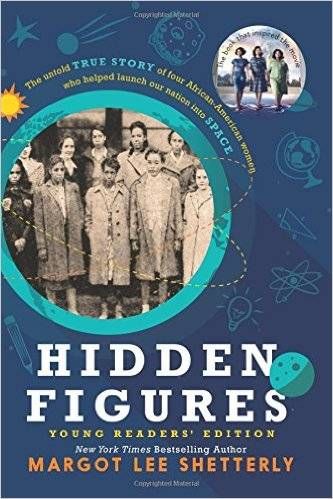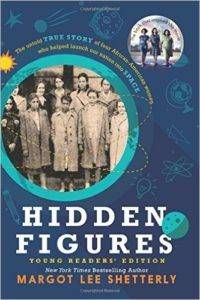 Hidden Figures Young Readers Edition by Margot Shetterly
Before John Glenn orbited the earth, or Neil Armstrong walked on the moon, a group of dedicated female mathematicians known as "human computers" used pencils, slide rules, and adding machines to calculate the numbers that would launch rockets, and astronauts, into space. This book brings to life the stories of Dorothy Vaughan, Mary Jackson, Katherine Johnson, and Christine Darden, four African-American women who lived through the civil rights era, the Space Race, the Cold War, and the movement for gender equality, and whose work forever changed the face of NASA and the country.
"Women, on the other hand, had to wield their intellects like a scythe, hacking away against the stubborn underbrush of low expectations."
–Hidden Figures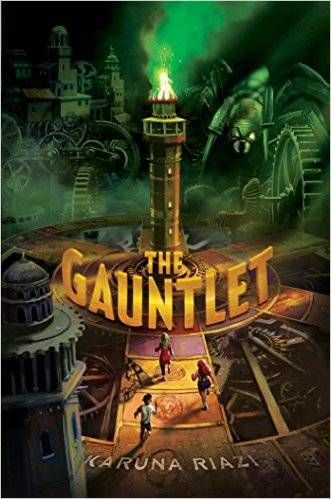 The Gauntlet by Karuna Riazi
When twelve-year-old Farah and her two best friends get sucked into a mechanical board game called The Gauntlet of Blood and Sand—a puzzle game akin to a large Rubik's cube—they know it's up to them to defeat the game's diabolical architect in order to save themselves and those who are trapped inside, including her baby brother Ahmed. But first they have to figure out how. Under the tutelage of a lizard guide named Henrietta Peel and an aeronaut Vijay, the Farah and her friends battle camel spiders, red scorpions, grease monkeys, and sand cats as they prepare to face off with the maniacal Lord Amari, the man behind the machine. Can they defeat Amari at his own game…or will they, like the children who came before them, become cogs in the machine?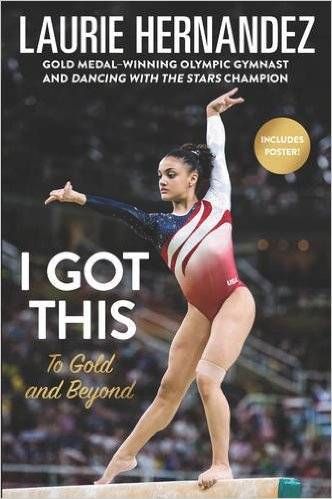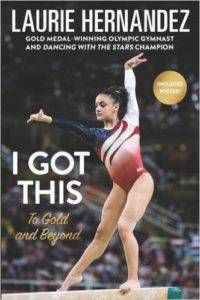 I Got This: To Gold and Beyond by Laurie Hernandez
At sixteen years old, Laurie Hernandez has already made many of her dreams come true—and yet it's only the beginning for this highly accomplished athlete. A Latina Jersey girl, Laurie saw her life take a dramatic turn last summer when she was chosen to be a part of the 2016 US Olympic gymnastics team. After winning gold in Rio as part of the Final Five, Laurie also earned an individual silver medal for her performance on the balance beam. Nicknamed "the Human Emoji" for her wide-eyed and animated expressions, Laurie continued to dance her way into everyone's hearts while competing on the hit reality TV show Dancing with the Stars, where she was the youngest-ever winner of the Mirrorball Trophy. Poignant and funny, Laurie's story is about growing up with the dream of becoming an Olympian and what it took to win gold. She talks about her loving family, her rigorous training, her intense sacrifices, and her amazing triumphs.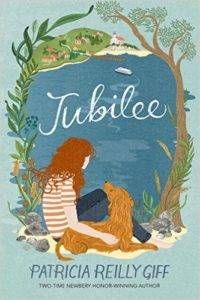 Jubilee by Patricia Reilly Giff
Judith lives with her beloved aunt Cora and her faithful Dog on a beautiful island. Years ago, when her mother left, Judith stopped talking. Now she communicates entirely through gestures and taps, and by drawing cartoons, speaking only when she's alone—or with Dog. This year, Judith faces a big change—leaving her small, special classroom for a regular fifth-grade class. She likes her new teacher, and finds a maybe-friend in a boy named Mason. But Jubilee's wandering feet won't stop until they find her mother. And now she discovers that her mother has moved back to the mainland, nearby. If Jubilee finds her, will her mother's love be what she needs to speak again?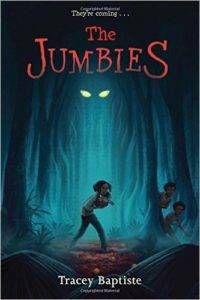 The Jumbies by Tracey Baptiste
Corinne La Mer claims she isn't afraid of anything. Not scorpions, not the boys who tease her, and certainly not jumbies. They're just tricksters made up by parents to frighten their children. Then one night Corinne chases an agouti all the way into the forbidden forest, and shining yellow eyes follow her to the edge of the trees. They couldn't belong to a jumbie. Or could they? When Corinne spots a beautiful stranger at the market the very next day, she knows something extraordinary is about to happen. When this same beauty, called Severine, turns up at Corinne's house, danger is in the air. Severine plans to claim the entire island for the jumbies. Corinne must call on her courage and her friends and learn to use ancient magic she didn't know she possessed to stop Severine and to save her island home.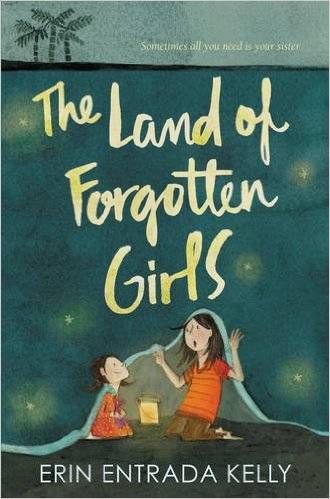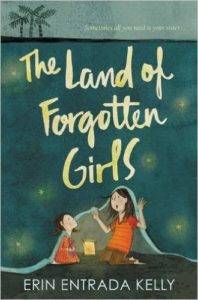 The Land of Forgotten Girls by Erin Entrada Kelly
Soledad has always been able to escape into the stories she creates. Just like her mother always could. And Soledad has needed that escape more than ever in the five years since her mother and sister died, and her father moved Sol and her youngest sister from the Philippines to Louisiana. After her father leaves, all Sol and Ming have is their evil stepmother, Vea. Sol has protected Ming all this time, but then Ming begins to believe that Auntie Jove—their mythical, world-traveling aunt—is really going to come rescue them. Can Sol protect Ming from this impossible hope? Acclaimed and award-winning author Erin Entrada Kelly writes masterfully about the challenges of finding hope in impossible circumstances, in this novel that will appeal to fans of Cynthia Kadohata and Thanhha Lai.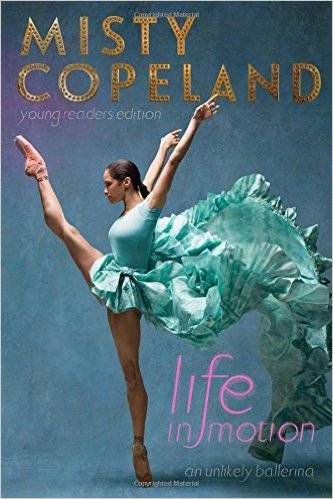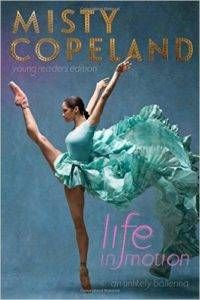 Life in Motion: An Unlikely Ballerina Young Readers Edition by Misty Copeland
Determination meets dance in this middle grade adaptation of the New York Times bestselling memoir by the first African-American principal dancer in American Ballet Theatre history, Misty Copeland. As the first African-American principal dancer at the American Ballet Theatre, Misty Copeland has been breaking down all kinds of barriers in the world of dance. But when she first started dancing—at the late age of thirteen—no one would have guessed the shy, underprivileged girl would one day make history in her field.
Knowing that it has never been done before makes me want to fight even harder.
-Misty Copeland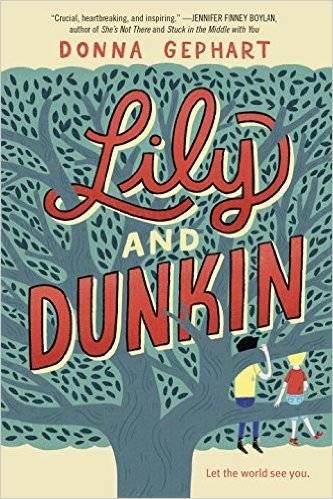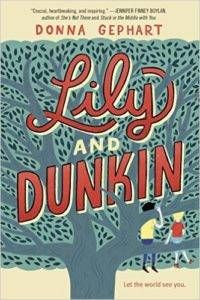 Lily and Dunkin by Donna Gephart
Lily Jo McGrother, born Timothy McGrother, is a girl. But being a girl is not so easy when you look like a boy. Especially when you're in the eighth grade. Dunkin Dorfman, birth name Norbert Dorfman, is dealing with bipolar disorder and has just moved from the New Jersey town he's called home for the past thirteen years. This would be hard enough, but the fact that he is also hiding from a painful secret makes it even worse. One summer morning, Lily Jo McGrother meets Dunkin Dorfman, and their lives forever change.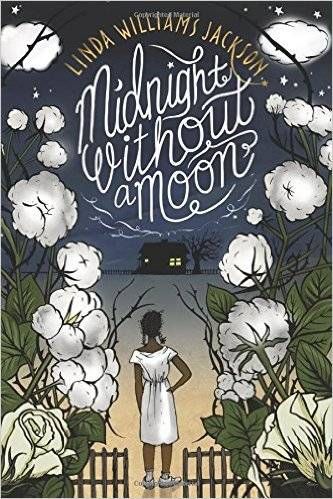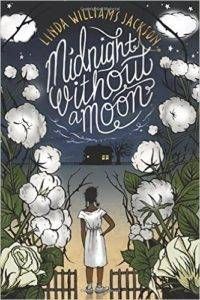 Midnight Without a Moon by Linda Williams Jackson
It's Mississippi in the summer of 1955, and Rose Lee Carter can't wait to move north. But for now, she's living with her sharecropper grandparents on a white man's cotton plantation. Then, one town over, an African American boy, Emmett Till, is killed for allegedly whistling at a white woman. When Till's murderers are unjustly acquitted, Rose realizes that the South needs a change . . . and that she should be part of the movement.
"And I was determined that one day, instead of fretting over being as dark as midnight without a moon, I would shine as bright as the morning star."
–Midnight Without a Moon
Kira-Kira by Cynthia Kadohata
kira-kira (kee ra kee ra): glittering; shining. Glittering. That's how Katie Takeshima's sister, Lynn, makes everything seem. The sky is kira-kira because its color is deep but see-through at the same time. The sea is kira-kira for the same reason. And so are people's eyes. When Katie and her family move from a Japanese community in Iowa to the Deep South of Georgia, it's Lynn who explains to her why people stop on the street to stare. And it's Lynn who, with her special way of viewing the world, teaches Katie to look beyond tomorrow. But when Lynn becomes desperately ill, and the whole family begins to fall apart, it is up to Katie to find a way to remind them all that there is always something glittering — kira-kira — in the future.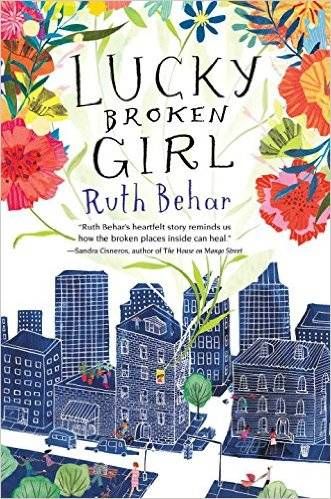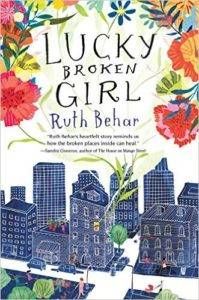 Lucky Broken Girl by Ruth Behar (Nancy Paulsen Books, April 11, 2017)
Ruthie Mizrahi and her family recently emigrated from Castro's Cuba to New York City. Just when she's finally beginning to gain confidence in her mastery of English—and enjoying her reign as her neighborhood's hopscotch queen—a horrific car accident leaves her in a body cast and confined her to her bed for a long recovery. As Ruthie's world shrinks because of her inability to move, her powers of observation and her heart grow larger and she comes to understand how fragile life is, how vulnerable we all are as human beings, and how friends, neighbors, and the power of the arts can sweeten even the worst of times.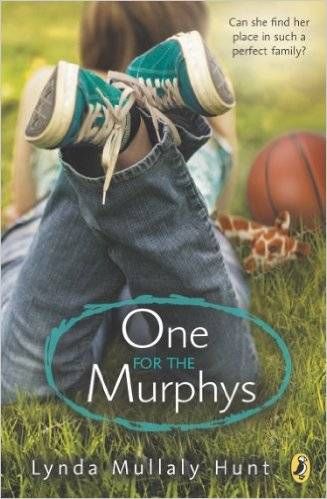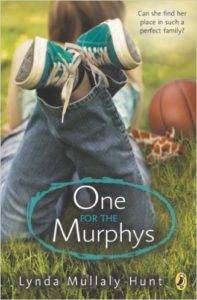 One for the Murphys by Lynda Mullaly Hunt
Carley uses humor and street smarts to keep her emotional walls high and thick. But the day she becomes a foster child, and moves in with the Murphys, she's blindsided. This loving, bustling family shows Carley the stable family life she never thought existed, and she feels like an alien in their cookie-cutter-perfect household. Despite her resistance, the Murphys eventually show her what it feels like to belong–until her mother wants her back and Carley has to decide where and how to live. She's not really a Murphy, but the gifts they've given her have opened up a new future.
"Do you know what courage is? It's being afraid and doing it anyway."
–One for the Murphys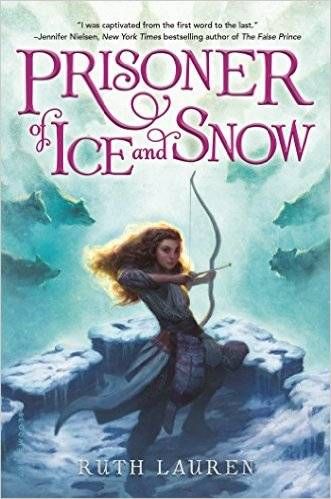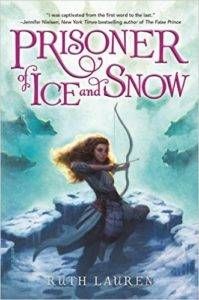 Prisoner of Ice and Snow by Ruth Lauren (Bloomsbury, April 4, 2017)
When thirteen-year-old Valor is sent to jail, she couldn't be happier. Demidova's prison for criminal children is exactly where she wants to be. Valor's twin sister, Sasha, is serving a life sentence for stealing from the royal family, and Valor is going to help her escape . . . from the inside. Never mind that no one has escaped the prison in centuries. Valor has a master plan and resources most people could only dream about. But she didn't count on having to outsmart both the guards and her fellow prisoners. If Valor's plan is to succeed, she'll need to make some unlikely allies. And if the plan fails, she and Sasha could end up with fates worse than prison.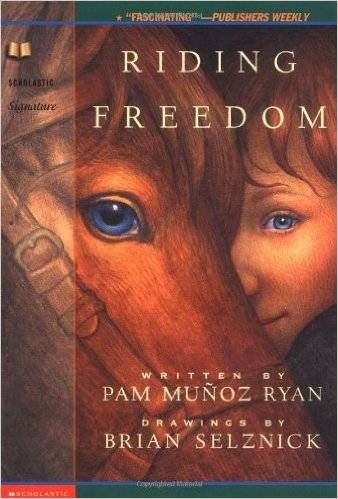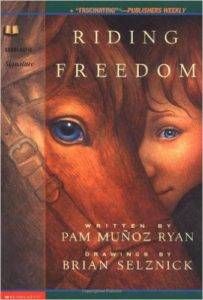 Riding Freedom by Pam Munoz Ryan
In this fast-paced, courageous, and inspiring story, readers adventure with Charlotte Parkhurst as she first finds work as a stable hand, becomes a famous stage-coach driver (performing brave feats and outwitting bandits), finds love as a woman but later resumes her identity as a man after the loss of a baby and the tragic death of her husband, and ultimately settles out west on the farm she'd dreamed of having since childhood. It wasn't until after her death that anyone discovered she was a woman.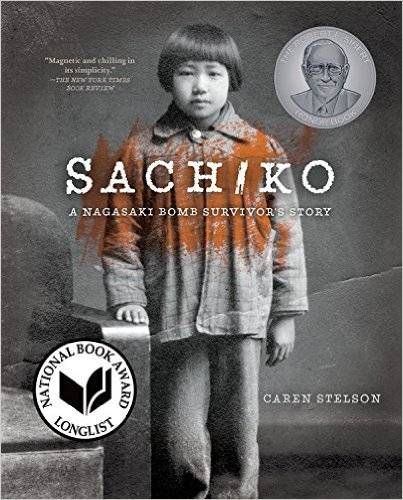 Sachiko by Caren Stelson
This striking work of narrative nonfiction tells the true story of six-year-old Sachiko Yasui's survival of the Nagasaki atomic bomb on August 9, 1945, and the heartbreaking and lifelong aftermath. Having conducted extensive interviews with Sachiko Yasui, Caren Stelson chronicles Sachiko s trauma and loss as well as her long journey to find peace. This book offers readers a remarkable new perspective on the final moments of World War II and their aftermath.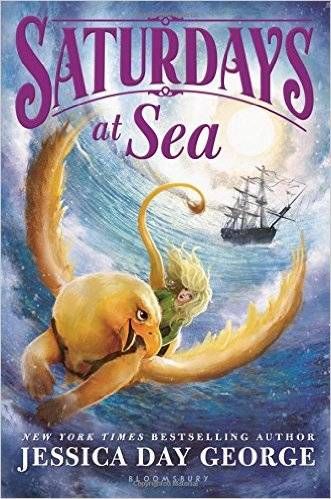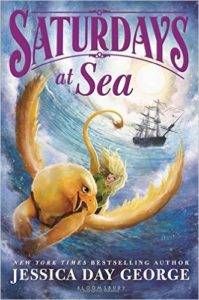 Saturdays at Sea by Jessica Day George
There is never a dull moment for Celie and her family in Castle Glower–even when they're not in the Castle itself! After traveling to the seaside kingdom of Lilah's betrothed prince, Lulath, Celie and her companions are busy training griffins, enjoying wedding festivities, and finishing construction of a grand ship built from parts of the Castle. But on their maiden voyage, the Ship steers them far off course into uncharted waters. Celie and Lilah hope that the Ship is taking them to the ancient island where unicorns once roamed, but as the journey grows longer and supplies run low, they are in trouble. Celie, Lilah, and Rolf know they must trust the Ship as they trust the Castle, but what if they never reach land again?
Siren Sisters by Dana Langer
Lolly Salt has three beautiful sisters. When they're not in school or running their small town's diner, they're secretly luring ships to their doom from the cliffs of Starbridge Cove, Maine. With alluring voices that twelve-year-old Lolly has yet to grow into, the Salt sisters do the work mandated by the Sea Witch, a glamorously frightening figure determined to keep the girls under her control. With their mother dead after a mysterious car accident, and their father drowning in grief, the sisters carry on with their lives and duties until a local sea captain gets suspicious about the shipwrecks. On the day before her birthday, Lolly watches in helpless horror as her sisters are lured themselves by curse-reversing fishermen–and suddenly it's up to her and her best friend Jason to rescue the sirens of Starbridge Cove.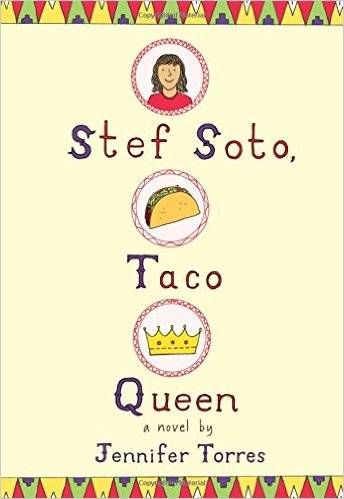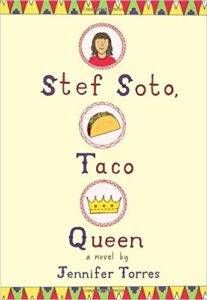 Stef Soto, Taco Queen by Jennifer Torres
Estefania "Stef" Soto is itching to shake off the onion-and-cilantro embrace of Tia Perla, her family's taco truck. She wants nothing more than for Papi to get a normal job and for Tia Perla to be a distant memory. Then maybe everyone at school will stop seeing her as the Taco Queen. But when her family's livelihood is threatened, and it looks like her wish will finally come true, Stef surprises everyone (including herself) by becoming the truck's unlikely champion. In this fun and heartfelt novel, Stef will discover what matters most and ultimately embrace an identity that even includes old Tia Perla.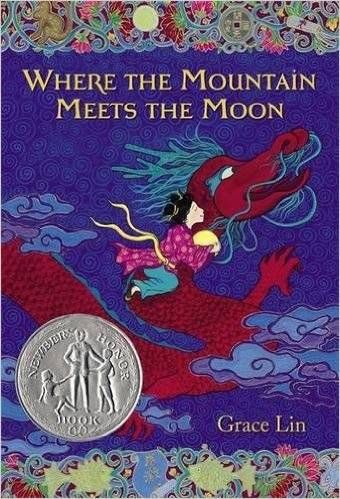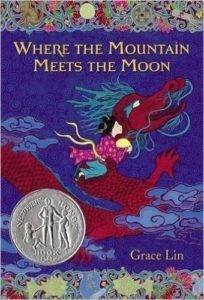 Where the Mountain Meets the Moon by Grace Lin
In the valley of Fruitless mountain, a young girl named Minli lives in a ramshackle hut with her parents. In the evenings, her father regales her with old folktales of the Jade Dragon and the Old Man on the Moon, who knows the answers to all of life's questions. Inspired by these stories, Minli sets off on an extraordinary journey to find the Old Man on the Moon to ask him how she can change her family's fortune. She encounters an assorted cast of characters and magical creatures along the way, including a dragon who accompanies her on her quest for the ultimate answer.
"Fortune was not a house full of gold and jade, but something much more."
–Where the Mountain Meets the Moon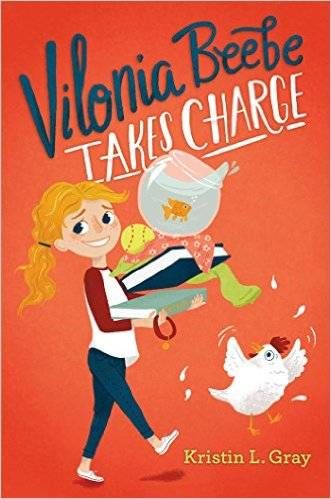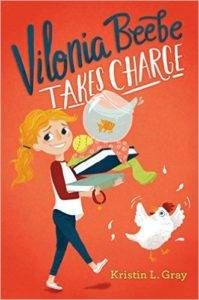 Vilonia Beebe Takes Charge by Kristin L. Gray
Being responsible is NOT easy. Fourth grader Vilonia hasn't lost her rain coat in the three weeks she's had it and she's brushed her teeth every night and she's volunteered to be the Friday Library Helper. But all that hard work is worth it if it means she can get a dog. Besides, this dog isn't just because Vilonia has wanted one for pretty much ever. It's also to help Mama, who's been lost in one, big sadness fog for forty-three days—ever since Nana died. But Vilonia read that pets can help with sadness. Now all she has to do is keep the library goldfish alive over spring break, stop bringing stray animals home, and help Mama not get fired from her job. And she's got to do all of it before the Catfish Festival. Easy as pie, right?
For more feminist kid's lit recommendations, check these out:
50 of the Best Heroines from Middle Grade Books (Link)
#ShePersisted: A Booklist for Kids (Link)
Social Justice Picture Books (Link)
The Best Feminist Books for Younger Readers (Link)
27 More Feminist Picture Books (Link)
Excellent Nonfiction About Girls for Tweens and Teen Readers (Link)
Inspiring Young Feminists: The Amelia Bloomer List (Link)
100 Must-Read YA Books for Feminists and Feminists-in-Training (Link)
---
This post is part of our International Women's Day celebration. See all the posts here.