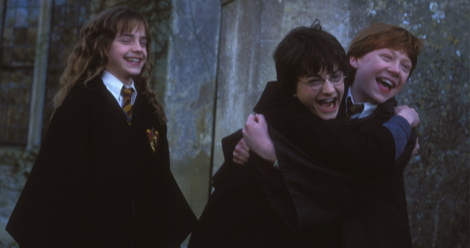 Inspirational Harry Potter Quotes for When You Need a Pick Me Up
This content contains affiliate links. When you buy through these links, we may earn an affiliate commission.
Do you ever need a pick-me-up from your favorite book series? I certainly do, and inspirational Harry Potter quotes are one of my go-to for a cheer up. The whole series is about overcoming obstacles, growth and being strong in the face of an evil, powerful wizard, so naturally the best Harry Potter quotes could be applicable for the worst real life situations.
I selected some of my favorite inspirational Harry Potter quotes from the series below. Enjoy! (And share your favorites in the comments!)
The best inspirational Harry Potter quotes
"It takes a great deal of bravery to stand up to our enemies, but just as much to stand up to our friends." —Albus Dumbledore (Harry Potter and the Philosopher's Stone)
"It does not do to dwell on dreams and forget to live." —Albus Dumbledore (Harry Potter and the Philosopher's Stone)
"It is our choices, Harry, that show what we truly are, far more than our abilities." —Albus Dumbledore (Harry Potter and the Chamber of Secrets)
"Happiness can be found, even in the darkest of times, if one only remembers to turn on the light." —Albus Dumbledore (Harry Potter and the Prisoner of Azkaban)
"I am what I am, an' I'm not ashamed. 'Never be ashamed,' my ol' dad used ter say, 'there's some who'll hold it against you, but they're not worth botherin' with." —Rubeus Hagrid (Harry Potter and the Goblet of Fire)
"Dark and difficult times lie ahead. Soon we must all face the choice between what is right and what is easy." (Harry Potter and the Goblet of Fire)
"If you want to know what a man's like, take a good look at how he treats his inferiors, not his equals." —Sirius Black, (Harry Potter and the Goblet of Fire)
"It was important, Dumbledore said, to fight, and fight again, and keep fighting, for only then could evil be kept at bay, though never quite eradicated…" (Harry Potter and the Half-Blood Prince)
"We've all got both light and dark inside us. What matters is the part we choose to act on. That's who we really are." —Sirius Black (Harry Potter and the Order of the Phoenix)
"Things we lose have a way of coming back to us in the end, if not always in the way we expect." —Luna Lovegood (Harry Potter and the Order of the Phoenix)
"'The thing about growing up with Fred and George,' said Ginny thoughtfully, 'is that you sort of start thinking anything's possible if you've got enough nerve.'" (Harry Potter and the Half-Blood Prince)
"It is a curious thing, Harry, but perhaps those who are best suited to power are those who have never sought it. Those who, like you, have leadership thrust upon them, and take up the mantle because they must, and find to their own surprise that they wear it well." —Albus Dumbledore (Harry Potter and the Deathly Hallows)
"Do not pity the dead, Harry, pity the living, and above all those who live without love." —Albus Dumbledore (Harry Potter and the Deathly Hallows)
"Words are, in my not so humble opinion, our most inexhaustible source of magic, capable of both influencing injury, and remedying it." —Albus Dumbledore (Harry Potter and the Deathly Hallows)
Save