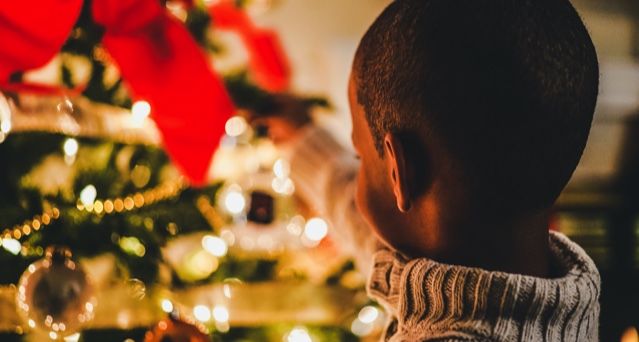 Children's
9 Inspirational Children's Books to Give Your Kids This Christmas
This list of inspirational children's books is sponsored by Shadow Mountain Publishing.
In The Christmas Doll, best-selling author Jason F. Wright shares a true story from the life of Gail Saxton Miller, billionaire businesswoman and owner of the Utah Jazz NBA team. But Gail's childhood was vastly different from her life now—facing poverty in the 1940s, the Saxton family made ends meet by turning their small home into rental apartments and made do with hand-me-downs and secondhand items. Christmas is fast approaching, but in the Saxton home, there is no money for gifts. Could there still be something special for Gail underneath the tree?
---
I love to buy books for my child because, well, I love books. And I want her to love them, too.
But I also love the way that books can stealth inspire her—to be braver, to be kinder, to be more herself—in a way she might not absorb if I try to teach her those lessons directly. After all, even though she's just 5 years old and I'm still the most awesome person to ever exist, she still thinks she knows better than me.
So at Christmas, I always make sure there are tons of books underneath the tree. Here are some of the books she's read over the past few years that have taught her some important lessons—while also being engaging as heck. You may want to add them to your own child's wish list.
I Am So Brave by Stephen Krensky and Sara Gillingham
I've ended up with a very cautious child, possibly because I'm a neurotic helicopter mom who's always telling her to be careful. But this sweet board book about facing your fears has my daughter declaring that she's no longer afraid of anything. Which is obviously not true, but I appreciate the sentiment. Recommended for those in preschool and beyond.
Ordinary Mary's Extraordinary Deed by Emily Pearson and Fumi Kosaka
Someone shared this story at an education conference I attended and I immediately ordered the full book for my daughter. It begins with one ordinary girl's kind gesture to a neighbor—and follows along as the first kind gesture begets another one, and another one, and another one, and so on. It's a fantastic lesson in how small gestures can have a huge impact. Recommended for those ages 4–7.
The Day You Begin by Jacqueline Woodson and Rafael López
I would follow Jacqueline Woodson to the ends of the earth. So it's no surprise that this book about finding the courage to connect with others—even when you feel as if others won't understand you—is absolute perfection. And Rafael López's artwork is so vibrant and engaging. It's a perfect pairing. I often worry that my daughter is holding back from being herself in service of fitting in. This book is the antidote. Recommended for those ages 5–8.
Drawn Together by Minh Lê and Dan Santat
This book makes me cry every time I read it. Relying more on visuals than words, it shares the quietly beautiful story of a boy and his grandfather who struggle to connect with each other until they manage to stumble upon a common love for art. I love how this book manages to convey, with barely any words, both the importance of bridging the gap between seemingly insurmountable differences and in connecting with our elders. Recommended for those ages 4–7.
After the Fall by Dan Santat
When you take a leap of faith and things go wildly wrong, it can be tough to ever dare again. But in this beautifully drawn twist on the Humpty-Dumpty tale, kids learn that the best things happen when you have the courage to get back up again. So sweet! Recommended for those ages 4–8.
SNAP! by Hazel Hutchins and Dušan Petričić
As a budding artist, my daughter was especially inspired by this book a boy whose crayon snaps in two. He is momentarily derailed, but then he realizes that—hey!—now he has two crayons! As more mishaps occur with his crayons, he's forced to think fast on his feet and get really creative, which leads to the creation of some of the most glorious artwork he's ever done. Now, every time a crayon breaks or the wrapper falls off, my daughter says, "Look! It's just like in that book!" and then goes on to create something new. Recommended for those ages 4–7.
Red: A Crayon's Story by Michael Hall
Speaking of crayons, I'm in awe of how well this book teaches kids what can be a complex lesson with the use of such a simple metaphor. About a crayon who is labeled as red, but who only manages to create blue pictures, it neatly shows that we should never force ourselves to be true to an assumed label at the expense of being true to ourselves. Recommended for those ages 4–8.
The Crayons' Christmas by Drew Daywalt and Oliver Jeffers
And because I'm on a crayon kick, If you feel you must include a gift that's specifically Christmas-themed, you can't go wrong with Oliver Jeffers. We own so many of his books and, no matter how often we read his crayon books, they always feel clever and fresh. How fortunate that he recently added a Christmas book to the popular series! This new book—which includes games, ornaments, a pop-up Christmas tree, and more—is about how the best gifts are the ones you give. Recommended for those ages 3–7.
The Cardboard Kingdom by Chad Sell
The last book on this list is for those ages 9–12, but that didn't stop me from reading it to my 5-year-old. A fellow mom actually recommended it to me, and I ended up fully charmed by this series of vignettes about a neighborhood full of kids who, over the course of a summer, create whole worlds and characters using not much more than cardboard and tape. It speaks so well to the powers of imagination both to entertain and to bring kids together. My daughter loved it, too, as she is forever transforming herself using nothing more than paper and (so much) tape.