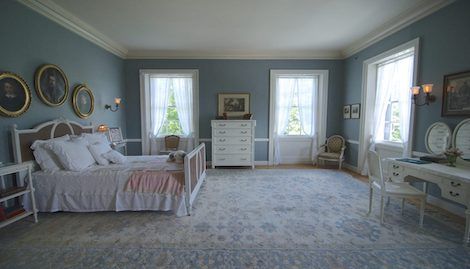 Inside The Rooms Where 20 Famous Books Were Written: Critical Linking, October 14, 201
Sponsored by The Rule of One, the first read in an epic series by real-life sisters Ashley Saunders and Leslie Saunders..
---
We often talk about literature as if it were some kind of magic thing—like it could be conjured without effort, if only we could arrange ourselves in a certain fashion, eat the right breakfast, perform our ablutions just so, organize our desks like our favorite writers, copy their daily rituals. Unfortunately, writing is hard, no matter what you do. When you're working, you have to be a mercenary, taking whatever space you can get, doing whatever works on that day. But when you really love a novel, there's still something mysteriously satisfying about seeing where it was made—it's kind of like making a pilgrimage to where your lover was born and raised. It doesn't mean anything, exactly, because you don't believe in magic, and yet it does. At the very least, it's fun. So for our mutual enjoyment, I present the places where some of literature's most beloved works were written: some beautiful, some dark, all apparently capable of inspiring greatness.
Super interesting (if not also very white–there's a lot to unpack with that). But I do enjoy looking at people's most personal places!
____________________
The clock is ticking to cast your final votes for America's best-loved novel. Will your favorite be the winner? To date, more than 3.8 million votes have been cast but it's still anyone's game.
As we head into the final week of voting, here is a sneak peek at the TOP 10 BOOKS from the list of 100 that are currently in the lead.
Speaking of all white and absolutely not surprising.
____________________
Erotica is not at odds with today's feminism. If erotica is written by women, if it explores the depths of unmentionable fantasies, if it helps us think through the pleasures, fears, and anxieties inherent in sex and power, it is doing feminist work. Raunchy female-penned books don't just offer thrills — they are important vehicles through which women can explore an otherwise prohibited eroticism. If we can find a way to appreciate this kind of work, instead of undermining it, we might also find another interesting — and rather fun — route to sexual and social empowerment.
Yes, yes, yes. A fantastic explanation of why we need erotica.