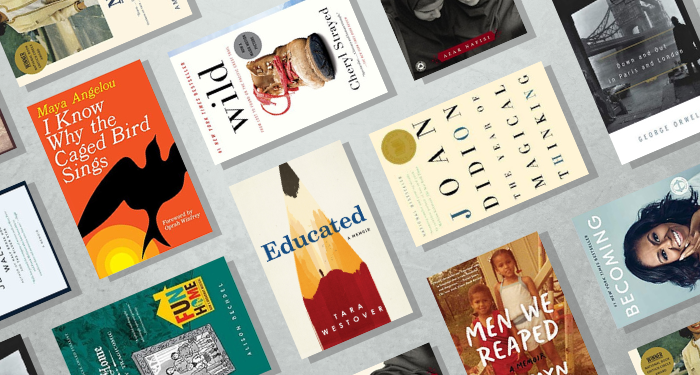 Lists
The 20 Most Influential Memoirs of All Time
Memoir is a wide-ranging genre. It's not a biography — the story of a person's life told by someone else — or an autobiography — a person telling their own life story. A memoir is the story of a specific time or theme or experience of a person's life. It's a deep meditation on something like growing up poor, or having a debilitating mental illness, or living in a racist America. Here, we dig into some of the most influential memoirs of all time.
The craft has evolved over time, with famous writers being the only ones in the space early on, like Ernest Hemingway writing about his life in Paris in A Moveable Feast, or the poet Mary Karr recalling her childhood with an alcoholic parent in The Liars' Club. There are vital historical texts, like The Diary of Anne Frank, or Barack Obama's Dreams From My Father, that are almost memoir but not quite — the pieces of a diary and the stories of someone else, respectively.
Many of these memoirs were turned into movies and became cultural icons. Books like Eat Pray Love by Elizabeth Gilbert inspire people to follow in the author's footsteps of discovery. Others, like Is Everyone Hanging Out Without Me? by Mindy Kaling, let people into the inner worlds of celebrities — they're just like us! Each is deeply influential in their own way.
The former was a 2006 Oprah's Book Club pick, touted as a riveting memoir about the 23-year-old's life of crime, drug abuse, and rehabilitation. After fifteen weeks on the New York Times bestseller list, a magazine investigation found much of the book to be fabricated after they couldn't find Frey's mugshot. Police records didn't match his story, and Frey later admitted to embellishing key facts.
Sebold's Lucky made headlines last year when the man she accused of the rape at the center of her story was exonerated after 40 years in prison. An executive producer adapting the memoir to film noticed that the book and the script didn't line up, so he hired a private investigator to look at the evidence. The story surrounding the trial, and the young Black man she accused, felt flimsy. Because it was. The memoir was pulled from distribution and will be reissued with appropriate changes.
Okay, now let's get to the books.
---
Whew. That was tough. Don't come at me for not including your favorite memoir; this is a list of the most influential, not the best, and honestly, I had to cut so many of my own favorites from this list.
If you're looking for more of the most influential books of a certain genre, be sure to check out these lists of most influential horror novels, romance novels, fantasy books, historical fiction, and sci-fi books.