As a high school librarian, finding a good teen comedy that doesn't make your toes curl from cringing is very hard to find. Teens know this too: they can spot when books are trying too hard to be hip or cool and it always backfires.
I've written before on the importance of funny signage & displays around the library and how they can bridge an often large gap between the librarian and the student. Humour can really be an effective way to connect with youth, but you can't try too hard and you need to be honest and come a from a place that you are familiar with in order to come across as genuine.
In my opinion, humour and honesty are the best ways to reach and engage with teens in a library, school, or any setting for that matter.
There's good reason us book pushers are looking for the kinds of books that will make people laugh: Teens need them. Any good book can provide an escape of sorts but a well written comedy that actually makes you laugh out loud can do more than you think.
It can put things into perspective, decrease stress, and increase your immune system, for one.
And teens need this more than ever. A recent U.S. report showed that depression and anxiety are seen as "major problems" among teenagers.
Stress and anxiety in the UK are also a major issue for teens. 50% of mental health issues involving anxiety are established by age 14.
Left untreated, anxiety or depression can have a major impact on employment, relationships and income in adult life.
Laughter also suppresses stress hormones and works through a phenomenon called "facial feedback" whereby pulling a specific expression can actually cause you to experience the corresponding emotion.
I'm not saying that a book on its own is going to solve major mental health issues. What I'm saying is that we know that reading humour, laughing and sharing funny stories and emotions can lower stress and anxiety and finding great ones on library shelves can be a challenge.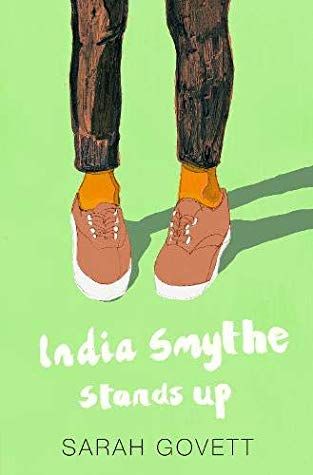 This is why, when a book like India Smythe Stands Up by Sarah Govett comes along, you get it into as many hands as possible.
Comedy is a change of gears for Sarah Govett, whose dystopian nightmare series The Territory is consistently one of the most popular series at Glenthorne High School Library where I work.
The story revolves around 14-year-old India Smythe, who can't seem to get out of her own way. When the most popular, best looking boy in the school asks her out, she's pressured to become someone she's not. However, at the same time, she's taken in by the most popular girl clique in the school.
India is a charming, smart girl who isn't sure of the path she wants to travel down. In short, she's in many ways a typical teen but she stands out because her observational wit is razor sharp.
India's parents are hilariously clueless on many levels. However, they remain loveable throughout as they try to protect their daughter, even if it means she might die from embarrassment. Her best friend who wants her to live her best life also can't help causing train wrecks at every turn.
There are some genuinely hilarious moments in this novel, including a make out scene that leads to disaster because of a low grade perfume brand, a makeup session that goes ballistic and many more.
I flew through this novel and can't wait for our teens to read it. They'll be coming back for more without a doubt. It's a rare find in a tough market. Check it out!