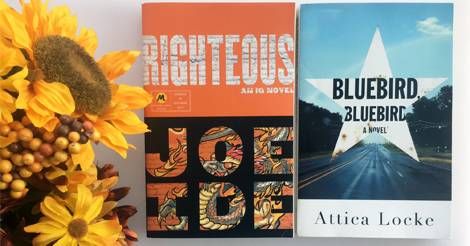 This content contains affiliate links. When you buy through these links, we may earn an affiliate commission.
It's fall and publishing is putting out a ton of books for cozy weather reading. While the list for mystery thrillers written by authors of color (AOC) and marginalized voices in September and October is still just a drop in the genre, the list does have some of 2017's BEST mysteries. As in drop-everything-and-read-this-mystery-it-is-so-good good. Since reading time is limited and there are so many books to read, I'm just going to jump right in and highlight these inclusive mystery and thrillers. If you missed the summer roundup you can find it here: Inclusive Mystery & Thrillers For Your Radar: June – August.
September:
A Conspiracy in Belgravia
(Lady Sherlock #2) by Sherry Thoma (Penguin Group, September 5th): There aren't enough heart-eye emojis to represent my love for Charlotte Holmes and this series. It was, after all, my best read of July and I have not—and will not—stopped talking about my favorite Sherlock!
Being shunned by Society gives Charlotte Holmes the time and freedom to put her extraordinary powers of deduction to good use. As "Sherlock Holmes, consulting detective," aided by the capable Mrs. Watson, she's had great success helping with all manner of inquiries, but she's not prepared for the new client who arrives at her Upper Baker Street office.
Lady Ingram, wife of Charlotte's dear friend and benefactor, wants Sherlock Holmes to find her first love, who failed to show up at their annual rendezvous. Matters of loyalty and discretion aside, the case becomes even more personal for Charlotte as the missing man is none other than Myron Finch, her illegitimate half brother.
To Funk and Die in LA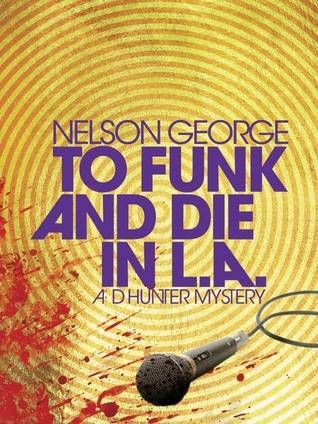 (D Hunter #4) by Nelson George (Akashic Books, Sept 5th): Ex-bodyguard and set in L.A. is all I needed to hear to add this one to my list. And then I saw the comps to Walter Mosley and it became a must-read!
To Funk and Die in LA, the fourth book in the D Hunter crime-fiction series, brings the ex-bodyguard to the City of Angels on a very dark mission when his grandfather, businessman Daniel "Big Danny" Hunter, is shot dead in a drive-by. Why would someone execute a grocery store owner? D soon finds there was more to Big Danny's life than selling loaves of bread. The old man, it turns out, was deeply involved with Dr. Funk, a legendary musical innovator who has become a mysterious recluse.
Most of the novel takes place in the LA neighborhoods of Crenshaw, Koreatown, and Pico-Union—areas where black, Asian, and Latino cultures intersect away from the glamour of Hollywood—and echoes of the 1992 riots play a significant role in D's investigation. In the tradition of Raymond Chandler and Walter Mosley, D Hunter rides through the mean streets of Los Angeles seeking truth and not always finding justice.
Bluebird, Bluebird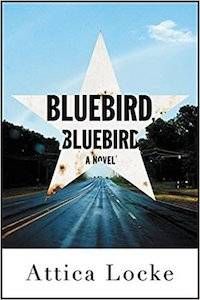 by Attica Locke (Mulholland Books, Sept 12): Another Best Mystery of 2017 which I raved about in best reads of June and I won't stop talking about it's sooooo good. Excellent, actually.
When it comes to law and order, East Texas plays by its own rules—a fact that Darren Mathews, a black Texas Ranger, knows all too well. Deeply ambivalent about growing up black in the lone star state, he was the first in his family to get as far away from Texas as he could. Until duty called him home.
When his allegiance to his roots puts his job in jeopardy, he travels up Highway 59 to the small town of Lark, where two murders—a black lawyer from Chicago and a local white woman—have stirred up a hornet's nest of resentment. Darren must solve the crimes—and save himself in the process—before Lark's long-simmering racial fault lines erupt.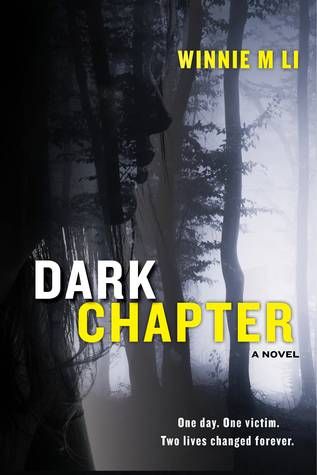 Dark Chapter by Winnie M. Li (Polis Books, Sept 12): (TRIGGER WARNING: Rape) A great, difficult, and important read that follows the victim and attacker before, during, and after an assault. The focus on how the attacker became who he is felt timely and necessary and will hopefully lead to more actions in raising boys to not be rapists.
Vivian is a cosmopolitan Taiwanese-American tourist who often escapes her busy life in London through adventure and travel. Johnny is a 15-year-old Irish teenager, living a neglected life on the margins of society. He has grown up in a family where crime is customary, violence is a necessity, and everything—and anyone—can be yours for the taking.
As Vivian looks to find her calling professionally, she delights in exploring foreign countries, rolling hillsides, and new cultures. And as a young, single woman, she has grown used to experiencing life on her own. But all of that changes when, on one bright spring afternoon in West Belfast, Vivian's path collides with Johnny and culminates in a horrifying act of violence.

In the aftermath of the incident, both Johnny and Vivian are forced to confront the chain of events that led to the attack. Vivian must struggle to recapture the woman that she was and the woman she aspired to be, while dealing with a culture and judicial system that treats assault victims as less than human. Johnny, meanwhile, flees to the sanctity of his transitory Irish clan. But when he is finally brought to reckon for his crimes, Vivian learns that justice is not always as swift or as fair as she would hope. Inspired by true events, DARK CHAPTER is both a literary masterpiece and a riveting novel of suspense about of the dark chapters and chance encounters that can irrevocably determine the shape of our lives.
October:
Seven Suspects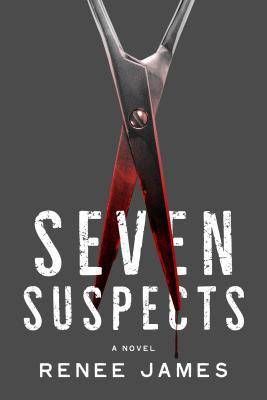 (The Bobbi Logan Series) by Renee James (Oceanview Publishing, Oct 3rd): LGBTQ+ own voices novels in the mystery genre are extremely rare, so I never say no to one. I've DNF'd most of the non-own voices mysteries I've started reading that have a transgender character because they've been problematic, so I'm really looking forward to this one. Plus a woman who stalks those she suspects as being her stalker sounds awesome.
Bobbi Logan is a successful businesswoman and a celebrated hairdresser. She is a witty, articulate woman who has survived rape, gender transition, a murder investigation, and countless acts of bullying and bigotry to get where she is—and she's made enemies along the way. Now one of them is stalking her. With each passing day, the threats become more brazen, more violent, and more personal. No one knows who her stalker is or why he's after her, but he's getting closer every day. Bobbi is intimidated but she has vowed to never be the victim again. She accumulates a list of six suspects, and with courage and persistence, she hunts them down, one by one—stalking her possible stalkers. But as she confronts those men who may want to do her harm, the number seven keeps haunting her—there must be a seventh suspect. And when she finds him, Bobbi's world implodes.
The Last Day of Emily Lindsey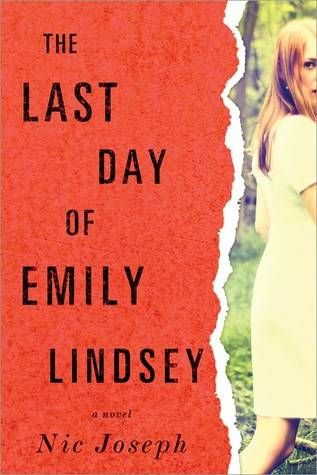 by Nic Joseph (Sourcebooks Landmark, Oct 3rd): This one has a bit of everything, in a way that comes together rather than being too much, which is nice. It's also a great read for those who like the past and present chapter switches and, like me, enjoy points of view from adults and children.
Detective Steven Paul has had the same nightmare for as long as he can remember, a strange symbol figuring prominently into his terror. He decided long ago that the recurring dreams are nothing more than an unfortunate side effect of his often traumatic profession. Until, that is, he's assigned to the case of Emily Lindsey, the beautiful, elusive, and controversial blogger found alone, holding a hunting knife and covered in someone else's blood.
As Steven questions Emily, she repeatedly scratches out the same odd symbol he sees when he closes his eyes. A thrilling suspense ensues as Steven must get inside Emily's head to solve a mystery without a crime—a mystery that is connected to him in ways he can't even begin to fathom.
Righteous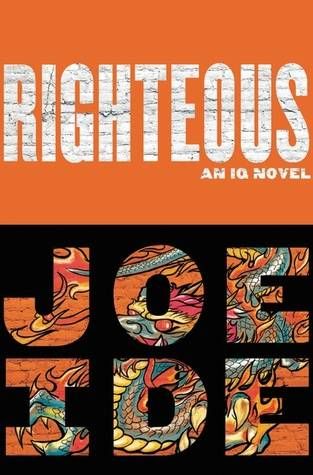 (IQ #2) by Joe Ide (Mulholland Books, Oct 17th): Another one of my favorite releases this year that should be on everyone's best of 2017 lists. Also, another great recommendation for fans of Walter Mosley.
For ten years, something has gnawed at Isaiah Quintabe's gut and kept him up nights, boiling with anger and thoughts of revenge. Ten years ago, when Isaiah was just a boy, his brother was killed by an unknown assailant. The search for the killer sent Isaiah plunging into despair and nearly destroyed his life. Even with a flourishing career, a new dog, and near-iconic status as a PI in his hometown, East Long Beach, he has to begin the hunt again—or lose his mind.
A case takes him and his volatile, dubious sidekick, Dodson, to Vegas, where Chinese gangsters and a terrifying seven-foot loan shark are stalking a DJ and her screwball boyfriend. If Isaiah doesn't find the two first, they'll be murdered. Awaiting the outcome is the love of IQ's life: fail, and he'll lose her. Isaiah's quest is fraught with treachery, menace, and startling twists, and it will lead him to the mastermind behind his brother's death, Isaiah's own sinister Moriarty.
Please let me know if I've missed a mystery/thriller releasing in September or October and written by an AOC or marginalized voice. And tell me which you're excited to read?!
And if you'd like a weekly newsletter stuffed with mystery/thrillers and more inclusive reads you can sign up for the Unusual Suspects newsletter.
Save
Save
Save
Save