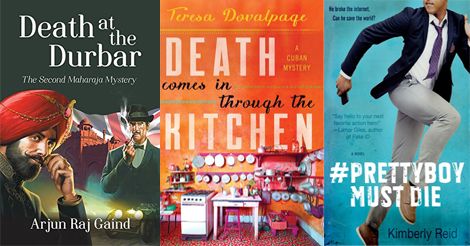 This content contains affiliate links. When you buy through these links, we may earn an affiliate commission.
2018 looks like it's going to be an awesome year for mystery and thrillers, with many big authors like Walter Mosley putting out new work, and great series like Sam Wyndham and Detective by Day getting sequels. I'm going to be highlighting inclusive novels (mysteries and thrillers written by authors of color, LGBTQ+ authors, marginalized voices) for many reading tastes that publish in January, February, and March, so get your library card ready, your wallet out, and whisper sweet nothings to your TBR pile. And you can check out previous inclusive mystery and thrillers and follow Book Riot's Unusual Suspects newsletter where I usually review many of these books.
January and February
A fantastic start to a new series that I've raved about many times. Perveen Mistry is working as a solicitor in Bombay in 1921 when one of her father's cases raises a bit of a red flag for her and she decides to go check it out. Soon, that signature that didn't seem right has her meeting with three widows and caught in what may or may not be really happening in their house. A wonderful historical mystery with a determined, smart, and wonderful lead who has a lesbian best friend and progressive parents.
A Mortal Likeness (Victorian Mystery #2) by Laura Joh Rowland
Another historical mystery, this one for romance—and soap opera—fans, that is set in Victorian England. Sarah Bain is a photographer but has paired up with her gay best friend—who's been outed and ostracized—to take on a job of finding a kidnapped child. A complicated enough task, especially when the father suspects it was an inside job, but Bain also has the mystery of trying to discover what happened to her father, who disappeared from her life 20 years ago. Oh, and, well, the romance is of course a secret lover…This reads well as a standalone BUT it does reveal quite a bit about the happenings from the first book in case you're against spoilers.
For lit fic, slow-burn suspense fans. This one starts with the brutal crime and dead children before taking you back to the beginning when a stay-at-home mother decides to go back to work. The couple just can't find a nanny they like to watch their two young children, until finally it seems they've found—sorry, have to do it—the perfect nanny. From the beginning we know this ends badly, but the question is why and how we got there: How does a seemingly wonderful carer of children break and commit such a horrific crime?
A heartbreaking exploration of mental illness in an insulated Alaskan town. Corey is set to visit her home town to see her best friend again when she gets the devastating news that Kyra is dead. But Corey doesn't understand what happened and the more she seems to ask town members and search for answers, the more confusing it all seems. We get to know Kyra and Corey's friendship through flashbacks as Corey, in the present, refuses to walk away from what happened to her best friend.
A Dangerous Crossing (Rachel Getty & Esa Khattak #4) by Ausma Zehanat Khan
A favorite series of mine that follows two Canadian detectives and usually takes the reader around the world. This time around, Getty and Esa find themselves looking into the disappearance of a friend's sister who vanished while helping Syrian refugees in Greece. Being that there are two dead bodies, the immediate questions are: Is she a murderer on the run? Hiding from danger? Or also dead?…Once again Khan has written a thoughtful detective mystery that shines a light on important and current social issues. (If you're an audiobook fan, Peter Ganim does a lovely job narrating.)
The audiobook was a quick, fun YA read that left me craving a CW remake of Toy Soldiers (which you need to have grown up in the '90s to remember cutie patooties Wil Wheaton and Sean Astin in). A teenage CIA operative finds himself trying to save his fellow classmates, and himself, after a photo taken of him goes viral…
Joe King Oliver was an NYPD cop until he was accused of rape. Years later his life now basically consists of his PI work and his teenage daughter, who helps out in his office. King is trying to solve two cases: his own, after the woman who accused him of rape sends him an apology (this does not go down the route of women are psycho and vindictive so they falsely accuse); trying to find justice for a journalist convicted of killing two police officers. As always, Mosley does a great job navigating between law and justice, and exposing racism—my favorite part of the book, though, was King's relationship with his daughter and her character, which I hope to see a lot more of if there is a followup book.
I haven't been able to get my hands on this one yet (but looking forward to it!) so I'm going to go with the publishers information: Lalli returns in this brilliant page-turner, a collection of seven stories, to solve some of the strangest, most complex cases of her career.
The opening act, in which a face keeps reappearing until a crime committed long ago is revealed, is followed by a murder that could be hypothetical—or a reality (Lalli turns to Schrodinger's Cat to find out). In the third act in this unfolding drama, Lalli and Sita are invited to a book-burning which turns out to be murder most foul. And Lalli turns her skills to the world of high fashion when Sita sits next to a serial killer on a bus—but was he killer or victim?
The aptly named Sucide Point in Bombay's suburbs, leads Lalli to a suicide that turns out to be something far more sinister. And an innocuous desk ornament is the clue to a crime most artistically executed. Finally, for connoisseurs of fiction, the curtains come down with a threnody for lost love.
March
Killing in C Sharp (Gethsemane Brown Mysteries #3) by Alexia Gordon
The third in a fun and ghostly series that stars Gethsemane, an American living in Ireland teaching music. Her nice living situation now has a huge damper: her landlord is forcing her to play nice with paranormal investigators who are coming to film a show. Gethsemane not only has to deal with them, but also with a true crime author who wrote a terrible book, keeping the ghost she lives with a secret from the world, and now she has to solve the death of a man. Good read for fans of cozy mysteries looking for less violence towards women in their reads and some ghosts.
Phoenix Burning (A Veranda Cruz Mystery #2) by Isabella Maldonado
Written by a retired Police Captain who used to be Commander of Special Investigations and Forensics, the series follows Veranda Cruz, a Mexican American detective determined to take down a Mexican cartel in Phoenix, Arizona. Dark and violent, with a deep dive into day-to-day operations, Cruz is determined to catch these criminals at all costs. (Only start with this one if you're okay with information from the first in the series being spoiled—there's a big secret!)
Death at the Durbar (Maharajah Mystery #2) by Arjun Raj Gaind
Maharaja Sikander Singh of Rajpore, a sleuth, is forced to accompany two British officers in 1911, India. It turns out a friend has summoned him to investigate, and solve, the murder of a woman in the King Emperor's personal chambers. Not an easy task, considering he's forced to take a British officer and there are plenty of possible motives and suspects…
Hiroshima Boy (Mas Arai #7) by Naomi Hirahara
For the first time in 40+ years, retired gardener Mas returns to Hiroshima, Japan, to take his best friend's ashes to his friend's sister. While his plan was to return back to his home in L.A., things get derailed when he starts looking into a case of a teen boy's drowning, his friend's ashes disappear, and he's triggered into remembering the atomic bomb that destroyed the city in the '40s. This is the final book in this series, which, if you've been reading will probably be bittersweet, but if not you'll probably want to start at the beginning: Summer of the Big Bachi.
The Master Key by Masako Togawa, Simon N.C. Grove (Translation)
Set in 1950s Japan, readers first get quick glimpses at two events: a man dressed as a woman is hit by a car; a baby is buried. We're then taken to an apartment building for single women that is going to be moved because the roads are being expanded. With the master key—which opens every room—missing, some residents are on edge, others are hiding secrets, others planning…
A San Diego editor/writer flies to Cuba in 2003 to ask his Cuban girlfriend to marry him. But instead of the beginning of a great love story, Matt finds his girlfriend Yarmila dead. Now the Cuban government has taken Matt's passport while they investigate, leaving him stuck in a communist country without a U.S. embassy. As the police and a PI santero work on solving who murdered Yarmila, we get to know her through her past food blog posts and watch as Matt learns about the Cuban girlfriend he didn't really know that well, and himself. A good mystery set in Havana, Cuba, that gives a peak into communist life there from the point-of-view of Cubans and American tourists.
At twenty-seven, Lana Lee would probably like to be living any kind of life that isn't broke and working in her parent's restaurant with a cheating ex. But she is, and it's really the least of her problems when the owner of the mall, and restaurant space, is found dead. See, she delivered the food he was deathly allergic to that killed him. Prepared by the restaurants cook. So was it an accident, or did someone want him dead? And why? A cozy mystery with laughs, and a relatable amateur sleuth.
Have I missed mysteries and thrillers written by authors of color, LGBTQ+, and marginalized voices that published so far this year?