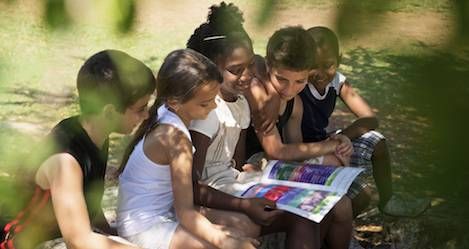 Children's
Diversity in Children's Books: How To Do It Well
This content contains affiliate links. When you buy through these links, we may earn an affiliate commission.
Diversity in children's books matters. It is important that all children see themselves reflected in the literature that they read. Although probably half of the books in my 16-month-old daughter's library have animals or vehicles as the main characters, there are still a lot that feature people. And I think that the people in her books should reflect the diversity of the world she lives in, and include people of different cultural and ethnic backgrounds, different family compositions, and different abilities. I'm happy to see that there are more children's books being published now that are by authors and illustrators of colour and featuring diverse characters, though there is still room to do more (We Need Diverse Books is a grassroots organisation advocating for exactly this kind of change).
However, there have been some books I've read where the diversity seems like a gesture where characters are tokenised and their depictions do not feel natural or genuine to the story. But with that being said, there are still a lot of great children's books out there that promote diversity in various ways. There are books that are specifically about another culture, like picture books that teach you about Ramadan or Passover or Chinese New Year. This is where diversity is very obviously in the foreground. But then there are also a lot of books where diversity is in the background, not explicitly mentioned in the text or story but obvious when you look more closely at the illustrations. Much like the actual world we live in – even if we might not have a lot of diversity in our own personal social networks, it is still out there.
Here are six examples of diversity in children's books I particularly like.
This and That by Mem Fox, illustrated by Judy Horacek
This is technically not about humans – it's about two mice. The parent mouse is telling the child mouse bedtime stories, and those stories take them on all sorts of adventures. They see two little boys racing a car, giraffes sitting on a mat, kings and queens having a chat. The diversity in this is subtle, not mentioned in the text at all, and just seen in the illustrations. In one scene of a chaotic market, there are a lot of different people doing different things: fortune telling, selling flowers, buying flowers, sweeping. There is one customer in a wheelchair, and people of different ethnicities. Diversity is presented here as something that is just in the world, of course it is, so why shouldn't it be in this drawing?
This is another board book, and like This and That, diversity here is primarily in the background and not explicitly in the text. This tells the story of Baby and his mother going to visit his grandmother. They take all kinds of modes of transport (stroller, bus, train, ferry) to get to Nonna's house, and the passengers and drivers of the different kinds of transport are a great mix of ethnicities. Unlike the book I didn't really like, the story here is adorable and it is a fun book to read aloud. It feels like the author concentrated on writing a good interesting story with a cute character rather than tried to write a book that specifically championed diversity as the focus. Diversity here is in the background, and I think it's all the better for it.
This is a very sweet and lovely picture book that celebrates the relationship between fathers and children. There isn't a lot of text, and the message is told in the illustrations. We see the different roles that dad and child play as they go through childhood, such as horse and rider, mountain and climber, boat and captain – and doing all of these things side by side. There is a mix of ethnicities in the different dad/child pairs throughout the book, and the diversity feels natural and real.
B is for Baby by Atinuke, illustrated by Angela Brooksbank (12 March, 2019)
This is a first words picture book where diversity is very much in the foreground and I love it. It's set in West Africa and is about a baby and his brother going to visit their grandfather. The setting comes through in the text, which names the things Baby sees, like baboons and baobab, and also in the illustrations.
One is a Piñata by Roseanne Greenfield Thong, illustrated by John Parra (12 March, 2019)
This is a numbers/counting picture book that features mostly objects of Latinx origin. It's a fun and lively book with great rhymes and pictures.
All the Way to Havana by Margarita Engle, illustrated by Mike Curato
This is a fantastic picture book about a family road trip to Havana, where a boy and his family go and visit a new baby cousin. They go in the old beloved family car that sometimes requires some mechanical ingenuity to get going, and this is a story as much about the perseverance and creativity of the Cuban people as it is about this fictional family. A gorgeous book that transports you to another place.
The books I wrote about here that I think do diversity well all depict diversity in different ways. Sometimes it's in the background and not even mentioned in the text – you only see it if you look carefully. Sometimes the setting is integral to the plot and diversity is in the foreground. In all of them, the focus seemed to be first to write and illustrate a book that is enjoyable to read, with an interesting plot, great characters, or even a good rhyme scheme. Incorporating diversity in this method of creating a children's book seems to be a much better way than the tokenistic efforts I have seen on occasion. Please, publishers, can't we have more books like these?