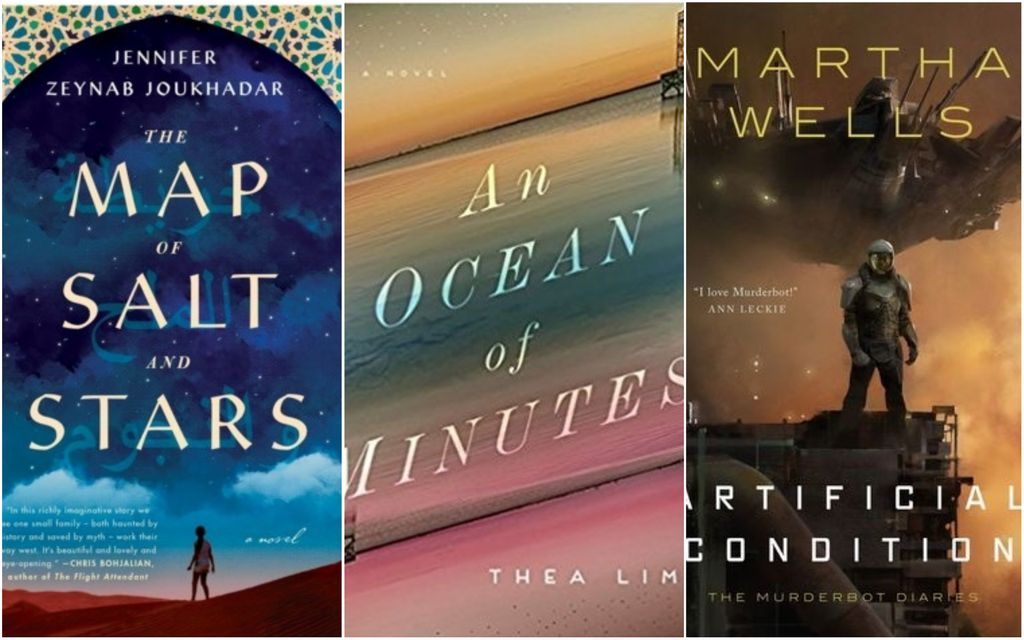 Inbox/Outbox: May 11, 2018
I've had a few quiet book weeks in a row. Now I'm ready to dive into all the pretty books that have passed by my eyeballs so far this month. It feels like there's about a million coming out in May alone. Here are the books in my inbox/outbox right now and what's next.
INBOX (BOOKS ACQUIRED)
I picked this one up on audio and for some reason have only been listening late at night, which is somehow perfect. It's the story of "a modern-day Syrian refugee seeking safety and a medieval adventurer apprenticed to a legendary mapmaker." The narrator, Lara Sawalha, is amazing, especially in the modern-day sections where the young Nour recalls the stories her father used to tell her.
I'm always ready to pick up a book about matriarchal figures in immigrant families. I grew up a part of an Italian American family run by strong, independent, and way ahead of their time females. So, the book jacket description really caught my interest. "Three generations of women from one immigrant family trying to reconcile the home they left behind with the life they're building in America." This particular book is the story of a family from the Philippines migrating to the United States, and I'm really interested to get started on this one, since I don't know much about the history of the Philippines.
OUTBOX (BOOKS FINISHED)
An Ocean of Minutes by Thea Lim (digital ARC, available July 10)
I had so many FEELINGS while reading this book. I had just completed a mini Octavia Butler run and there were so many moments in Lim's book that reminded me of aspects of Kindred and Parable of the Sower. Time travel, dystopian society, the brutality of survival in an unfamiliar world, and most importantly a character study of a normal person dealing with it all. I definitely got emotional at the ending and had to sit and have a few moments of quiet contemplation.
IN THE QUEUE (WHAT'S NEXT)
Artificial Condition (The Murderbot Diaries #2) by Martha Wells
Ever since reading All Systems Red last year, I have had a mighty need to know what Murderbot is up to. Murderbot is the warm, fuzzy, antisocial, formerly murderous android you didn't know you needed in your life. All it really wants is to flip the visor down on its helmet, watch endless TV, and pretend the world doesn't exist—my hero. Needless to say, I'm super excited to see this show up in my mailbox this week!
What books are in your inbox/outbox this week?