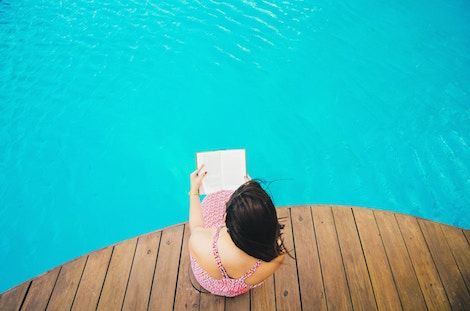 Inbox/Outbox: June 8, 2018
One thing I've been doing in my reading life this year is trying to be aware of the different types of books and comics I read, and be more purposeful in choosing what to read next. Too often, I would find myself reading a lot of the same—a glut of YA fantasy, followed by months of comics, and then a headlong dive into nonfiction. Which…there isn't anything wrong with that! But I found that I would eventually get bored, and often take a long break from reading of any kind, before getting back into the rut of sameness. Looking over my inbox/outbox for this week, I'm pretty proud of the variety! It's entirely books and comics in my wheelhouse, yet they're different from one another.
Inbox (Books Acquired)
I first saw this book mentioned by bookish people of faith on social media and I was immediately hooked by the title. Growing up in a Christian home, "everything happens for a reason" is definitely a phrase I'm familiar with, and one I've personally had to reckon with in recent years. Kate Bowler, a professor at Duke Divinity School, who studies the prosperity gospel, was diagnosed with cancer, and from that Everything Happens For A Reason was born. It was a long wait, but my audiobook hold from the library came through, and I can finally settle in and read this soon.
Things I know about this graphic novel: it's about a girl who goes to summer camp; the story is loosely based on the author's own experience; the colors are all in a very campish green tone. A lot of comics people I follow were talking about this book, so I put a hold on it at the library. I am very into graphic novels about tweens in the summer, so this seems right up my alley.
Outbox (Books Finished)
Last Shot by
Daniel José Older
I'm a big fan of the audiobooks for the new Star Wars books, and Last Shot was no exception. Older (who is also one of the narrators!) deftly weaves together three different timelines, exploring younger and "present" versions of Han and Lando, and a post-Aftermath bit of trouble they find themselves in. I finished this just before seeing the new Solo movie, and it was a great way to get into a Star Wars frame of mind. I highly recommend Last Shot if you enjoyed L3-37 in the Solo movie. You get more of her and her droids rights perspective. She's great. More L3, please!
When the #MeToo misconduct allegations came out about Junot Díaz, the first thing I did was bring up my library's catalog, and start putting holds on books written by the women who spoke up about him. What We Lose was the first book available, and y'all, I'm mad at myself for not having heard of this book before that day. A powerful meditation on grief and mother/daughter relationships (and much more), I devoured this in two sittings.
Poe Dameron #14-19 by Charles Soule, Angel Unzueta, Arif Prianto, and Phil Noto
I flipping love Poe Dameron. I also flipping loved this series from issue one, and was very sad when I had to stop buying single issue comics last year, and thus stopped reading this super fun series. Recently, I managed to pick up the issues I was missing during a sale at Half-Price Books, so now I'm happily catching up with Poe, Black Squadron, General Leia, and the rest of the Resistance. While it took me a while to get used to the new (to me) artist, Angel Unzueta, Soule's writing and characterization is stronger than ever in this arc.
In the Queue (What's Next)
I've just realized there are three separate Star Wars titles in this post. What can I say, I love Star Wars and I'm super enjoying the new canon books and comics! I'm also a fan of Rae Carson's, so when it was announced she was writing the YA Solo tie-in novel, I immediately pre-ordered the audiobook. I'm telling y'all, audiobooks are the way to go with Star Wars. They add music, sound effects, and voice modulations, so it's like listening to a radio drama. I'm interested to read Carson's take on teen Han and learn more about Qi'ra, now that I've seen the movie.
Yes, I was one of those people who got up very early to watch the Royal Wedding in May. Yes, I was also one of those people who didn't want to let go of that happy, romantic feeling brought on by Meghan and Harry's nuptials, so I did what one normally does, and turn to books. Thanks to a heads-up from a friend, I got the A Princess in Theory audiobook from Hoopla, started the book that week…and then got distracted by other books I needed to finish. So now I'm back to this romance about a woman of color in STEM who starts falling for a guy who is actually a prince! Y'all, thus far this book is an utter delight, and I'm glad to be getting back to it.
I don't remember where I first heard about Calling My Name, but it's been on my to-read list for quite some time, so I happily snatched up a copy marked half-off a few months ago. A poetic exploration of a girl, her faith, and wrestling with faith as a teen, this is a YA book I'm very excited to read.