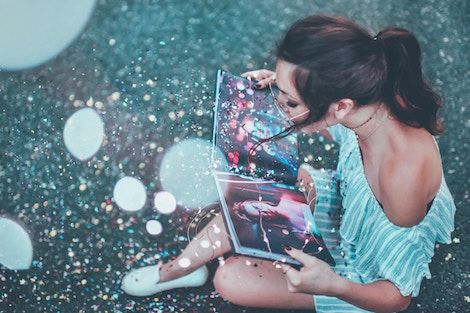 Inbox/Outbox: June 13, 2018
May and June are busy months for comics in Chicago. At the beginning of May, there's Free Comic Book day. Mid-may is Chicago Zine Fest and then the first weekend in June is Chicago Alternative Comics Expo (CAKE). So in honor of all the comics, this Inbox/Outbox is dedicated to all the comics I've acquired or read this week!
Inbox (Books Acquired)
I'm a sucker for all things bestiary and collections. At CAKE, this collection was described as a satire on bestiaries. Inside, there are beautifully rendered drawings of variety of animals. It's supposed to be subtly subversive at first and then more evident as the book goes on.
The Story of Jezebel and Her Turbulence with the Prophets of Israel by Elijah Brubaker
Lately, I've been fascinated with updated tellings of old fables and stories, especially reading Madeleine Miller's Circe, so when I stumbled upon this comic at CAKE about Jezebel I was naturally intrigued. The drawings are in clean blue and white lines. I look forward to diving into this one!
At CAKE, this text caught my eye. It's an award-winning YA text with a cover suggesting adventure with cool weird animals. It's about a girl who ventures into a forbidden city to find her lost brother.
Raven Girl by Audrey Niffenegger
Okay, fangirl moment. I actually got to briefly meet Audrey Niffenegger at CAKE. She mentioned that the comic had been turned into a ballet or dance. That caught my attention initially, but the dark fable description was what won my heart.
Outbox (BOoks Finished)
DC Superhero Girls: Free Comic Book Day by shea Fontana and illustrated Yancey Labat
This comic book was picked up at Free Comic Book day but I just got around to reading it this week. I'm a fan of DC Bombshells so I figured I'd try a YA DC version. All your favorite DC heroines but aimed at YA audience. I liked it but I'm not sure if I'll run out and pick up the full text.
Half Asleep 8 by Beth Hetland and Kyle O'Connell
Half Asleep is an eight-part fiction zine about a young girl who is studying Hypnology, an experimental science concerning the control and use of dreams. 11-year-old Ivy is the youngest student at her university, taking classes under her stern mother. I've been excited to read every installment of this zine for the past five years with its beautiful and surreal illustrations. I picked this one up at CAKE.
I picked up this comics anthology at Chicago Zine Fest back in May. It's a collaboration between U.S.- and India-based artists about dogs. Some are sweet stories; some are bittersweet or even just sad. There's great variation in the style of each comics. It's a great way to meet some Indian comic writers and illustrators.
This issue was another one picked up from Free Comic Book day. Lady Mechanika has no memory of her past or how she ended up with mechanical limbs. In this issue, she recalls two moments that give tiny clues to her past life. The series is about her work as a private detective in a steampunk world. I definitely want to read more.
Interested in more comics? Check out this post about comics for adults and this best comics read in April 2018.