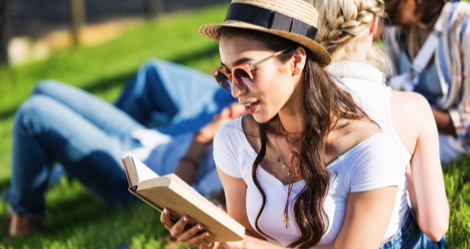 Inbox/Outbox: April 13, 2018
This post contains affiliate links. When you buy through these links, Book Riot may earn a commission.
I love getting older in April, because my birthday usually falls right as the flowers are beginning to bloom and the air is getting warmer, and it becomes possible to read and walk back and forth to work. Unfortunately, this year's April has been a little snowy and chilly so far—but at least I had books to keep me happy and warm, as always. In April and May, I'm trying to really crack down on my to-read shelf and make a good-sized dent—here's a rundown of my recent book recommendations, the books I've acquired this week, and what's up next as we head into the weekend.
Inbox (Books Acquired)
When more than one book-world person you respect posts about getting a tattoo based on a graphic novel, it starts to catch your eye, especially when the tattoo is the rebellious NC, or "Non-Compliant." Last week, I visited the comics store in my neighborhood with my boyfriend, birthday cash in my pocket, and saw Bitch Planet on the shelf. It was time to check it out.
I adored Irby's We Are Never Meeting in Real Life, and so did much of the world, so they're reissuing Irby's first essay collection. I'm seeing her on tour for it later this spring, so I purchased it at my local bookstore so I could be prepared. A book friend told me that it could have used a stronger editing hand the first time around, so I'm cautiously excited to see how this one holds up compared to her later work.
This is one of my father's all-time favorite books, and he's been pushing me to read it for a very long time. I take family recommendations very seriously as my family is full of devoted readers, and so we've been looking for it. But somehow in the last few years, every time we entered a bookstore, it wouldn't be there—it was like they were letting the print run out, even though it was a classic. We finally figured out why when we saw the newly released 25th anniversary edition on shelves. He got it for me the moment he saw it had finally arrived, and gave it to me as an early birthday present!
Outbox (What I've Finished)
People have been telling me that this was a fantasy must-read for a long time, so I avoided anything that could be construed as a spoiler, and really didn't have expectations going into it. I read this classic over a trip to Florida with my family and over my birthday, and it somehow managed to be both 1,000 pages and way too short. It was a Jane Austen social comedy but in an alternative England in which magic is returning, with a heavy dose of faerie—and it worked splendidly.
In the Queue (What's Next)
I first met Abdurraqib's writing when he read with Eve L. Ewing for the launch of her incredible collection Electric Arches at the Seminary Coop Bookstore in Hyde Park, Chicago. I couldn't afford another book at the time, but was lucky enough to stumble on a signed copy later at another favorite local store, Volumes Bookcafe. His reading was fantastic—his pieces are half-poetry, half-prose, which is a favorite style of mine.
Circe by Madeline Miller
I'm lucky enough to be a Book of the Month subscriber thanks to a gift from my grandparents last holiday season. They passed down to me a real love of mythology and folk tales—they're professors of such things, and used to give me books of stories when I was young that really fostered that love of myth and magic. That ingrained love made this month's selection easy, and I'm excited to see what Circe will do with the myths we know and love.
I collect books in which Neil Gaiman is featured, which is how this collection first got my attention, but the entire line-up is impressive, including Nnedi Okorafor (Who Fears Death, Binti) and Helene Wecker (The Golem and the Jinni). There's always room on my shelves for a well-curated collection of fantasy, and I'm excited to see the different interpretations of djinn in this collection.
What does your inbox/outbox look like this week?