Inbox/Outbox: January 12, 2018
Last year, I started more books than I finished. By, like…a wide margin. I'm ready for a clean start!
Inbox (Books Acquired)
Topaz by Beverly Jenkins
I read the free sample and was instantly hooked. A plucky undercover journalist, her father who cheats at cards, a lawmaker with a vendetta, a heist gone wrong, and an emergency arranged marriage? This is my kind of western/adventure/romance novel! I can hardly wait to read it.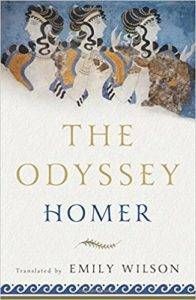 The Odyssey by Homer, Emily Wilson (translator)
I'll be honest, this is a classic I never intended to read, but the new translation—the first ever by a woman, and done with what sounds like astonishing care for the story and language—has me excited to spend some time engrossed in the epic poem.
Outbox (Books Finished)
This is, remarkably, my first ever Star Wars novel, despite being a massive fan of the movies (well, some of them) and enjoying the comics I've picked up. While it feels as though the editing process may have been rushed (there were a few passages that felt unfinished), overall it's absolutely lovely and it definitely has Wein's trademark emotional pull. Paige and Rose Tico are my favorite forever.
In The Queue (What I'm Reading Next)
Pretty much everyone I know and trust has told me to read this book, and I'm gonna do it! I could use the encouragement as I go into year four of trying to break into fiction writing.
What about you? Whatcha reading, planning to read, or stockpiling (er, purchasing)?