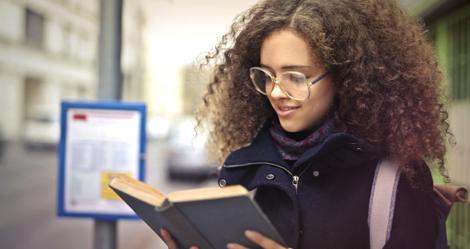 In Translation: April Fiction and Poetry
This content contains affiliate links. When you buy through these links, we may earn an affiliate commission.
This month we have a fantastic selection of fiction from Argentina, Finland, and Korea, as well as poetry from Albania. So get outside and soak up the spring air while you read around the world. Enjoy!
The Desert and Its Seed by Jorge Barón Biza, translated from the Spanish by Camilo Ramirez
"An undiscovered modern Argentinian classic, based on the tragic lives of the renowned Raúl Barón Biza (a wealthy politician and notorious writer) and his wife Rosa Clotilde Sabattini…Written in a captivating plain style with dark, bitter humor, The Desert and Its Seed has become a modern classic, published to enormous acclaim throughout the Spanish-speaking world and translated into many languages."

Negative Space by Luljeta Lleshanaku, translated from the Albanian by Ani Gjika
"Language arrived fragmentary / split in syllables / spasmodic / like code in times of war," writes Luljeta Lleshanaku in the title poem to her powerful new collection Negative Space. In these lines, personal biography disperses into the history of an entire generation that grew up under the oppressive dictatorship of the poet's native Albania…Lleshanaku instills ordinary objects and places—gloves, used books, acupuncture needles, small-town train stations—with subtle humor and profound insight, as a child discovering a world in a grain of sand."
Dust and Other Stories by T`aejun Yi, translated from the Korean by Janet Poole
"Yi T'aejun was one of twentieth-century Korea's true masters of the short story—and a man who in 1946 stunned his contemporaries by moving to the Soviet-occupied North. Dust and Other Stories offers a selection of Yi's stories across time and place, showcasing a superb stylist caught up in the midst of his era's most urgent ideological and aesthetic divides."
Oneiron by Laura Lindstedt, translated from the Finnish by Owen Witesman
Winner of the prestigious Finlandia Prize, Oneiron "plays with genres from essay to poetry…It is an astonishing work that explores the question of what follows death and delves deep into the lives and experiences of seven unforgettable women."