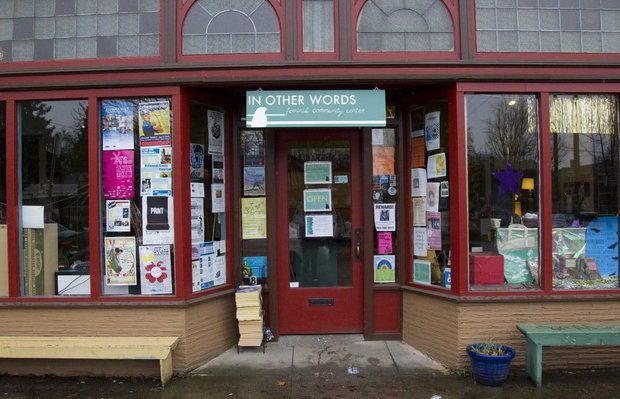 News
In Other Words, Feminist Bookstore Satirized on Portlandia, is Closing
The legendary Portland feminist bookstore and community space In Other Words, which has been satirized on the show Portlandia as the bookstore Women and Women First, has announced it will be closing at the end of June, after 25 years. They were founded after the closure of the feminist bookstore A Woman's Place. The decision came about from a variety of factors.
In Other Words released a statement about their closing, which included the following:
"Some reasons for the closure are increased expenses and the lack of funds, volunteers, and board members. This is a cycle of In Other Words as an organization, and also the cycle of community spaces in capitalism. IOW periodically discusses closing because of a lack of money and people. This isn't sustainable, especially emotionally, for the people who come here and work to provide this space as a resource to Portland Feminist communities. Even if funds poured in, and masses of people showed up in response to this announcement, we would not continue our tenure here."
They continued, clarifying why money wasn't the only reason for the closing, though:
"We cannot continue because we know reform does not work. The current volunteers and board members stepped into and took over a space that was founded on white, cis feminism (read: white supremacy). It's really difficult, actually, impossible, for us to disentangle from that foundational ideology."
The store cut ties with Portlandia years ago because they felt the sketches and the filming process fostered "Transmisogyny – Racism – Gentrification – Queer Antagonism – Devaluation of Feminist Discourse."
All is not lost, however – the building might still remain a community center, as Critical Resistance Portland. They're currently looking to partner up with other organizations in order to be able to keep the space. Read about it on IOW's blog here.