October was LGBT History Month, and like every other month in our recent history, there was exciting progress–welcome to the fold, New Jersey!–as well as painful reminders of the place we're still in. This time, the reminder came in the form of vandalism to one of America's oldest feminist and queer friendly bookstores, Charis Books in Atlanta, Georgia, where late one night early in October some pleasant folks painted intelligent phrases such as "Fuck Dikes" and "Eat Mor Dick" on the side of its building, along with portrayals of the dicks Charis patrons are apparently missing out on. Because if there is one thing that's going to turn those lesbians around, it's some good ol' penis graffiti!
Photos by Dyana Bagby of GA Voice.
The name Charis, by the way, according to their website, comes from a Greek word meaning "grace, gift, thankfulness." When news spread on social media about the vandalism, the bookstore practiced what they preach, reacting not in anger but in gratitude to those who had reached out. As they said on their website, "The graffiti didn't make us cry, but some of your emails, posts, and tweets sure did." Community members quickly stepped in to help repaint the building. The post on their website continues: "YOU turned something ugly into something transcendent. YOU demonstrated in word and action what it means to be a feminist, a generous community member, a strong ally, a fearless queer."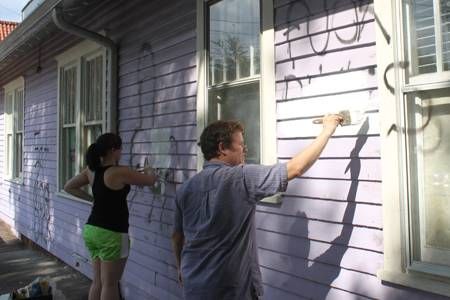 Everyone obviously loves an independent bookstore, but I'd argue that bookstores like these do even more than just welcome literary minds who like small business. They can literally be life preservers, a place for people young and old to feel welcome in the world, an important space beyond the private comfort that reading a book alone in your room can bring.
I remember the first LGBT bookstore I ever walked into, A Different Light in the Castro in San Francisco. I was still relatively newly awakened to my own identity, and hadn't grown up in a gay-friendly place. I remember looking around the store and being wrapped in a warm, tingly feeling upon realization that all these books were for us, and that all these people browsing them were probably like me. I had been immersing myself in queer history and watching queer movies and the like for a few months at that point, and a lot of it was very exciting and new to me. But a bookstore! Bookstores were something I had always understood. Suddenly, my present and my past merged together into one, and I felt at home.
In solidarity with Charis, I thought I'd highlight some other queer friendly and feminist bookstores to track down near you. Because believe me, they ALL need your support. So many bookstores that I tried to research for this article have shut down over the last few years. A Different Light is now closed. As far as I can tell, while they now have legal gay marriage, the entire humongous state of California doesn't house a single queer bookstore.
Here are some from around the world that are still alive and kicking and would love to see your face.
Bureau of General Services – Queer Division
83A Hester Street (@ Cage Gallery); New York, NY

The young but vibrant BGSQD recently ran an Indiegogo campaign to help them secure a permanent home for their store, as they are currently hosted by another space. They are one of the only queer bookstores left in New York.
92 South Street; Boston, MA
"Calamus" references works by both the Ancient Greeks and Walt Whitman about dudes love dudes. Don't worry, though, there's lots here for people who aren't men, too.
345 S 12th Street; Philadelphia, PA
Since the closing of some other iconic queer shops in New York over the past few years, Giovanni's Room now holds the title of the longest continually operated queer bookstore in the US. Although apparently as of right now, its future is also uncertain.
317 Braun Court; Ann Arbor, MI
Common Language is also the home bookstore for two queer themed book clubs. College towns, you are swell.
5233 N. Clark Street; Chicago, IL
One of the biggest and baddest feminist stores in the country, going strong since 1979 with a stock of over 30,000 books.
14 NE Killingsworth; Portland, OR
Yes, this is the feminist bookstore as seen on Portlandia. While hosting a variety of books, they actually refer to themselves as a feminist "community center," as they are a non-profit organization run by volunteers who host lots of awesome workshops and events in addition to book selling (and book lending).
1238 Davie Street; Vancouver, British Columbia
Little Sisters has been in business for 30 years, surviving even more than penis drawings: they were once bombed, and for decades have fought against Canadian censorship of materials at their border, eventually bringing their complaints all the way to the Supreme Court. You can also buy kinky stuff here in addition to books, which makes it a fun one-stop shop.
598A Yonge Street; Toronto, Ontario
Glad Day proudly boasts its title of the world's oldest LGBTQ bookshop. Gosh darn Canadians, always one step ahead.
66 Marchmont Street; London, UK
Gay's the Word has a lot going for it: it's the oldest, and now last surviving, queer bookshop in the UK; it has a fantastic name; AND its website uses those rainbow color bars that I used to have on my Angelfire website in 1997. Win all around!
6 Rue Ste-Croix de la Bretonnerie 4e; Paris, France
The travel guides say this is the bestest, gayest bookstore in Paris. Its title translates to, "On the Tip of the Tongue," which feels like the naughtiest name of a bookstore I have ever heard.
Calle Cervantes 4; Barcelona, Spain
One of the largest queer bookstores in Spain, la Libreria has been around for 18 years.
Let me know in the comments if there's any I've missed!
_________________________
Sign up for our newsletter to have the best of Book Riot delivered straight to your inbox every two weeks. No spam. We promise.
To keep up with Book Riot on a daily basis, follow us on Twitter, like us on Facebook, , and subscribe to the Book Riot podcast in iTunes or via RSS. So much bookish goodness–all day, every day.