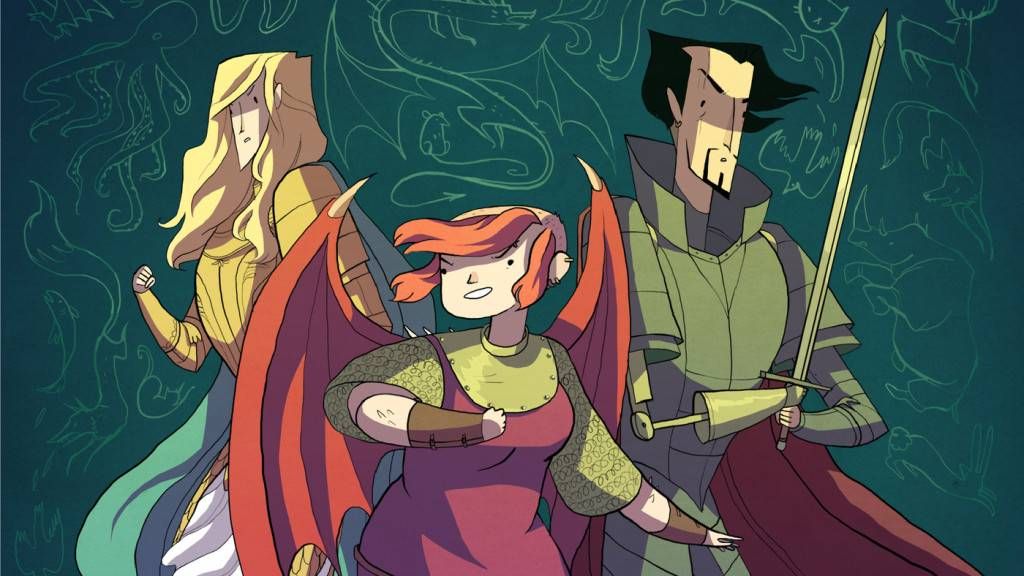 It's no secret that we Panelteers are huge fans of Noelle Stevenson and her brilliant webcomic, Nimona. So there was much dancing and squeeing when we found out that Stevenson's tale of girls and monsters had been picked up by Fox Animation for a feature film. We were not only excited about being able to see one of our favorite comics on the big screen, but also it gives us an excuse to dreamcast the project. And we luuurve dreamcasting.
Nimona – Arden Cho

Nimona is an intricately complex character, and we really only get to see the tip of the iceberg when it comes to the comic's leading lady. But most of what we see is a fiercely independent young teenager full of sass and FEELINGS. Also she's a hilarious shape-shifter and criminal mastermind. If you're not familiar with MTV's Teen Wolf (and you really should be) Arden Cho's Kira is an awkward teenager slash sword-wielding bad-ass slash magical kitsune. Cho brings such heart and truth to her performance and I think she'd shine as Nimona.
Lord Ballister Blackheart – Dante Basco

"HONOR!!!!!!!"
Ok so Ballister has probably never yelled that. But when you think about it, he's a supervillain who's out for justice–a "bad guy" with a strong moral compass and a caring heart. I guess what I'm saying is there's a little bit of Prince Zuko from
Avatar: The Last Airbender
in Lord Ballister Blackheart. Aside from being everyone's favorite Lost Boy, Dante Basco is an accomplished voice actor. He tends to voice younger characters, but I think he can amp up the natural gravel in his voice and give us a brilliant Ballister.
Sir Ambrosius Goldenloin – Rupert Everett

Sir Goldenloin is the model knight in shining armor and poster boy for the Institution of Law Enforcement and Heroics. While Ambrosius isn't played for laughs the same way Rupert Everett's Charming is in Shrek 2, I imagine the characters having the same posh drawl and naive ignorance of how the world really works.
The Director – CCH Pounder

The Institution of Law Enforcement and Heroics reminds me a bit of DC Comics' ARGUS, and the Director has the same "protect the world no matter what the cost" attitude of Amanda Waller. CCH Pounder has become synonymous "the Wall," having voiced the character in the DCU animated universe as well the Arkham series of video games. She'd be equally awesome as the Director.
Dr. Meredith Blitzmeyer – Parminder Nagra

No matter what kind of role Parminder Nagra is in, I find her enormously charming. She's smart and funny and will kick your ass if need be. We don't get to see a lot of Nimona's enthusiastic and absent-minded scientist, Dr. Blitzmeyer. But she steals every scene she's in with her passion for SCIENCE, and I think Nagra would totally nail that role.
Nameless Agents from the Institution of Law Enforcement and Heroics – Patrick Warburton

I love a good nameless group of henchmen. While technically not villains, the gaggle of agents from the Institution of Law Enforcement and Heroics might as well be the guys from H.Y.D.R.A. or A.I.M. or your prefered evil acronymed organization. And I love the idea of all those dudes having the same voice to further exaggerate their namelessness. There is no better choice than the delightfully monotone inflection of Patrick Warburton.
What say you, dear readers? How do you like our picks? Who would you dreamcast in Nimona?
____________________
Follow us on Twitter for more comics goodness!