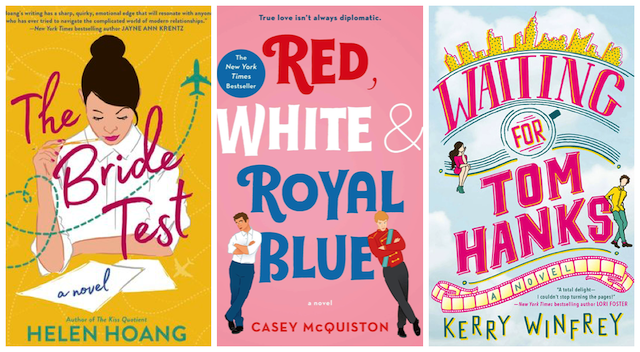 Romance/Erotica
As Illustrated Covers Trend In Romance, What Is Being Said About Women's Interests?
There's no question we have hit peak illustrated cover design in the book world. We're likely to see nine out of ten YA book covers in illustration in the coming year, and, of course, we're seeing a wave of illustrated covers in romance. Those illustrated covers are part of a strategy to bring romance to more mainstream readers. As Elena Nicolaou reports at Refinery29, the bulk of the illustrated covers in romance are for romantic comedies, and "These light-hearted, steamy stories of dating across racial, culture, and ability lines are bringing new romance readers into the genre in droves."
The covers, she notes, only help: "For their strong heroines, their senses of humor, and their sex appeal, these rom-coms certainly have a broad appeal. But would they be as inviting to non-romance reader if they were sold in chunky, mass-market format with images of a man clutching a woman? Seemingly, the books' wide-ranging success is inherently tied to the covers. The books contain the tantalizing components of a romance novel, but are sheathed in contemporary designs that make for embarrassment-proof and harassment-free public reading experiences."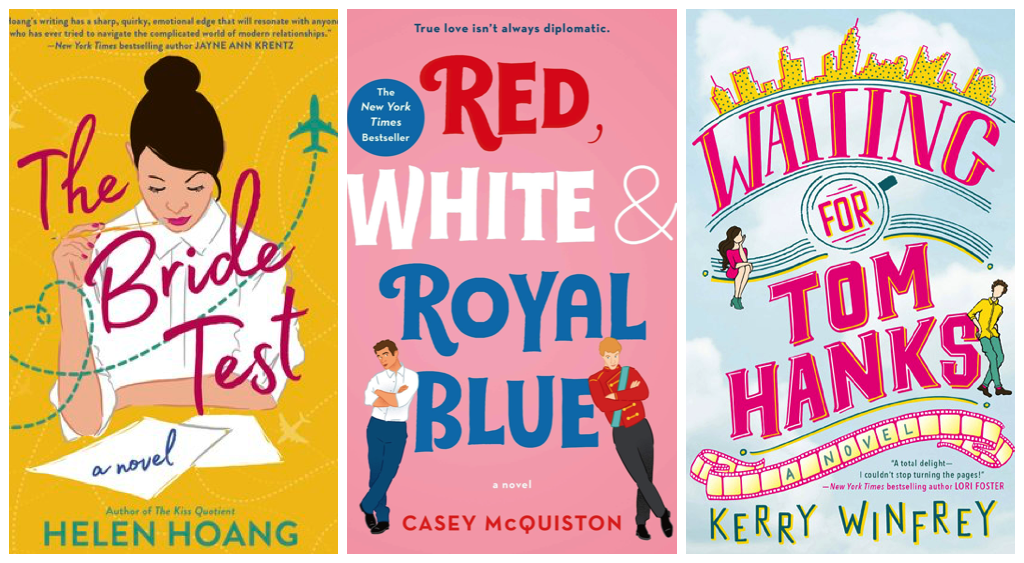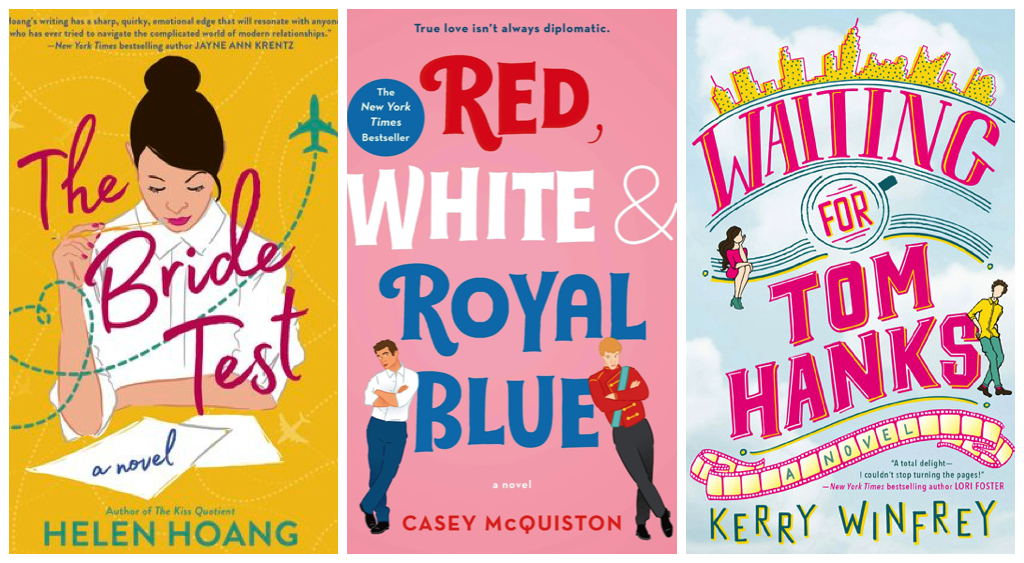 Barnes and Noble released numbers this quarter noting that romance sales have increased 31% over the same timeframe last year. According to Publishers Weekly, "Among top sellers were Jasmine Guillory's Reese Book Club pick The Wedding Party, Casey McQuiston's Red White & Royal Blue, and Helen Hoang's The Bride Test, all of which feature diverse characters—another trend B&N sees as shaping the romance category. Changes to the genre are also showing up in the marketing and presentation, the bookseller found, with the cover art for many new books abandoning the traditional romantic paintings of lovers and landscapes for colorful, Instagrammable illustrations with a more playful style."
These romcom romance novels are also seeing their trim sizes change: no longer are they relegated to the traditional mass market paperback size. More and more are published in the trade paperback format, putting them in line with non-genre fiction which sees paperback releases in that size. Trade paperback also comes at a higher price point, which may also explain some of the increase in romance sales.
While these Instagram-worthy illustrated covers have helped push more romantic comedies into the hands of readers who might otherwise not be drawn toward them, they're bringing with them downsides, too. In addition to becoming monotonous—how many ways can a woman in sunglasses be drawn?—these covers are becoming nearly indistinguishable from YA book covers. We know that YA book purchases are mostly adults and that certainly there's significant crossover readership between YA and romance, but the illustrated cover trend suggests something else, too: sexism.
As Mya Nunnally pointed out earlier this year, books written by women tend too often to be classified as books for young readers. We're seeing this right now with these illustrated romcoms, too. Take, for example, Casey McQuiston's Red, White, and Royal Blue*. On Goodreads, the book's been shelved by hundreds of readers as "young adult," and appears on numerous book lists there and across the web as being YA. It's not. Despite not being YA, every book offered on Goodread's "Readers Also Enjoyed" box for the title is; there is not a single adult romcom listed. One reviewer goes as far as to note that for being a fan of YA, the book is "too YA" for their tastes.
But, McQuiston's book is an adult romance, full stop.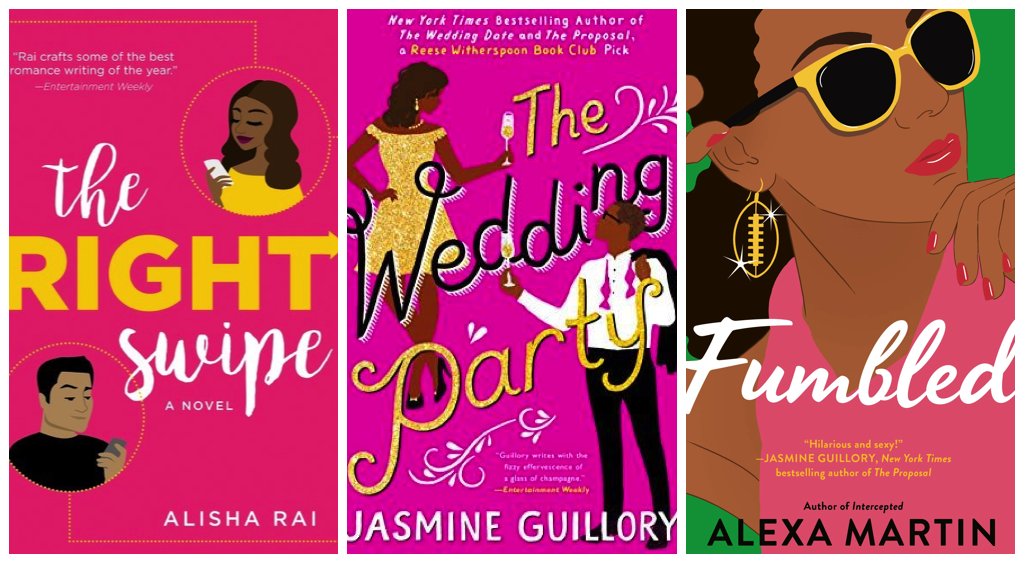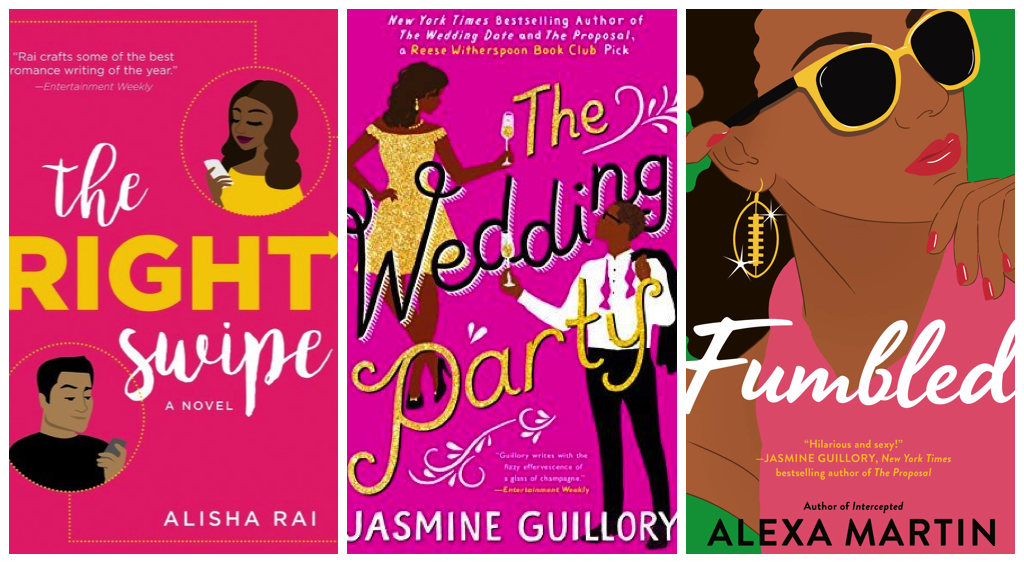 This isn't by accident.
In a Publishers Weekly article highlighting the growth of the romcom genre, Carina Press's then editorial director Angela James said that the adult market has been working to capitalize on YA's popularity and also on its push toward inclusivity. She said, "Those younger readers have been seeing themselves in stories […] YA has done a much better job than the adult market of showing more representation, so if we don't expand, we'll fail to gain that readership."
A quick look at one Goodreads list of similar-looking book covers highlights this perfectly: the adult romances are nearly indistinguishable from YA books, with few books outside the genre and category represented.
McQuiston's book isn't the first, nor will it be the last adult romance book to be consistently given the inappropriate YA label. The cute cover of her male/male romance has everything that YA readers have been itching for: a queer central romance, humor, and an eye-catching look with a promise of a happily ever after for that romance. It defies the too-often-seen bury your gays trope in favor of lighthearted inclusivity which has been long-absent in the market. But the label YA in this instance is not only belittling to the romance genre—it plays into deeply-held beliefs of what romance as a genre is—but it's also sexist.
Romance is a genre written by women that, while not exclusively, offers a space where women are the heroines, where women are given power and autonomy, and where women find romantic and/or sexual satisfaction. Women have agency in romance.
But given the cute-factor of the covers and the ease with which those cute covers can push those books onto lists and recommendations as "YA," women's agency is seen as part of the cute-factor itself. Sure, romantic comedies are meant to be fun and lighthearted and there's power in seeing such inclusive rom coms on book shelves. But, the illustrated covers lend themselves to easy miscategorization by readers, speaking to the ease at which the aspects of agency and empowerment are but costumes and performances by women, as opposed to part and parcel of who they are at heart.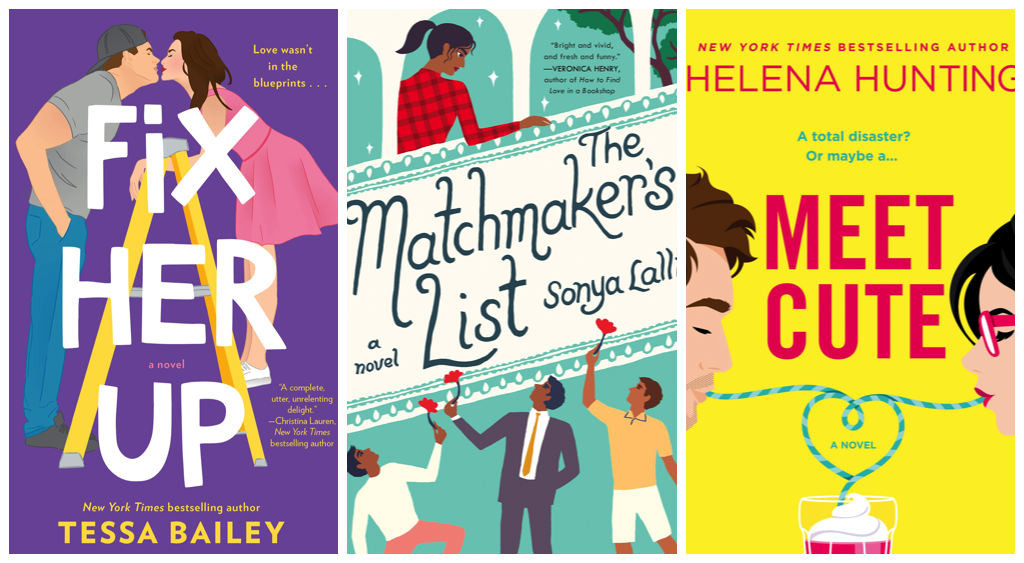 Teen readers are being pushed out of YA, and we're in the midst of seeing tweens being pushed out of middle grade with the rise of middle grade books featuring 14-year-old characters. Now, we're seeing adult women being pushed, too, from the very genre they not only spearheaded but also championed. It's a genre where, like YA and middle grade, the basis was women, and women see their stories being told through their own voices, with perspectives that have been too-often ignored, belittled, or forgotten.
But, when romance books are seen as the same thing as YA, they suffer under the same stigmas as YA, and worse, the powerful women behind the stories and/or starring in them are seen as stuff for young people, rather than grownass adults.
It's hard to dispute a rise in sales for romance, but the following of YA trends can only account for so much. It's likely that devoted YA readers are discovering romance because the covers look so similar, and those books are being marketed toward adult YA readers (the coveted crossover category). But it is worth pointing out that, at the same time these illustrated covers took root, publishers and Barnes & Noble also began marketing these books much more than they had before. Romance is exceptionally profitable, and readers of the genre buy the books. They're also primarily women, seeking stories where they see themselves.
So when we equate romance to YA, when romance tries to mimic what it sees in YA to gain new readers, how can women not also see their worth and value equated to that of someone who isn't yet an adult?
The problem is much bigger and much more insidious than an illustrated book cover. It's the beliefs underpinning the need to turn romance into something other than what it is that trip the industry and hold the genre back from reaching the potential readers who it can truly reach—and truly impact.
*Note: McQuiston is nonbinary and uses she/her pronouns.