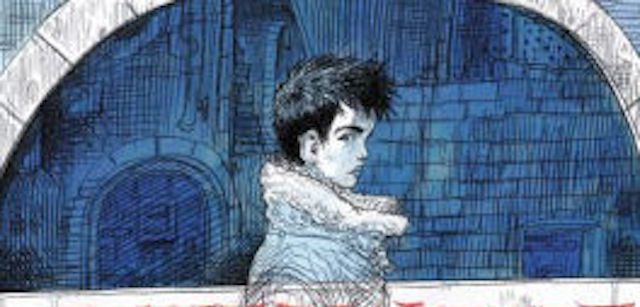 This content contains affiliate links. When you buy through these links, we may earn an affiliate commission.
I'm a huge fan of Neil Gaiman's novels: from the way his stories unfold to the complexity of his worlds. I've been collecting his works, and various editions of them, for more than ten years now—from his comics and novels to adaptations of his short stories and poetry. And I'm never as excited for any as I am for the gorgeous illustrated novels.
After all, my Gaiman book collection truly began when I found out about and acquired the original hardcover of the illustrated Stardust, Being a Romance Within the Realms of Faerie, which came out in 1998. The hardcover is breathtaking. Tall, with thick pages, it depicts Gaiman's story of fallen stars, love, glass snowdrops, and devious witches, accompanied by stunning, full-page painted illustrations by Charles Vess.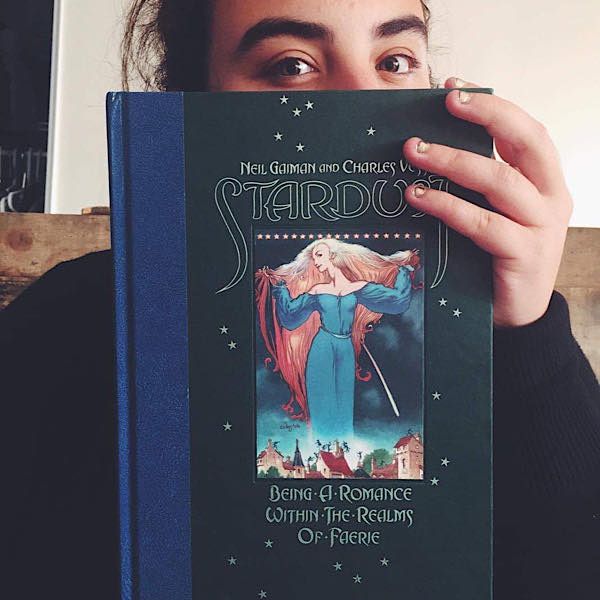 It's an incredible work of art, gifted to me by my sister. And because of this book, Neil Gaiman's illustrated novels have become irresistible to me. Here are six more of my favorites.
American Gods by Neil Gaiman and illustrated by Dave McKean
Dave McKean's illustrations in this gorgeous book put together by the Folio Society make the text absolutely haunting—his art is unsettling, uncanny, and bright, printed in color. These all illustrate Shadow Moon's story of being cast into a world of gods and goddesses who came over to America with immigrants and who are now deprived of the worship they feel they deserve. This is one of my favorite fantasy epics, a chunk of a book full of wonder, and McKean makes it all the more creepy.
The Illustrated Good Omens by Neil Gaiman and Terry Pratchett, Illustrated by Paul Kidby
Paul Kidby, a long-time collaborator with Pratchett, illustrates this new edition of the book (and now TV show starring Michael Sheen and David Tennant), using a definitive version of the text that Neil Gaiman and the Pratchett estate approved. The illustrations are full-color, bright, and gorgeous. Most of them are based entirely on the text, in all its fun, sarcasm, and irony; except for Crowley and Aziraphale, who are based on their television counterpoints. It's a beautiful book.
Neverwhere by Neil Gaiman and illustrated by Chris Riddell
My favorite Neil Gaiman novel is Neverwhere, due more than anything to nostalgia. It was my first Gaiman novel, and has come to mean Gaiman for me, with its wonder, darkness, and small spark of hope. Richard Mayhew is one of my all-time favorite protagonists: he is a man pulled into a fantasy quest who is genuinely normal, who isn't a hero, who doesn't know if he can rise to the occasion and doesn't particularly want to, but he was brought into this world because of a simple act of kindness. That all makes his journey through the fantastic London underground all the more exciting, and Chris Riddell's strange, wide-eyed style enhances this enchanting story even more.
This is the newest adaptation of one of Gaiman's novels. I saw Gaiman on tour for The Ocean at the End of the Lane in 2013, and read the book twice that year; I love this story about memory and nostalgia for childhood, about a young boy facing a horrifying monster with the help of the Hempstock family, a matriarchal family of amazing witches. Hurst's illustrations are shadowy, black and white, and lend a haunting tone to the book with its figures that look in-motion, blurred, as if viewed through a pane of fogged glass or an ocean surface, and that makes the scenes even more emotional.
Both of these incredible middle grade novels were illustrated from the start. McKean's sketched, inky illustrations lend a spooky feel to both books, perfectly capturing their moods. Coraline is a young girl who, bored in her new home, finds a door that leads to another world, a comical mirror image of her own, with an "other mother" who wants to treat her well. But she soon finds the "other mother" has very poor intentions. And in The Graveyard Book, Bod was raised since infancy by ghosts, and is the only living resident in a graveyard. Both novels are compelling on their own, but the illustrations lend the stories mood and weight.