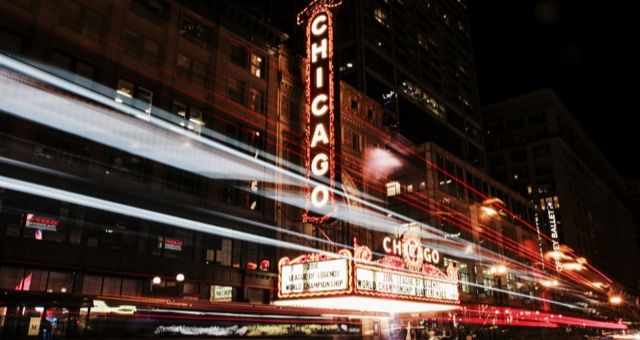 Lists
United States of a Mystery: Essential Illinois Crime Fiction
This content contains affiliate links. When you buy through these links, we may earn an affiliate commission.
The best thing about a metaphorical road trip is not being tethered to the rules of an actual road trip. We all get to pick the podcast and go to the bathroom whenever we want. And we can make it 20 hours up I-75 in the blink of an eye. Which is exactly what we're doing. Cruising straight from Miami up to the Windy City. The City of the Big Shoulders and the one and only Tracy Clark.
Clark's second Chicago Mystery, Borrowed Time, came out this past May as a follow up to her first Cass Raines novel, Broken Places. In her multi-nominated (Lefty, Anthony, Shamus) debut, Clark threw Cass Raines straight into the belly of the hardboiled beast. The cop-turned-PI investigated the murder of her father figure priest. So, understandably, as the second book begins, Cass is trying to take life a little easier. But when her favorite food delivery guy asks her to look into a friend's death, well…you know the rest.
What Clark does so brilliantly is fully understanding the hardboiled sub-genre. As a mystery fan, I am a big subscriber to giving the people what they want. And Clark's Chicago Mystery series does exactly that. I need the mystery to be a believable case for a PI. Broken Places centers around the death of a terminally ill man doped up for a literal swan dive of his yacht into Lake Michigan. Everything about it screams suicide. In other words, perfect for a PI to nose around until we come to one twist after another (another requirement of mine in hardboiled fiction).
The next two requirements, though. That's where Tracy Clark comes to life. True hardboiled fiction (for me) needs a beautiful balance of blood and wit. I've always loved the description of boxing as the "bloody ballet." The best hardboiled fiction is, to me, a bloody comedy of character. Not quite the same ring to it, but the sentiment tracks. With writers like Clark, the plot is packed with action and violence, but the characters are quirky and witty and wonderful. Borrowed Time hits every right note of a song about which I am a very particular reader.
So who better to share some of the best Illinois crime writers than Chicago's own Duchess of Detective Fiction? Tracy took a minute to list for us a very Chi-Town heavy rundown of some of her favorites.
Dead Time by Eleanor Taylor Bland
Eleanor Taylor Bland, creator of the mystery series featuring African American police detective Marti McAllister, was called the "grande dame of Chicago mystery writers" by the Chicago Sun-Times. Yup. I agree. Dead Time was her debut, and I was drawn to the series because Bland was an African American female writer writing about an African American female protagonist when there weren't many of either in the genre. In this one, Marti has transferred from the Big City, Chicago, to the not-so-big city of Lincoln Prairie—really Waukegan, but roll with it—to investigate a suspicious death at a local flophouse. Marti's a real pip and ETB's writing is delicious. Treat yourself.
Hugh Holton was a real Chicago cop writing about Chicago cops, which I would imagine saved him a lot of time on the research. The writing's down and dirty, sleek, and Holton's descriptions of Chicago's streets and the eclectic cast of characters that walk them are right on the money. The series features Chicago cop Larry Cole, and in this one, a couple of really demented killers, a husband and wife duo—which is really creepy—go around killing folks while simultaneously living lives of wealth and privilege. Kill a guy, raise a glass of champagne! Shivers. Can Larry Cole catch these psychopaths before they kill again? Safe bet.
OK, you cannot compile a list of Chicago crime writers writing about Chicago crime and not add Sara Paretsky's name. Paretsky helped usher in the Golden Age of Female Crime Writers, and Chicago's her patch, which she runs like a friggin' boss. Indemnity Only starts off the V.I. Warshawski series, featuring PI V.I. (ha!), a kick-ass, tough as nails investigator who simply cannot let a single lead go. In this one, she gets sucked in by a dodgy client, which then sets her off on a wild goose chase, running down clues right and left.
We all know this one. A seat-of-your -pants, twisty psychological thriller that makes singles thank their lucky stars they remained so. Flynn is adept at the twists and turns. No spoilers. Happy anniversary? Hmmm. Don't think so, son.
Hardball by Barbara D'Amato
This series features freelance reporter turned sleuth Cat Marsala. Spunky, tenacious Marsala is hard at work plying her trade when bam, she's caught in a bomb blast and bodies land around her. That's all it takes. She's off to the races to find the culprit. Cops, mobsters, lowlifes, hmmm, I'm beginning to see a pattern here in all these Chicago-based mysteries. Hardball is the first in the Marsala series. All the titles have the word hard in them. I wish there were more of these.
Title says it. PI Michael Kelly gumshoes it around the Windy City to solve a rape case that's gone dead cold. The writing's clean, uncluttered, and you can't go wrong tossing in a serial killer. Nice old-school PI feel. Masterful.
They don't come more hardboiled than Izzi. The Take tosses everything into the pot—cops, cons, gangbangers, Mafia killers, drugs, grit, grime, and one of my all-time favorite character names ever: Fabe Falletti. Unfortunately, Izzi is known as much for his mysterious death as he was for his writing. A real head-scratcher.
---
I have very little to add to that list. And if you haven't read about the mysterious death of Eugene Izzi that Tracy mentioned, you REALLY need to google Eugene Izzi. I remember becoming obsessed with it right after it happened. And then, like I did, you'll discover that Tracy is spot on by adding him to this list. I only have one to add, and I'm glad she missed it because it's a favorite of mine.
Although Danny Gardner may have left Chicago for L.A. (the guy has been an actor, comedian, director…all kinds of shit…lots of talent going on here), Elliot Caprice can't get away even when he tries. The disgraced cop finds himself caught between the police and the mob in this noir debut set in 1952. Gardner does hardboiled right, with a big heart pumping all of its bloody pages. My favorite debut novel of the past few years.
As always, Tracy and I welcome some additions to our list. We'll see you wherever this little crime fiction road trip takes us next.