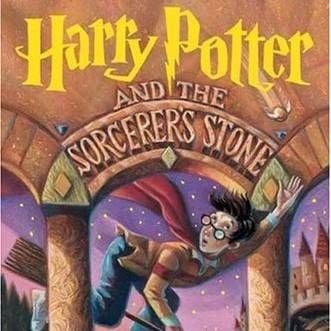 Children's
Why I'll Have My Kids Wait to Read Harry Potter
This content contains affiliate links. When you buy through these links, we may earn an affiliate commission.
When my older daughter was five years old, she was at the pediatrician's office getting her annual check-up. Her doctor was typing notes into my daughter's medical file while my daughter looked over her shoulder.
"You spelled 'camp' wrong," my daughter advised, pointing at the screen.
Her pediatrician squinted at the computer and corrected her typo. Then she glanced at my daughter, who had gone back to reading the chapter book she had brought with her, The Trouble with Magic by Ruth Chew.
My older daughter is an early – and voracious – reader. But back at that annual check-up two years ago, her pediatrician looked at me and said, "You need to be careful with this one. Just because she can read doesn't mean she should be reading everything she can get her hands on." Then she gave a classic example of a book kids read too soon: Harry Potter.
I was seventeen years old when Harry Potter and the Sorcerer's Stone came out. I read it, loved it instantly, then waited a year for the next book, Harry Potter and the Chamber of Secrets, to be released. For the first four books in the series, J.K. Rowling released one book a year. Then — silence for three painful years until Harry Potter and the Order of the Phoenix, two years after that for Harry Potter and the Half-Blood Prince, and then two more years until the final installment in 2007 with Harry Potter and the Deathly Hallows. I read the last book the day it came out. I was twenty-seven years old.
The first book begins when Harry is eleven years old. The last book ends when he is seventeen. If a nine-year-old started reading the series when the first book was first released in 1997, she would have been nineteen when the series concluded. If a seven-year-old started it when the first book was released, she would have been seventeen — Harry Potter's age at the end — when the series finished.
These days, with all the Harry Potter books available and ready for consumption as fast as one can read them, the age to start reading Harry Potter is blurred. For the seven-year-old who started the books back when the series began in 1997, the material continued to be age appropriate up until the very last book.
Today, the seven-year-old who begins the series giggling over booger-flavored jelly beans and exclaiming over the wonders of Diagon Ally might find themselves disoriented in the middle of the series when reading about moody, lovesick Harry, deaths of beloved characters, and rampant evil and killing. Then, she gets to Harry Potter and the Deathly Hallows, which is pretty much a Young Adult book. Harry is seventeen and is searching for and destroying parts of Voldemort's soul. It is not easy reading. For the seven-year-old, the eight-year-old, the nine-year-old, and even the ten-year-old and beyond, the series might be better appreciated when read later on.
So when is the "magic age" to read Harry Potter? In general, kids like to read about characters a couple of years older than them. In the case of Harry Potter, the main character begins as an eleven-year-old and ends up as a seventeen-year-old. So is the golden age fifteen?
My pediatrician suggested that eleven and older is a good age to start. But as in all things, it depends on your child. I have a niece who tried it at eleven years old and couldn't get into it; even the first book was too scary for her. Maybe she'll try it again when she's in high school or college, and she'll love it then. Or maybe she won't ever read the series. And that's okay too.
I've had more than a few conversations with my seven-year-old about why I'm having her wait to read Harry Potter. She asks me if I think she'll like the books. I told her I think she'll love them as much as I do…but when she's old enough to understand and appreciate not just the first book, but the series as a whole.
She nods at my reasoning, but it doesn't stop her from asking the question. "So…that means when I'm in fifth grade, right? Like, in the second half of fifth grade, after my eleventh birthday?"
And I tell her, not for the last time, "We'll see."