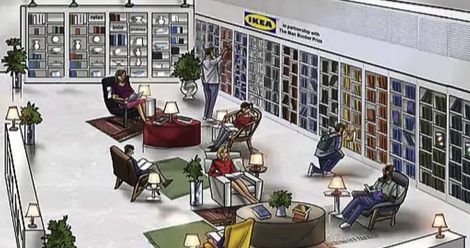 IKEA Creates "Reading Rooms" to Celebrate Man Booker Prize Longlist: Critical Linking, July 30
Today's Critical Linking is sponsored by Carpe Librum Books.

---
IKEA is partnering with the Man Booker Prize to create the 'Reading Rooms' filled with free novels.
Following the announcement of the awards longlist this Tuesday (24th July), the Swedish retailer will play home to 'book clubs' where the public can read and take away a copy of one of the 13 longlisted titles at its Wembley store in north London.
I vote they make this happen worldwide.
---
Despite a raft of diversity initiatives, the percentage of young adult books written by black and minority ethnic (BME) authors has declined steadily since 2010, according to a new study warning that the UK's "outdated" publishing culture must take rapid action to address a systemic problem in its ranks.
First, there was the disappointing kidlit study about representation, and now this.
---
For decades, scholars have wanted to get a closer look at unpublished sections of a towering 20th century book, "The Autobiography of Malcolm X," including cut chapters that may have contained some of the most explosive thoughts of the African-American firebrand assassinated in 1965.
They may get their chance after an auction on Thursday, when a manuscript of an unpublished chapter, titled "The Negro," was sold by Guernsey's auction house for $7,000.