Fiction
If Tom Haverford Blurbed Books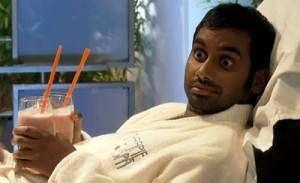 Tom Haverford is everyone's favorite small-time city employee/club promoter/wanna-be lady's man on Parks and Recreation. Here we reimagine him as a publishing man about town, using his real lines:
Michael Pollan's new book about gardening
"Whenever Leslie asks me for the Latin names of any of our plants, I just give her the names of rappers. Those are some Diddies. Those are some Bone Thugs-N-Harmoniums, right here. Those Ludacrises are coming in great."
After blurbing George Saunders' new book

"At the risk of bragging, one of the things I'm best at is riding coattails. Behind every successful man is me. Smiling and taking partial credit."
Quentin Rowan's new self-published thriller
"Everyone steals. My favorite movie is Love Don't Cost a Thing with Nick Cannon. Which is based on Can't Buy Me Love, which is based on Kramer vs. Kramer, or something, which I think was Shakespeare."
Not Your Mother's Rules (sequel to The Rules)

"When I'm dating someone, I have a list called my 'Oh No Nos.' If a woman commits a Oh No No, it canend the relationship. Not loving '90s R&B music is #3 on the Oh No Nos list. Girl don't even know who Ginuwine is."
A Jackson Pollock coffee table book
"I have no interest in art. Let me clarify: I have no interest in non-nude images."
Outliers by Malcolm Gladwell

"Most people would say 'the deets', but I say 'the tails'. Just another example of innovation."
The next Jersey Shore tell-all
"Yeah, I've been a little down. Totally natural. I'm getting a divorce, but now I'm ready to pull myself up by some G-strings."
Supreme Court Justice Sotomayor's memoir My Beloved World
"If your job was remotely interesting, there would be a show on A&E about it."
The new cookbook from The Cake Boss
"You can't say your favorite kind of cake is birthday cake. That's like saying your favorite kind of cereal is breakfast cereal."
On being too distracted to finish the Steve Jobs bio
"Everyday I start by hitting up Facebook, Twitter, Tumblr, and Instagram. Sometimes, I like to throw in LinkedIn, for the professional shawties. Then I like to go on Reddit. Reddit is great because it has all the important links. Wikipedia! Mankind's greatest invention. You can learn about anything. Take Ray J for example. We all know he's a singer, he's Brandy's brother, and he was in that classic sex tape with Kim Kardashian. But did you also know he's Snoop Dog's cousin and he was in the 96th Tim Burton movieMars Attacks?! Suddenly, you're on the Mars Attacks page. I love gChat, you can talk to anybody! I hit up brad.pitt. It wasn't the actor. It was actually a guy named Brad that's a teacher in Pittsburgh. We don't have a lot in common, but we chat quite a bit. Emojis are little cartoons you text instead of words. Instead of saying, 'What up, boo?' you can type 'What up' and then a cute little ghost because that means boo. There's even a little Indian guy, but he has a turban on, which I think is racist. But the Asian guy also has a racist hat on. And it's like, hold up didn't Japanese people invent this?! Podcasts! They're a million of them and they're all amazing! Jean Ralphio and I have one called Nacho Average Podcast where we rate different kinds of nachos."
After he got drunk and called Nicholas Sparks a "romance writer"
"On a scale of 1 to Chris Brown, how pissed is he?"
When asked to blurb his neighbor's self-pubbed Twilight fanfic
Kelly Larson: You look sad.
Tom Haverford: You look like an old goon who's obsessed with a kid's book.
Kelly Larson: It's a girl, isn't it? I can tell. It's the look that Mike had on his face when Bella turned him down for the dance.
Tom Haverford: Oh yeah? Is it? What look did your mom have on her face when she realized her son was a complete failure?
Kelly Larson: Okay. I'll be quiet. But I do know something about heartbreak. And you know who else does?
Tom Haverford: Kenneth "Babyface" Edmonds?
Kelly Larson: No. A little lady named Twilight author Stephenie Meyer.
The Smitten Kitchen cookbook
"Zerts are what I call desserts. Tray-trays are entrées. I call sandwiches 'sammies,' 'sandoozles,' or 'Adam Sandlers.' Air conditioners are 'cool blasterz.' I call cakes 'big ol' cookies.' I call noodles 'long-ass rice.' Fried chicken is 'fry-fry chicky-chick.' Chicken parm is 'chicky-chicky-parm-parm.' Chicken cacciatore? 'Chicky-cach.' I call eggs 'pre-birds,' or 'future birds.' Root beer is 'super water.' Tortillas are 'bean blankets.' And I call forks 'food rakes.'"